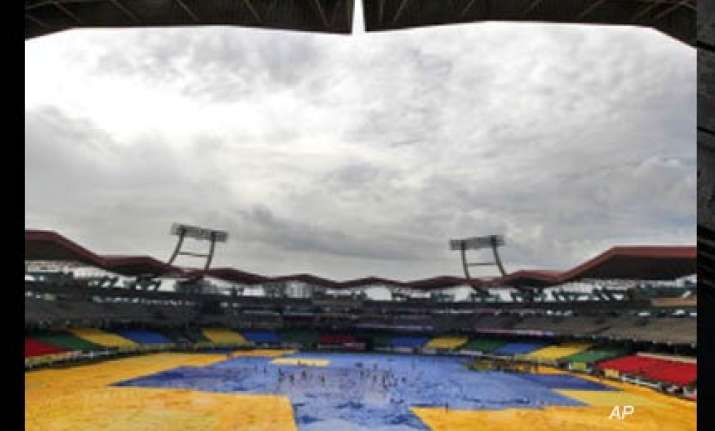 Kochi, Oct 17: The first one-dayer between India and Australia was today called off without a ball being bowled due to heavy rain here.Incessant rains for the last few days resulted in a wet outfield and fresh downpour in the morning, forced match referre Chris Broad to abandon the match.
The umpires inspected the conditions at 9:00 am but found the areas near the bowlers run-up and a few parts near the boundary lines quite damp.
They were scheduled to carry out a second inspection at 11:00 am but after the fresh drizzle hitting the port city at around 10:20 am, Broad decided to abandon the opening encounter.The officials were of the view that with all the water already on the field, it was impossible to play.
Though, it was not raining at the time of toss, but the wet outfield caused due to persistent rain in the last few days, delayed the start of play at Jawahar Lal Nehru stadium.Groundsmen were making efforts to make the field dry for play but the heavy downpour again meant covers were brought back on the ground.
Both India and Australia players were indoors at the hotel and it was decided that after second inspection of the pitch and outfield by match referee Broad, they would be asked to leave the hotel for the ground.
The teams now travel to Visakhapatnam for the second one-dayer on October 20.The organisers have decided to refund the cost of tickets bought by the 30,000-odd spectators.
Kochi has been witnessing heavy downpour since last Thursday which washed out the practice sessions of both the teams.PTI