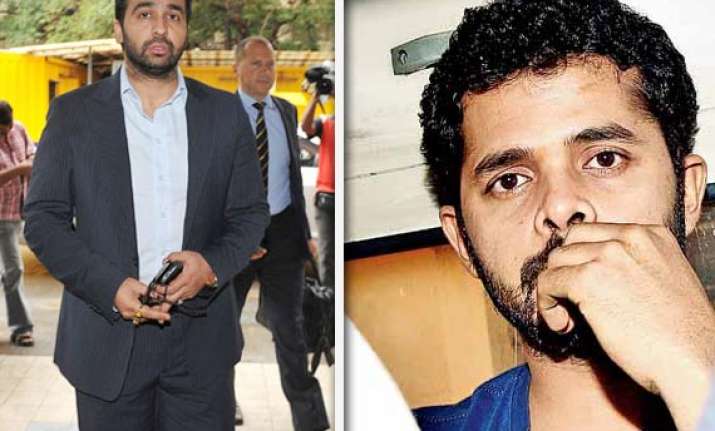 New Delhi, Jun 5: Delhi Police Special Cell sleuths this morning questioned Raj Kundra, the owner of Rajasthan Royals, in connection with the spot-fixing scandal.
This is for the first time that the  owner of an IPL franchise has been questioned by police.  
Three of Rajasthan Royals players S. Sreesanth, Ajit Chandila and Ankeet Chavan have so far been arrested on charge of spot-fixing. Sreesanth and Chandila are in Tihar jail, and Ankeet Chavan is supposed to return from his wedding to Tihar jail on Thursday.
Delhi police said on Tuesday slapped MCOCA (Maharashtra Control of Crime Act) against all three RR players and said that the spot-fixing and betting was linked to underworld don Dawood Ibrahim and Chhota Shakeel.
The questioning of Raj Kundra arose, after RR player Siddharth Trivedi turned approver for the prosecution and disclosed under Sec 164 of Criminal Procedure Code that he was approached by bookies during IPL5 and IPL6 seasons.
Special cell sleuths asked Kundra whether as owner of RR, he was aware that bookies had infiltrated the team, and whether the RR team management ever supectred Chandila's proximity with the bookies.
The CEO and CFO of Rajasthan Royals have already been questioned by Delhi Police, which is exploring the connections between the RR players and the bookies.
Kundra was also asked about the ownership pattern of RR, the percentage of stakeholders, and his current business in the UK.
The role of actress Shilpa Shetty in the activities of RR also came up for questioning.  Kundra was also asked about the team manager's role.
Kundra was questioned about the persons who had access to RR players in their hotels. He was asked who were the persons who were given passes for VIP lounge on behalf of the owner and co-owner of the franchise.
Kundra was asked whether any RR player sent request  for VIP lounge passes to  accomodate their guests. The franchise owner was also asked whether the management was ever given hints by ICC or BCCI about the activities of fixers and bookies.
How do you keep track of your players, was another question asked of Kundra.
He was also asked the following questions:
1. Did you ever get hint of spot-fixing by Sreesanth? Do you know Jiju Janardanan? How much access did Jiju had with the RR players?
2. Did you ever check Ajit Chandila who was the key person between the fixers and the players?
3. Who recommended Chandila's name to be included in RR team?
4. Did you get information about the gifts that Chandila gave to the players?
5. Did Siddharth Trivedi ever tell you that bookies or fixers were approaching him through Ajit Chandila? Was it Siddharth who recommended inclusion of Ankeet Chavan and Chandila into the RR team?
6. As owner, do you have details of people who meet the players in their hotel rooms?
7. Do you have information about private parties apart from the official parties hosted for RR players?
8. What was the reason behind suspension of Sreesanth?
9. Did Ajit Chandila bring any fixer or bookie to meet you?
10. (Showing pictures) Do you know any bookie or fixer in these photographs?
11. Does RR has its own anti-corruption unit which keeps a check on its players?
12. How does the management pays its players? Is any payment made in 'black'?
13. Did Chandila bring Baburao Yadav ever to meet you, or did Amit Singh ever approach you?
14. Did anybody seek info about IPL matches from you before the match actually started?
15. Who decides which player will play or not in the IPL match?