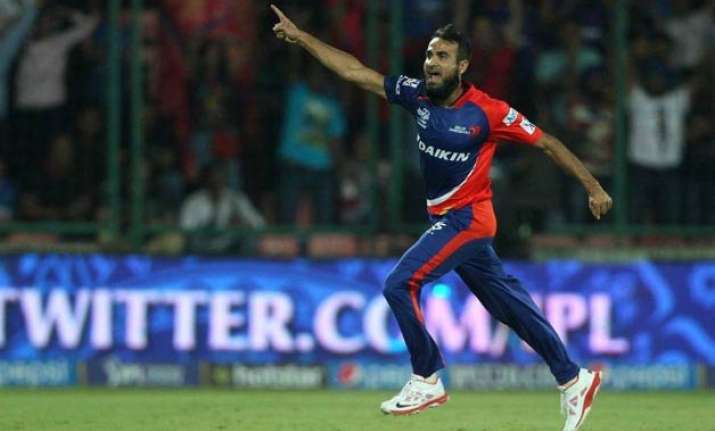 New Delhi: After ending up on the losing side on the final ball of the match for the second consecutive time in the Indian Premier League (IPL), Delhi Daredevils leg-spinner Imran Tahir on Sunday vowed to stop the team's 11-match losing streak.
Tahir bowled his heart out and took four for 28 on Sunday against Rajasthan Royals. But Royals achieved the 185-run target with three wickets to spare at the Ferozeshah Kotla here.
Daredevils, who had lost nine consecutive matches in the last edition and the first match of this edition, posted 184/3 in 20 overs.
But it was not enough to protect them from equalling the maximum number of losing run of matches - 11 - registered by now-defunct Pune Warriors India in an earlier edition.
However, South African Tahir felt that his side was missing the luck factor.
"It was another game that we lost by a close margin. If the last ball would have fetched a single run, result must have been different," Tahir said at the post-match press conference.
"We put up a strong performance. Like today, the boys are doing well and working hard on their game. But maybe luck is not on our side.
"But going forward, I am sure we will be on the right side."
The 36-year-old refused to blame any department for the loss.
"There are many talented and experienced guys in the side. They have been doing their job. It is about failing as a team," he said.
The Lahore-born bowler said he is relishing the opportunity to bowl in tandem with Indian leg-spinner Amit Mishra, who also played a key role for Daredevils, picking two wickets for 32.
"He is a world-class spinner and I have a lot of respect for him. It is great to bowl alongside him and I am also gaining a lot of experience.
"We talk to each other and share the experience. We discuss about the variations, conditions and spin and it has been good."
Tahir hoped that his team would get a major boost when injured Indian pacer Mohammed Shami returns to action in a few days.