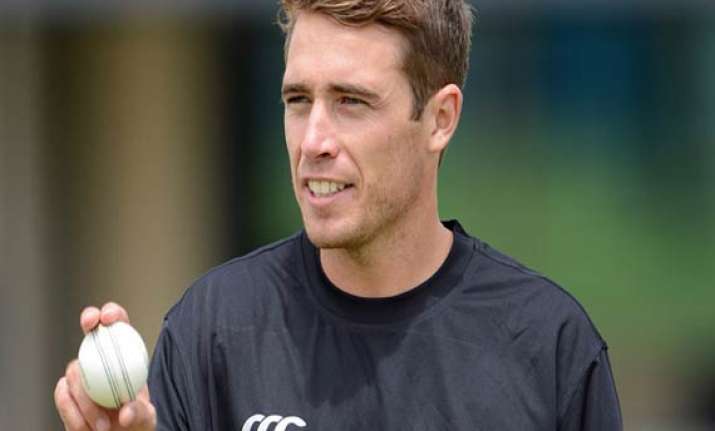 Wellington: New Zealand fast bowler Tim Southee on Wednesday said that his side will go into the second and final Test against India in its bid to keep the visitors winless on their tour.
After losing the ODI series 0-4, India slumped to a 40-run defeat in the first Test at Auckland.
"They have obviously had a disappointing tour but are too good a side to roll over. They'll come hard and they will want to have a win on the tour. They are a far better side than they have shown on this tour so far," said Southee.
"They have a lot to prove in this last Test and have got a lot of quality players. I am sure we are going to have to up our game. They'll come out and look to finish their tour on a high. Hopefully, we can keep them winless on their trip to New Zealand. Clean sweep is on our mind," he added, two days ahead of the match at Basin Reserve.
He said that the Kiwis were preparing as well as they could against the Indians.
"We have had a low-key couple of days, guys have reflected on the first Test and what a special achievement it was. Cricket is a sport where you cannot get too far ahead. It can always come around and bite you. We are focusing on the next couple of days leading into the next Test and prepare as well as we can," said the bowler.
The square at the Basin Reserve looks absolutely green and Southee said it was tough to differentiate between the pitch and the outfield.
"It is a bit tough to see the difference between the pitch and outfield at the moment. It is usually a pretty good deck here. We will have to see how it is on the morning of the match. It is still another couple of days and a bit of sunlight on it will round that off a bit I am sure.
"But the bowlers have a spring in their step having a look at that. We are lucky enough to know the conditions. We have played here not that long ago against the West Indies. So it is not a hell lot of changes for us," he said.
The bowlers will be very interested, as both sets of attacks were amply aided with the pace and bounce available at Eden Park in the first Test.
While the New Zealand bowlers enjoyed the first innings, knocking the visitors out for 202 runs, the Indian bowlers had their say in the second, bowling out the hosts for 105 runs.
"It is nice to have an attack where you can take 20 wickets. We have done that over the last few Test matches. We have shown a lot of promise over the last year, year and a half and we keep continuing to improve. It is good. We all complement each other very well and it is pleasing to see (Neil) Wagner finally get some credit for the hard work he's done over the past few years.
"He compliments Trent (Boult) and me very well. He loves bowling with the old ball and somehow he manages to pick up wickets just before the second new ball and that makes it easier for us," he said.
Southee felt that the Kiwi bowlers impressed with their ability to chalk out plans against the Indian batsmen.
"We knew they are a promising batting line-up. They don't have the names like the Tendulkars, the Dravids and the Laxmans anymore, but they have got the potential to be great players. It is the first time to New Zealand for a few of those players and foreign conditions for them. We have bowled well as a unit and it has put pressure on their batsmen," said Southee.
"We have put a lot of thought and research goes into plans before the series. It is pleasing to see them come off. Shane (Bond) and the computer analysts and (coach) Mike Hesson, they put these plans in and it is reward for them to see the bowlers sticking to them and the success we are having. It is the consistency we are bowling with and the familiar conditions we are used to, that is the key to our success," he added.
With the Test match still two days away, there is bound to be a little distraction with the
IPL
player auctions happening back in India, as quite a few players from both sides will be going under the hammer.
"Our main focus has been leading into the Test and it still is our main focus. The auction is exciting for a few players. Not sure how people are going to watch it or what they are going to do, but I am sure most players will have an eye on it somewhere," Southee signed off.