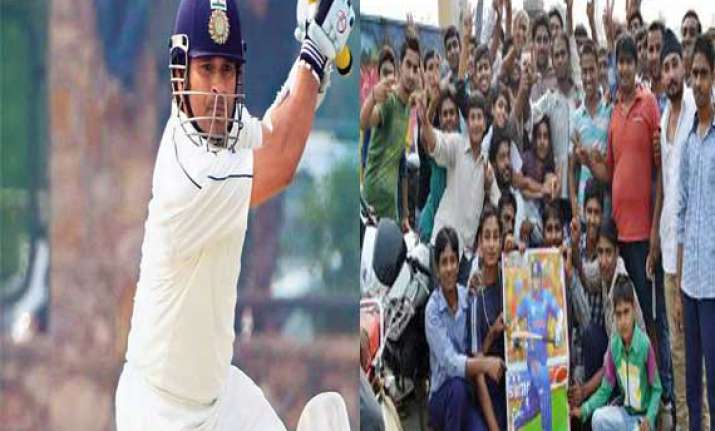 Lahli (Haryana): Its going to be a  rare sight in decades to see cricket fans queuing up to be part of the four-day Ranji Trophy match  in a relatively unknown stadium in Haryana's Rohtak district where "God" of cricket Sachin Tendulkar will display his skills that has broken almost all possible , when Mumbai - Haryana clash begin from Sunday.
Sachin would be playing his 200th and last test in November at Wankhede stadium in Mumbai against West Indies and  this Ranji trophy match could be Tendulkar's last appearance in national-level domestic match.
To see the batting maestro play here at Chaudhary Bansi Lal cricket stadium at Lahli village, hundreds of enthusiasts -- from common villagers, youth, cricket lovers to influential people -- everyone is clamoring for tickets for this match.
The stadium, where the first Ranji match was played November 2006 and has witnessed 24 matches so far and has a capacity of only 8,000 seats. Out of these, the Haryana Cricket Association (HCA) has blocked over 2,500 seats near the pavilion side for "security reasons".
"This leaves just over 5,000 seats for the public. The HCA officials and others having influence in the district have already cornered the tickets. People who were asked to get themselves registered for free tickets are unable to get them now.
"We have blocked some seats for security reasons. They players (from both sides) will enter from this area," HCA secretary Anirudh Chaudhary said.
Apart from the ticket seekers, security agencies and district authorities are present in and around the stadium to make preparations for the all-important match featuring Tendulkar. Up to 600 security personnel will be deployed in and around the stadium.
"We are providing adequate security for the entire match," superintendent of police Vikas Dhankar said.
Villagers in Lahli said that they were excited that Tendulkar would come and play here.
"It is a great occasion for this village which is not well known otherwise. Old and young, everyone is excited about Tendulkar," village elder Hawa Singh said.
To make Tendulkar's stay on the pitch comfortable, curator Jasmer Singh said that the pitch was being rolled.
"We want him (Tendulkar) to play a memorable innings here. We are trying to make a pitch of international standard that lasts the entire duration of the match," Jasmer Singh said.
Since Rohtak town does not have any five-star hotel, Tendulkar and his teammates are likely to stay at a government tourism resort or one of the local hotels. The teams will arrive Friday evening.