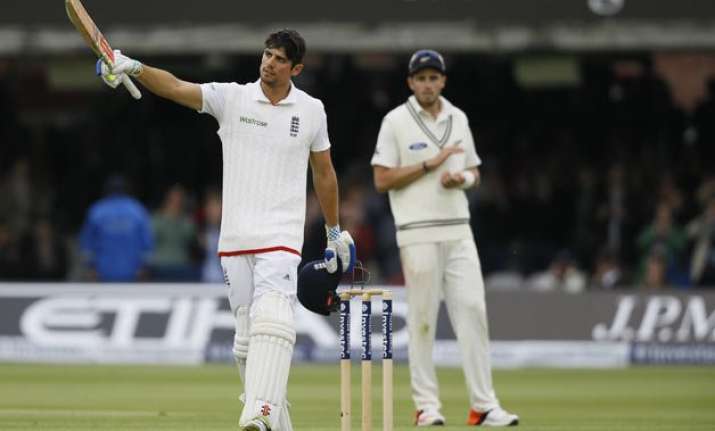 London: Centuries by Alastair Cook and Ben Stokes propelled England to 429-6 for a lead of 295 over New Zealand on Sunday, as the hosts took back control of the first test at Lord's heading into the final day.
The hundreds came in vastly different fashion, but appropriate at the time in the match.
Cook, along with Joe Root, who made 84, answered a desperate need by their team for someone to dig in and score big, after England started the day at 74-2 and 60 runs behind. Cook's solution was his 27th hundred, and batting through the whole day.
Stokes replaced Root, was unfazed by the second new ball, and remarkably shredded the New Zealand attack with the second fastest test century by an Englishman, albeit one born in New Zealand.
His second test hundred, after scoring 92 in the first innings, ensured England can dictate the fifth day. Stokes said they hope to lead by 350-400, then see how New Zealand respond on a pitch still offering seam and turn, but also helping batsmen.
"Wickets can fall quickly at Lord's," he said. "It happened last time England played New Zealand here."
That was two years, when the Kiwis gave themselves 239 to win and were all out for 68. Sunday was a day of disappointment for them, but the test can still be salvaged with quick wickets on the final morning.
Each day of this 100th test between them has seen fortunes swing, and 300-plus runs. It's far from over.
Cook, 32 overnight, was at his dogged best; no cracks in his wall, letting the ball come to him, and not wasteful of loose deliveries.
He and Root came together from the fourth ball of the day, as New Zealand pacemen Trent Boult, Tim Southee, and debutant Matt Henry were finding ominous swing. But they endured that, and put England almost 100 ahead by the time their stand of 158 was broken.
Root flirted with his wickets from the moment he came in, after Ian Bell was out off the third ball of the day, a Southee beauty. Bell was caught behind for 29 without adding to his overnight score.
Root, who scored 98 in the first innings, eventually came to dominate the partnership with Cook, before and after lunch. With the seamers probing, he and Cook found relief from offspinner Mark Craig, who failed to contain them and was hit often and hard.
Root was ultimately suckered by Henry, who gave him two bouncers he left alone. But a third successive short ball was pulled by Root straight to where Boult was waiting at fine leg to finish the trap.
Root hit 12 boundaries, and shared 158 runs with Cook, who was on 98.
Cook, who came into this month not having scored a century in two years, scored his second in two tests, after the one in Barbados. He drove Henry out of mid-off's reach and ran three singles with Stokes. He swiped the air with his bat, took his helmet off, and saluted all four sidelines, while receiving a standing ovation. England's leading century-maker tied Alan Border and Graeme Smith on the all-time list.
But more importantly, it was his seventh ton when England began a third inning with a deficit, the mark of a fighter.
It took him 206 balls, and included a dozen boundaries.
By stumps, he was on 153, batting for more than 6 1/2 hours. He was also 41 runs away from becoming England's highest test run-scorer, eclipsing mentor Graham Gooch.
As with Root, Cook took a back seat to Stokes. Stokes was on 22 when the new ball was taken. It didn't matter. With a little luck, he swatted, pulled, and flailed at the Kiwis, and was especially punishing of Southee, who kept offering short balls and conceded 37 over two consecutive overs.
Stokes reached his 100 in 86 balls, with three sixes off Southee, and 15 boundaries. It was tied for the second fastest hundred with one of Ian Botham's famed cracks in the 1981 Ashes. The fastest used 76 balls in 1902 by Gilbert Jessop, the England dasher of his era.
"I was nervous in the 90s because I got pretty close last time," Stokes said. "Once I hit the straight four to go to 99, I felt the nerves go. To get the single was pretty special."
Stokes was beaten for turn by Craig, out for 101 in a partnership of 132 with Cook.
The excitement drained away after that, with Mooen Ali on 19 at stumps. But Ali will be expected to have a bigger impact on Monday, bowling his offspin.