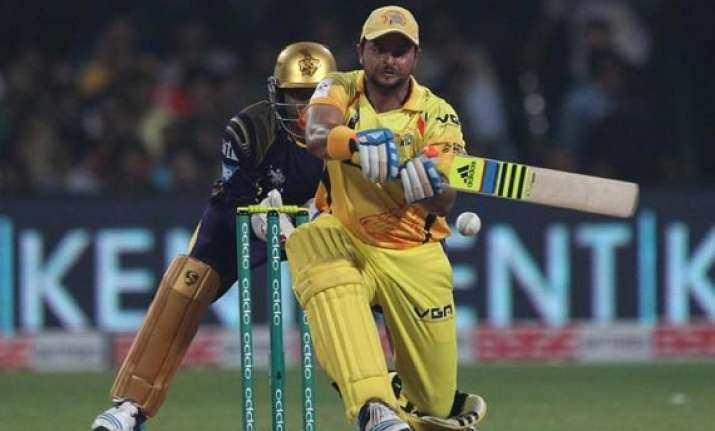 Bangalore: Scoreboard after Chennai Super Kings defeated Kolkata Knight Riders by 8 wickets in the final to win the 2014 CLT20 title played at M.Chinnaswamy Stadium, Bengaluru on Saturday.
Chasing a competitive total of 181, Raina smashed the daylights out of a depleted KKR attack without Sunil Narine, scoring a breathtaking 109 off 62 balls with the help of six fours and eight sixes. His century came off only 59 balls.
Fitting enough, skipper Mahendra Singh Dhoni finished the match with a flourish as he hit successive sixes off Yusuf Pathan as CSK won with nine balls to spare.
Yusuf Pathan and Pat Cummins were the only wicket takers for KKR picking up Brendon McCullum and Dwayne Smith respecitvely. Chinaman Kuldeep Yadav was proved to be the costliest among all, giving away 44 runs in 4 overs. Piyush Chawla too leaked 38 runs in 3 overs.
Kolkata Knight Riders innings
| | | |
| --- | --- | --- |
|  Robin Uthappa            |  st Dhoni b Negi |  39 |
|  Gautam Gambhir |  c McCullum b Jadeja |  80        |
|  Jacques Kallis |  c Nehra b Negi |  1 |
|  Manish Pandey |  c McCullum b Negi |  32 |
|  Yusuf Pathan |  not out |  20* |
|  Ryan ten Doeschate          |  st Dhoni b Negi |  0 |
|  Suryakumar Yadav |  c Nehra b Negi |  0 |
|  Andre Russell |  not out |  2* |
|  Extras                                 |  (lb 2, w 3, nb 1) |  6 |
|  Overs                  |  match over |  20 |
|  Total                          |  for 6 wickets |  180 |
|  Fall of wickets | 1-91 (Uthappa, 10.5 ov), 2-97 (Kallis, 12.1 ov), 3-136 (Gambhir, 16.2 ov), 4-159 (Pandey, 18.1 ov), 5-161 (ten Doeschate, 18.3 ov), 6-161 (Suryakumar Yadav, 18.5 ov) |                        |
Did not bat: Piyush Chawla, Kuldeep Yadav, Pat Cummins
Bowling
| | | | | |
| --- | --- | --- | --- | --- |
|  Bowler |  Overs |  Maidens |  Runs |  Wickets |
|  Ashish Nehra |  4 |  0 |  54 |  0 |
|  Mohit Sharma |  3             |  0 |  27        |  0 |
|  Ravichandran Ashwin |  3 |  0 |  26 |  0 |
|  Pawan Negi |  4 |  0 |  22 |  5 |
|  Ravindra Jadeja |  4 |  0 |  25 |  1 |
|  Dwayne Bravo |  2 |  0 |  24          |  0 |
Chennai Super Kings innings
| | | |
| --- | --- | --- |
|  Dwayne Smith               |  b Cummins |  8 |
|  Brendon McCullum |  c ten Doeschate b Pathan |  39       |
|  Suresh Raina |  not out |  109*           |
|  MS Dhoni |  not out |  23* |
|  Extras |  (lb 2, w 4) |  6 |
|  Overs                                  |  match over |  18.3 |
|  Total                              |  for 2 wickets |  185                 |
|  Fall of wickets | 1-9 (Smith, 0.5 ov), 2-127 (McCullum, 13.1 ov) |   |
Bowling
| | | | | |
| --- | --- | --- | --- | --- |
|  Bowler |  Overs |  Maidens |  Runs |  Wickets |
|  Pat Cummins |  3 |  0 |  32 |  1 |
|  Andre Russell |  2 |  0 |  14 |  0 |
|  Kuldeep Yadav |  4 |  0 |  44 |  0 |
|  Piyush Chawla |  3 |  0 |  38 |  0 |
|  Suryakumar Yadav |  3               |  0 |  21              |  0 |
|  Yusuf Pathan |  3.3 |  0 |  34 |  1 |
Result: Chennai Super Kings won by 8 wickets to win the CLT20 title
Man of the Match: Pawan Negi
Man of the Series: Suresh Raina (234 runs in the series)
Toss: CSK chose to field