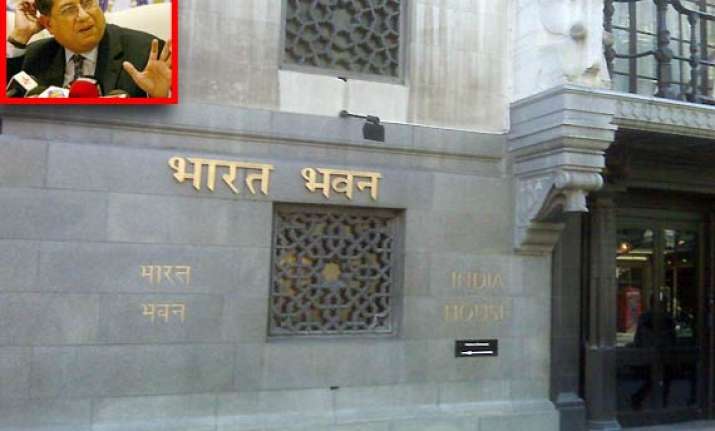 London/New Delhi, July 27: The Indian High Commission in the UK and the BCCI were today at loggerheads over the cancellation of an official reception, with both coming out with contradictory versions on the event.

While the cricket Board maintained that they had communicated in advance that the team was not in a position to attend the reception on July 18, the High Commission gave a new twist to the controversy by claiming that it was the BCCI which had suggested the date.

The Indian team had a skipped the High Commissioner's reception to attend captain Mahendra Singh Dhoni's charity launch in London on July 18, prompting the High Commission to report the matter to the Ministry of External Affairs.

The BCCI said that the reception date was proposed by the Indian High Commission but since the team was committed to the launch six months in advance, it could not accept the invite.




"The Indian High Commission had extended an invitation to the Indian team to attend a reception on 18 July 2011.  However, the Indian cricket team had already committed itself to another function on the same day, six months in advance.

"The BCCI had accordingly communicated the same to the Indian High Commission, and suggested that the reception be organised on 25 July 2011 instead," BCCI Secretary N Srinivasan said in a statement.

However, the High Commission in its press release said that it was BCCI which proposed the date for the function.

"Since April 2011, the High commission of India had been in touch with the Board of Control for Cricket in India in regard to a suitable date in July 2011 for a reception to be hosted by the High Commissioner for the Indian Cricket Team during its visit to the UK", a release by the High Commission said.

"In early July 2011, a date (18 July 2011) was formally proposed by the BCCI to the High Commission of India for the reception. This date was confirmed by the High Commission to BCCI. Following this, a number of invitation cards were also issued by the High commission", the release said.

"Quite by chance, the High Commission then learnt that the date for the reception on July 18, 2011 clashed with another event to which the Indian Cricket team had committed itself. In the circumstances, it was decided to call off the reception. The BCCI was accordingly informed."

The Indian High Commission is now planning to host the cricket team next month.

"The Indian Cricket Team management has been in touch with the High Commission of India in regard to rescheduling the event to a mutually convenient date in August 2011. PTI