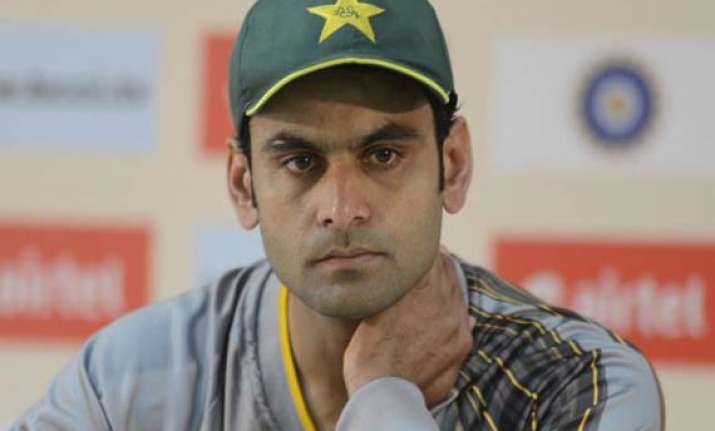 Mirpur: Pakistan's T20 captain Mohammed Hafeez is not bothered about the fact that they have never beaten India in World Twenty20 but he has a lot of expectations from Shahid Afridi as he wants the dashing all-rounder to yet again put up a match-winning performance against arch-rivals tomorrow.
It was on the back Afridi's whirwind knock that Pakistan had beaten India in the Asia Cup.
"We would always want Afridi to come lower down the order and finish the game for us.
It's important that he (Afridi) is in good form and frame of mind. We want him to repeat the performance of the Asia Cup match against India," skipper Hafeez said at the pre-match media conference here today.
While Ravichandran Ashwin is slowly regaining some form and will be itching for revenge, Hafeez is confident that eldest statesman of his side is well prepared to face him.
"Each and every individual does his homework," was his reply.
Pakistan have never won against India in three ICC World T20 encounters but Hafeez is hardly bothered about "history".
"History does not really bother us. Irrespective of whether it is good or bad, it is history.
All days are not great days. You should be ready for the next day," Pakistan captain brushed aside the statistical factor.
The skipper also begged to differ from team's batting consultant Zaheer Abbas' logic that Dhoni's absence was a big factor during Asia Cup and his presence will make a difference.
"I respect Zaheer bhai's statement and he has his own logic. Dhoni has been a great captain and has led the team well in the last five or six years. But if you are prepared well then you can overcome any challenge."
Hafeez is also of the opinion that having all-rounders like Afridi and veteran Shoaib Malik will help them a lot.
"We do believe that having all-rounders helps. We have all-rounders like Shoaib Malik, Afridi and Kamran Akmal, who is a wicketkeeper-batsman."