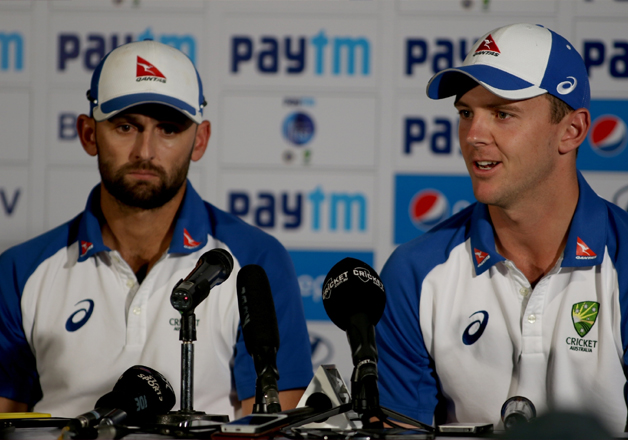 Rubbishing veteran India off-spinner Harbhajan Singh's claims of a 4-0 whitewash in favour of the hosts in the four-Test cricket rubber, starting on Thursday, Australia tweaker Nathan Lyon on Tuesday said the visitors have a strong squad and are confident of a good fight.
Harbhajan had earlier predicted a 4-0 clean sweep of the Kangaroos and termed the current Aussie outfit as one of the weakest to visit India.
"Everyone has his opinion. Good luck to him. We are not worried about what everyone believes and thinks about this team. We have got a really strong squad with unbelievable talent in the room out there. We have got good leaders with David Warner as vice-captain and Steve Smith as captain. There are some very young talents," Lyon said here.
"We are confident in our change room. We'll come out and compete hard with India. We know it's going to be hard work, we know it's going to be a challenge. India are the No. 1 side for a reason. We're playing in their backyard. We don't expect our big fast bowlers to come out and get them five down (on the first day). It's a big challenge for us. We are looking forward to it," he added.
Hailing his Indian counterpart Ravichandran Ashwin as a "world-class" spinner, Lyon revealed that he had worked on a few things in his bowling after watching footages of the Chennai tweaker.
"I have watched a lot of Ashwin. He is a world class bowler and I can learn a lot from him. I'm not going to tell you what I have been working on. I definitely changed my approach to the subcontinent conditions as compared to four years ago," said Lyon, who has 228 wickets from 63 Tests.
"I have been watching a lot of footage of Ashwin, the way he goes about it, his different release points. He is a world-class spinner, the best at the moment in the world, there is a reason for it. Been studying him a lot, hopefully I can put that in play," he added.
Currently the leader of Australia's spin attack, Lyon said he is using the opportunity to help out the young spinners in the side.
"I'm enjoying the responsibility, doesn't add any more pressure. Our job is to bowl well together and in partnership and put pressure. I am looking at this as a chance to pass knowledge to some, especially the younger spinners who have not toured here before," the 29-year-old said.