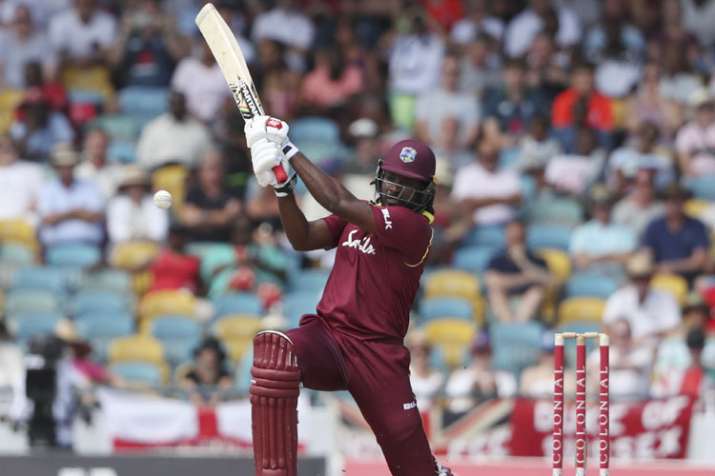 Chris Gayle on Thursday overtook former Pakistan all-rounder Shahid Afridi in the list of most sixes hit in international cricket as England took on West Indies at the Kensington Oval in Bridgetown, Barbados.
Gayle smashed his career's 477th maximum in international cricket in the 15th over of the Windies innings to go past Afridi at the top of the list.
Gayle, who achieved the feat in his 514th innings, smashed Moeen Ali out of the park in the first ball of the 15th over of the innings after the home side decided to bat first in the first ODI of the five-match series.
Moeen bowled a flighted deliver and the 'Universe Boss' gave him the charge and smashed it over long on. It was just a bunt but that shot packed a punch as it rocketed over the fence.
Afridi, who has 476 sixes in international cricket across all the formats, is followed by New Zealand's Brendon McCullum (398), Sri Lanka's Sanath Jayasuriya (352), India's Rohit Sharma (349) and MS Dhoni (348).
The West Indian has hit the most number of sixes in ODIs with the number being 275 before the start of the match, followed by 103 in T20s and 98 in Test cricket.
The 39-year-old has smashed the most number of sixes against England -- the most against a particular team. He is followed by Rohit Sharma (89) versus Australia and Shahid Afridi (86) against Sri Lanka.
Gayle then went on to cap off an incredible return to international cricket as he reached his 24th ODI hundred with a single off of Chris Woakes off exactly 100 balls in the  35th over of the game.
The southpaw, who is making a comeback into the side after recovering from an injury, had earlier announced that he will be walking away from ODI cricket after the World Cup in England and Wales later this year.
"I'm in good condition. The body is feeling good and I'm pleased with that. I've lost a bit of weight and I don't want to get too big. I'm still working on my six pack. I'm trying to keep up with the youngsters in the field who are like cats the way they chase the ball. I still have it in me and I'm still enjoying it," Gayle had said about his retirement.
"I don't know who is opening the bowling for England, but any bowler is going to beware of Chris Gayle. That doesn't change because he is 39 now, they are going to be saying 'yes, he's got some grey hair in his beard, let's get him now, this is the perfect time to get the 'Universe Boss' now he is 39'," he added.