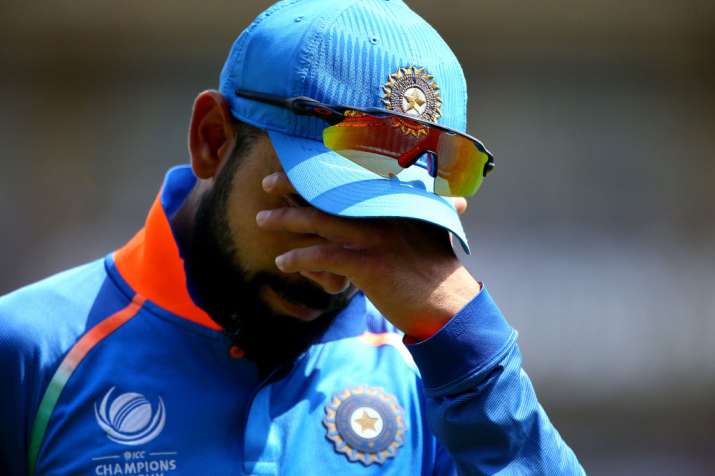 After losing the much-hyped Champions Trophy encounter against Pakistan on Sunday, things have gone from bad to worse for Indian cricket. Team India not only lost their title of defending champions to arch-rivals Pakistan but also lost a gem of an individual who could have taken the team to greater heights in the near future.
Yes, you guessed it right, we are talking about former leg-spinner Anil Kumble who surprised everyone by stepping down from the post of India's head coach following an alleged rift with skipper Virat Kohli. 
UPDATE: Mr. Anil Kumble withdraws from the post of Head Coach of the Indian Cricket Team. https://t.co/LJB5OOchjv

— BCCI (@BCCI) June 20, 2017
Touted as the modern-day great, Virat Kohli is presently the poster boy of Indian cricket and has been treated as semi-god in the cricket frenzy nation. But the loss against Pakistan and his internal spat with Anil Kumble has somehow dented Kohli's reputation among his millions of fans who admire him for his cricketing prowess. 
Kumble's humiliating exit has also further deepened the hole and has given a rise to a new debate that 'Should the captain be the biggest supremo among all'? Kumble is considered as the one of the biggest match winners in Indian cricket and a legend in world cricket who has contributed immensely in the game. 
Thank you! pic.twitter.com/eF5qVzdBRj

— Anil Kumble (@anilkumble1074) June 20, 2017
Since his exit, a huge number of Kumble fans, supporters and former sportsmen has come openly in defense of the former skipper. Check how the Twitter world reacted to Kumble's departure:- 
If it is true that @anilkumble1074 has stepped down as coach, Indian cricket has let itself lose an outstanding resource.

— Harsha Bhogle (@bhogleharsha) June 20, 2017
India are losing a Great man in @anilkumble1074 ... realty hope he stays in some role .... far too good a bloke to lose ... #India

— Michael Vaughan (@MichaelVaughan) June 20, 2017
My biggest teachers was coach Uwe.I hated him!But stuck with him for 20 years.He always told me things I did not want to hear.#justsaying

— Abhinav Bindra OLY (@Abhinav_Bindra) June 20, 2017
Sad, but also deeply intriguing how `a marriage made in heaven' between @anilkumble1074 & @imVkohli should crumble so soon

— Cricketwallah (@cricketwallah) June 20, 2017
This Anil Kumble episode is sad, no?
When he was captain, he was pretty much a combination of the passion of Kohli and the calmness of Dhoni

— Ramesh Srivats (@rameshsrivats) June 20, 2017
Not Everyone Can Keep Legs Grounded Despite Reaching Heights Of Sky. Sachin Tendulkar Is Called "God" For A Reason.

Miss You Anil Kumble😢 pic.twitter.com/J4vT8MP5hD

— Sir Jadeja (@SirJadeja) June 20, 2017
I wonder if Indian team have issues with man like Anil Kumble what will happen if Sehwag becomes Indian team coach. #PAKvIND

— Shoaib Akhtar (@ShoaibI00mph) June 20, 2017
Instead of Anil Kumble it should be Virat Kohli who should be stepping down. Wtf !!😡😡

— Swapnil™® (@mishuswapnil) June 20, 2017
Anil Kumble signs off as head coach with dignity&honesty.Its sad BCCI and @imVkohli could not value his talent.His exit would make a dent. https://t.co/4NwnKlCLfU

— Sudhir Chaudhary (@sudhirchaudhary) June 20, 2017
Well, only the time will tell how big an impact Anil Kumble's exit would make on Team India's track record in big matches.