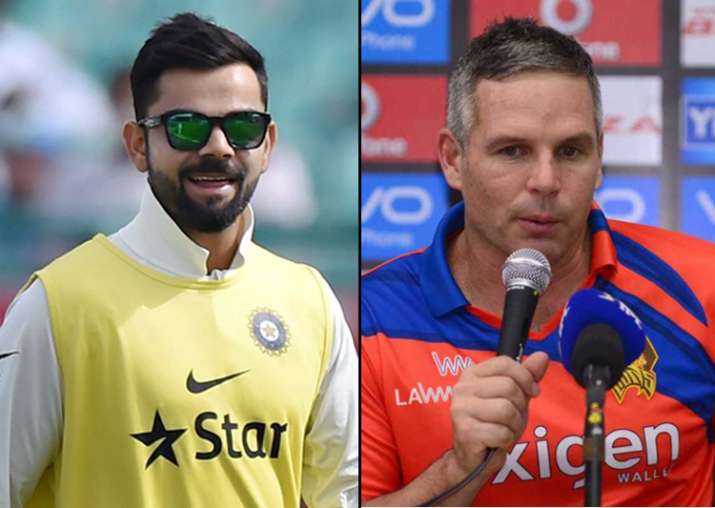 In a damning allegation, former Australian cricketer Brad Hodge has suggested that Indian captain Virat Kohli missed the fourth Test in Dharamsala to save himself for the IPL starting next month.
Kohli pulled out of the series-deciding fourth Test against Australia as he was not 100 per cent fit after injuring his shoulder during the third Test in Ranchi.
Hodge, the coach of IPL side Gujarat Lions, said it would be "pretty dirty" of Kohli if he turns out for the IPL opening match as Royal Challengers Bangalore captain against David Warner's Sunrisers Hyderabad on April 5.
"You'd hope as a sportsman that he's seriously injured. I'm hopeful, as a Gujarat Lions coach, that when we play RCB in a couple of weeks, that he's not playing," Hodge was quoted by 'Daily Telegraph' as having told Fox Sports News' Gameday Live.
"Because if you miss one game of Test match cricket and you're fronting up the next week for RCB versus whoever, Bangalore, at Chinnaswamy Stadium -- you'd be pretty dirty if he did not front up to a Test match and try and win a valuable series against Australia," said Hodge who played five Tests and 25 ODIs between 2005 and 2008.
"You would think that your captain would get out there and get among the fight and get in there."
Hodge hoped the Indian skipper would not turn out to be like the many cricketers who have "limped" into the lucrative IPL.
"It's happened before. Not just Virat but there's many players that have come up to IPL time and ... look, we know it's a cash rich tournament, there's some money up for grabs.
"He (Kohli) gets paid a helluva lot of money, he gets paid a helluva lot of money anyway, so it does not matter, but there are certain players that will limp in, to IPL time, to make sure they get there and perform well, because it is an important tournament for everyone around the world."
Brendon Julian, Brad Haddin question Kohli for carrying drinks at Dharamsala
Hodge was not the only former Australian cricketer who questioned Kohli's move to pull out of the ultimate Test match of the series. 
Former Test players Brendon Julian and Brad Haddin have also questioned Kohli carrying drinks at breaks on Day One of the fourth Test.
"The one sight out there that was quite puzzling was Virat Kohli out there running some drinks. This is the captain that said, 'I can't actually play because I have a shoulder injury' out there running the drinks," Julian said.
"I don't get that. I don't get that. I like Kohli. I think he's a very good captain and he's great for Indian cricket, but you don't need to be doing that. You're out injured. What is the point?"
Haddin said Kohli risked derailing the captaincy of his stand-in, Ajinkya Rahane.
"I also think he's good for the game and he's a world class batter, but what about Rahane," said Haddin.
"He (Rahane) was out their captaining the team and you don't want him running on because you know how big a personality he is in the change-room.
"It's his time to captain and what if he had different views on what Kohli has. Talk to him by all means in the change-room, but you're injured. Sit down and get some ice on your shoulder."
Even in the absence of Kohli, India have pinned down Australia and are on the verge of scoring a decisive victory. At the stumps on the thirsd day of the match in Dharamsala, India were 19 without a loss and needed 87 runs to clinch the series 2-1.