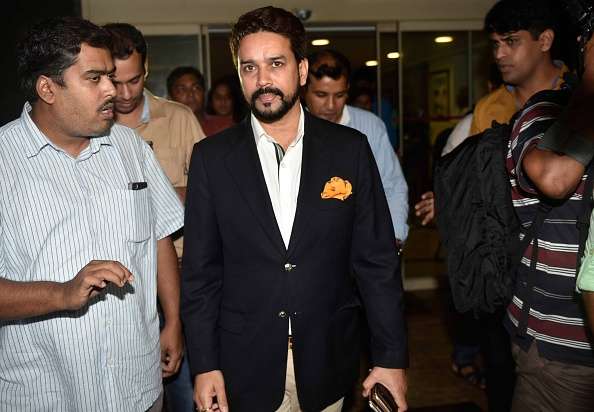 The Supreme Court on Friday asked former Board of Control for Cricket in India (BCCI) President Anurag Thakur to tender an "unequivocal and unconditional" apology for saying that the court's order for ushering in reforms in the country's apex cricket body amounted to government interference. The bench of Justice Dipak Misra, Justice A.M. Khanwilkar and Justice D.Y. Chandrachud also directed Thakur to be personally present in the court on the next date of hearing. 
The court has fixed next Friday (July 14) as the next date of hearing.
The court directed Thakur to file an unequivocal and unqualified apology as it said that the apology offered by him earlier was not unqualified.
"You file a one-page affidavit and unconditional apology. He should be here," the bench said as senior counsel P.S. Patwalia appearing for Thakur told the court that former BCCI chief has already apologised to the court.
"Actually the language must be unconditional. It (earlier apology) is qualified," the bench observed as Patwalia read from the earlier apology tendered by Thakur to the top court.
Sensing the mood of the bench, Patwalia assured the court, "What is falling from the bench is crystal clear to me, I will convey. I will tell him that it should happen. No reason why it should not happen."
However, Patwalia told the bench, "I have never done anything wrong. The matter will continue. I am in public life. There was some miscommunication. I had only asked then ICC President Shashank Manohar to clarify that the presence of a CAG nominee on the BCCI would amount to government interference -- a position Manohar had taken earlier as BCCI president."
At this, the bench observed, "Be that as it may and offer apology and matter will be closed."
The Supreme Court by its January 2, 2017, order while sacking Anurag Thakur and Ajay Shirke as President and Secretary respectively of the country's apex cricketing body had issued notices asking them why perjury and contempt proceedings should not be initiated against them.
The two officials of the cricket board had earned the ire of the court for not candidly telling it that they had asked for a letter from the ICC that the appointment of a CAG nominee on the board amounted to government interference in its affairs.