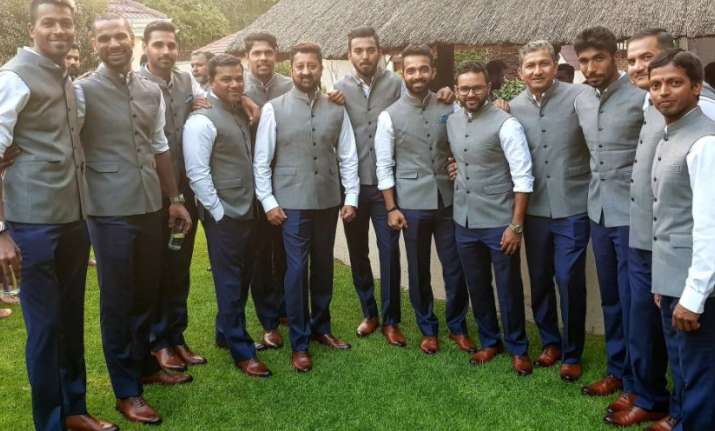 A suited and booted Team India visited the India house at Johannesburg yesterday on January 11 and the cricketers were seen sporting a semi-formal attire. Coach Ravi Shastri and players Virat Kohli, Hardik Pandya, Shikhar Dhawan, Ajinkya Rahane, Umesh Yadav, Murali Vijay, KL Rahul, Jasprit Bumrah and Bhuvneshwar Kumar were present at the India house, all well dressed.
Virat Kohli and Co were seen talking and having a hearty time before the big match at the Centurion. Take a look at some of the pictures that were posted by the BCCI's twitter handle. 
.#TeamIndia visit India House at Johannesburg pic.twitter.com/eHG805V3DY

— BCCI (@BCCI) January 11, 2018
The Men in Blue gear up for the penultimate second Test at the Centurion which decides the fate of the Test series. The hosts South Africa ripped past the visitors in the first Test where they won by 72 runs. Proteas' attacking unit have been threatening since day one and have delivered as the Indian batting line-up crumpled to their pace. 
The Indian bowlers have delivered as debutant Bumrah didn't fail to perform with his spells on overseas' conditions, but it was the Indian batsman who didn't justify their roles as openers Shikhar Dhawan and Murali Vijay failed to make an impressive start in both of their innings. Consistent Cheteshwar Pujara has played in such conditions before but it was the opposition's spearheads that got the better of the Test swashbuckler. 
Virat Kohli and his batsmen will have to step up and project runs on the scoreboard if they are to see themselves level the series before the third and final Test as the Men in Blue have never won a Test series in South Africa.
Reports suggest that KL Rahul might replace Shikhar Dhawan in the second Test whereas Rahane's inclusion in the playing XI still seems uncertain as Rohit Sharma may occupy the no 5 batting spot.
India play South Africa in the second Test of the three-match series at the Centurion on January 13.