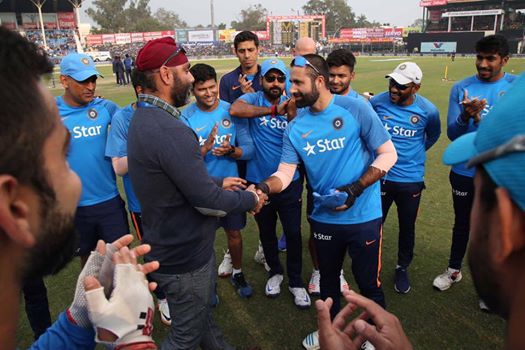 In the testing times for the Kashmir Valley, which has witnessed disturbance for months at end with several youth taking to stone-pelting against the Army, success stories like that of young cricketer Parveez Ghulam Rasool Zargar come across as a whiff of fresh air and a symbol of inspiration.
Parvez, who is making his debut in T20 Internationals today against England in Kanpur, was the first cricketer from Kashmir Valley to join Team India and first Kashmiri cricketer to be picked up for IPL.
Born on February 13, 1989 in Bijbehara, Kashmir valley, Parvez Rasool has been a talented cricketer right from his childhood.
The 27-year-old player learnt cricket from his coach Abdul Qayyum and played junior cricket for his state J&K. His brother Asif has played Ranji Trophy too.
Parvez is the fourth cricketer from Kashmir after Abid Nabi, Surendra Singh and Abdul Qayyum to be picked up for a national squad. The other three however could not make it to the senior team.
The all-rounder has become a household name in his home state. Once asked of the reaction he gets when he goes back home, Rasool said: "After I returned to Jammu and Kashmir, I saw many youngsters take up the sport as there was not much cricket in Kashmir earlier."
In 2014, Rasool was the key player behind Jammu and Kashmir's success in the Ranji Trophy, when the team made it to the quarter-finals for the first time in Ranji history.
Rasool struck a century and picked up six wickets against Punjab in a quarter-final tie.