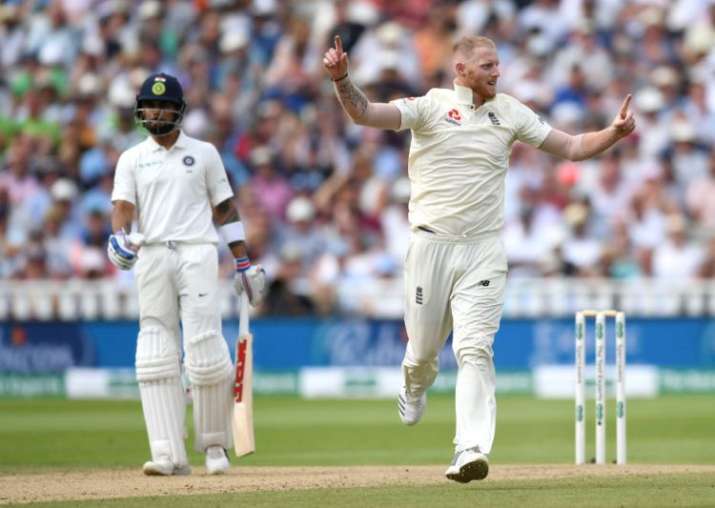 England pacer Ben Stokes claimed the precious wicket of Indian skipper Virat Kohli to shift the momentum of the first Test in his team's favour at Edgbaston, Birmingham, on Saturday. Even though Kohli scored impressive 149 and 51 runs in successive innings, he failed to propel them to the victory and England took a 1-0 lead in the opening game of the five-Test series. (Match Score & Highlights)
Former India captain and IndiaTV cricket expert Sourav Ganguly spoke to IndiaTV on India's 31-run loss against England in Birmingham Test. He identified the failure of Indian batsmen apart from Kohli as the chief reason for India's loss at Edgbaston.
"If you have to win a Test then everyone has to score runs. The other batsmen have to score hundreds as well. Virat played very well otherwise India would have been out of the match on the second day itself," Ganguly told IndiaTV during "Cricket Ki Baat" show.
When asked whether he believes India can make a comeback later in the series, Ganguly said: "This was the first Test in a five-match series and I think this team has the capability to come back and play well. Ajinkya Rahane and Murali Vijay will have to show some determination since they have scored runs in these conditions before."
The 113 Test veteran, however, stopped short of putting the blame solely on Kohli for India's loss.
"I don't think the captain is responsible for the loss. If you are the captain then you will be criticised for a loss the same way as you are congratulated for a win. One criticism for Kohli is that he should give a consistent run to his batters and more time before dropping them," said Ganguly.
 
Dada also said that the failure against swing in English conditions can't be used as an excuse any more as everyone knows that its what you get when you come to England.
"You can't be excused all the time and we have lost before in 2011 and 2014. You have to bat well. It's a very well known fact that the ball will swing in England the same way as Australia is known for its pacy wickets. So if previously you have scored runs there is no reason you can't now," reasoned Dada.
Speaking on the chances of India squaring the series at Lord's Ganguly said: " The captain should give confidence to his players. It's his team and he only can change their mindset. He will have to sit with them and tell them that if he can do it so can they. He should give them time and tell them to go out and play without any fear. It is true that after continuous chopping and changing of the playing XI, players can get afraid that after all these years they have failed to garner the faith of the team management."
Reflecting on the larger issues plaguing the Indian team at the moment Sourav referred to the champions teams of the past and the reason why they were so good. 
"The good thing about the great teams of the past - whether it be Australia, South Africa or our very own team which won the Test series here in 2007 - was that the boys used to play both formats of the game - Sachin (Tendulkar), Rahul (Dravid), Viru (Virender Sehwag), including myself. So even if you played badly in one or two matches you got a lot of time to get back into form at the international level. Playing and scoring 150 in first-class cricket can't compensate for international cricket. In this team no batsman except Virat plays all the formats. International runs are international runs and they give a lot more confidence than first-class runs," concluded Ganguly.