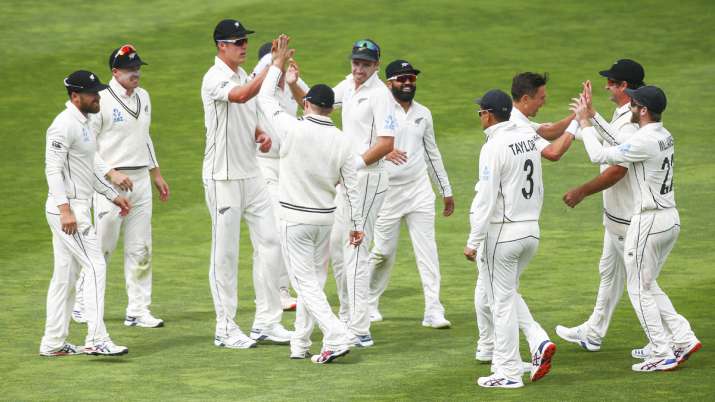 India vs New Zealand 1st Test Day 1 Highlgihts: Hello and welcome to the Live coverage of the opening Test match of the two-game series between India and New Zealand which will be played in Basin Reserve in Wellington. Thunderstorms have forced the umpires to call off play early on day one of the first Test. The first day belonged to the hosts with them picking up five crucial wickets and leaving India reeling at 122/5. Ajinkya Rahane and Rishabh Pant remained unbeaten for India while Kyle Jamieson starred for New Zealand on Test debut with figures of 3/38 [Live Scorecard | Live Streaming]
Highlgihts, India vs New Zealand 1st Test Day 1 at Stumps: India 122/5 after 55 overs vs NZ; Rahane 38*, Pant 10* 
10.11 IST: STUMPS! Play has been called off early due to wet outfield and persistent rain in Wellington. India have managed to score 122/5 and have Ajinkya Rahane and Rishabh Pant at the crease after Kyle Jamieson ran through the Indian top-order at Basin Reserve. That's all from here. Join us tomorrow for day two's play from Wellington.
09.57 IST: It has started to drizzle again and any further play looks unlikely now. Stay tuned for more updates.
09.32 IST: An inspection is scheduled at 5.30 PM local time if there is no rain -- 10 PM IST.

09.26 IST: Rain has stopped now but the covers are still on at Basin Reserve.
09.05 IST: Rain has come back and delayed the start of the third session at Basin Reserve. Thunderstorm followed by rain in the middle of the tea break delayed the start of the final session on the opening day.


A bout of heavy drizzle out there and the groundsmen have covered the pitch at the moment.

Stay tuned for updates....#NZvIND pic.twitter.com/E0NLMB3KnM

— BCCI (@BCCI) February 21, 2020
08.42 IST: TEA!
Rahane and Pant have seen India off to Tea after two quick wickets of
Mayank Agarwal
and Hanuma Vihari. Rahane has looked solid and Pant has supported him well as well. However, NZ remain on top with five wickets to their name.
India lose two wickets in the second session on Day 1 of the 1st Test.

Rahane (38*) and Pant (10*) keep the scoreboard ticking at Tea.

Scorecard - https://t.co/tW3NpQIHJT #NZvIND pic.twitter.com/MqsjeBJ6Dq

— BCCI (@BCCI) February 21, 2020
08.29 IST:
Spinner Ajaz Patel into the attack now.
08.21 IST: Southee to Pant, FOUR!
Bangs one short and Pant somehow manages to keep it down and pull it for a boundary fine. A welcome four for him and India.
07.53 IST: de Grandhomme to Rahane, FOUR! Pitched up and Rahane slaps it past the bowler for a boundary. A classy shot from Rahane. He's looking solid and will have to carry India forward.

07.46 IST: Rishabh Pant is the new man in
07.45 IST: Jamieson to Vihari, OUT! Another wicket for Jamieson. He's running riot here. Bowled the fourth stump line, around the corridor of uncertainty and Vihari pushes at it and all he manages is to get an edge and a good diving catch to his right by BJ Watling. India lose their fifth as Vihari falls for 7.
 
07.35 IST: Colin de Grandhomme into the attack.

07.32 IST: Jamieson to Rahane, FOUR! Slams in a bouncer and Rahane is caught in two minds but it goes past his gloves, hits his arm guard and goes over the keeper for four byes. 100 up for the visitors.
07.24 IST: Jamieson to Vihari, FOUR! Copybook straight drive that. Pitched up and driven past the bowler for a boundary.

07.11 IST: Hanuma Vihari is the new man in.

07.11 IST: Boult to Mayank, OUT! He has fallen for it. Boult bangs one shott but the ball doesn't bounce and it's around his hips and Mayank went for the Nataraj shot but all he could do was hole out to the fielder, who was standing at fine leg. He just threw his wicket away after settling in. India lose their fourth.

07.00 IST: Mayank and Rahane have so far seen off the initial phase post lunch. They have looked solid and will now look to build on it.

06.49 IST: Jamieson to Mayank, FOUR! On his hips and he guides it fine for a boundary. First of the session.

06.47 IST: Kyle Jamieson to bowl from the other end.

06.41 IST: The players are out in the middle for the second session of the day. Tim Southee to begin for New Zealand, Rahane on strike for India.

06:04 IST: And its the end of the first session. Agarwal and Rahane stay intact after the early dismissals pf Shawm, Pujara and Kohli. 
05:50 IST: Southee to Mayank. FOUR! Well wide of the off stump, fullish and Mayank reaches out to cut it past gully for a four.
05:39 IST: Jamieson to Mayank. FOUR! Bottom-handed down the track drive to long-on fence. 
05:21 IST: WOOOOAAAHHH!!! Jamieson goes bang bang in Wellington as he dismisses Kohli on 2. Fullish ball outside off and Kohli nicks it to the slip fielder.
05:11 IST: Jamieson to Pujara. OUT! Nothing wrong from the batsman, but the ball straightened up from the surface, took the outside edge and off it went to BJ Watling. India lose another and Jamieson gets his debut Test wicket. Enter VIRAT KOHLI.
05:04 IST: India have so far cautiously negated the first hour in Wellington for the fall of Shaw's wicket. Boult and Southee troubled India with swing before debutant Kyle Jamieson brought in some bounce. But If India can continue through in the same manner until lunch, New Zealand will feel the pressure. Meanwhile, Wagner's family has been blessed with a baby girl
4:42 IST: Southee to Pujara. FOUR! Full toss outside off and Pujara smashes it down the track towards long on for a four. His patience has been rewarded. 
04:41 IST: Boult and Southee have together bowled Pujara five times in Tests. New Zealand need another breakthrough to get India completely on their backfoot before lunch.But Pujara is very solid with his defense. 
04:23 IST: Southee to Shaw. OUT! Fullish outswinger, no footwork and Shaw is undone after an erratic start. He walks back on 16.
04:17 IST: Boult to Shaw. FOUR! Shaw becomes fortunate as the edge sneaks through the slip cordon for a four
04:12 IST: Southee to Shaw. FOUR! Short and width on offer as he cut it aerially through point
04:00 IST: Mayank Agarwal and Prithvi Shaw are in the middle. Tim Southee begins the attack. 
03:55 IST: Ajinkya Rahane - It's been really good, had good practice sessions over the past two days, windy conditions are a challenge (at this ground), but we are in for it. It was a tricky situation (in 2014), first time in Wellington, but you need to adjust to the conditions, we are back here after 5 years and I'm confident this time around. Each and every Test is important, especially with the (WTC) points on offer. New Zealand are a very strong team and we aren't taking them lightly.
03:50 IST: Ross Taylor (playing his 100th Test): Really excited about the occasion. It's not a great sign when you wake up in the morning and there's some rain around. Ian Smith said a few words at an event last night, and it was very nice for the team and the family to experience something they might never do again. I'll need some help drinking (the hundred bottles of wine), but they can be stored for a while. It keeps the tradition from Fleming, Brendon (McCullum) and Dan(iel Vettori) who all played over a hundred Tests each and hopefully we can celebrate this one with a win.
03:48 IST: India have lost only once in 31 matches under Kohli while batting first. But the last time a team won a Test match batting first in New Zealand was back in 2010.
03:45 IST: Here is the playing XI of the two sides...
New Zealand (Playing XI): Tom Latham, Tom Blundell, Kane Williamson(c), Ross Taylor, Henry Nicholls, BJ Watling(w), Colin de Grandhomme, Kyle Jamieson, Tim Southee, Ajaz Patel, Trent Boult
India (Playing XI): Prithvi Shaw, Mayank Agarwal, Cheteshwar Pujara, Virat Kohli(c), Ajinkya Rahane, Hanuma Vihari, Rishabh Pant(w), Ravichandran Ashwin, Ishant Sharma, Mohammed Shami, Jasprit Bumrah
3:40 IST: Williamson: We're gonna have a bowl. It's still a bit soft. We've seen in the past that there is often a green tinge. We need to bowl well upfront. Mitchell is the one to miss out. It's a bit soft on the top. Obviously, Neil has bigger things on his plate. Kyle (Jamieson) has bowled well in the white-ball leg, hopefully he steps up. The guys have all enjoyed themselves but we have a job in hand and need to be focussed.
03:35 IST: Kohli: We would have also bowled first. It's a no-brainer on day one, gonna be overcast all day. That said, the pitch looks better than it was two days ago with a lot of the grass taken off. Still need to bat well. Wriddhiman Saha, Shubman Gill, Navdeep Saini and Ravindra Jadeja are the ones missing out. Our bowling attack is more experienced now and it's important to be patient in New Zealand conditions. We have the confidence in recent years about winning away from home.
03:30 AM IST: New Zealand win toss and opt to field. 
03:00 IST: Half an hour more to go for the toss. What should India take if Virat Kohli wins the toss? Remember, New Zealand is one country where teams batting second have found more success, contrary to Kohli's usual strategy on overseas venues.
02:45 IST: "A windy morning with overcast conditions today."
02:30 IST: Little stat for our fans although one that Indian fans would look to avoid: India have played seven matches at the Basin Reserve, the venue for the opening Test match, and have won only once, back in 1968. Since then, they lost four in a row and drew twice. New Zealand, on the other hand, have lost only twice at this venue since the start of 2011 while winning five of the 11 matches played during the period.
02:05 IST: Here are the squads for the two sides...
India Squad: Prithvi Shaw, Mayank Agarwal, Cheteshwar Pujara, Virat Kohli(c), Ajinkya Rahane, Ravindra Jadeja, Wriddhiman Saha(w), Ravichandran Ashwin, Umesh Yadav, Ishant Sharma, Mohammed Shami, Hanuma Vihari, Jasprit Bumrah, Navdeep Saini, Rishabh Pant, Shubman Gill
New Zealand Squad: Tom Latham, Tom Blundell, Kane Williamson(c), Ross Taylor, Henry Nicholls, BJ Watling(w), Colin de Grandhomme, Kyle Jamieson, Tim Southee, Trent Boult, Ajaz Patel, Daryl Mitchell, Matt Henry