Follow us on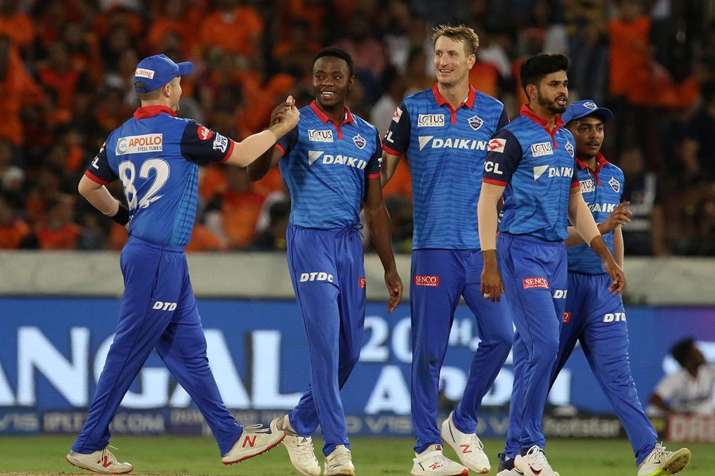 IPL, SRH vs DC: Hello and welcome to our live coverage of Match 30 of the Indian Premier League as Sunrisers Hyderabad host Delhi Capitals at the Rajiv Gandhi International stadium in Hyderabad. A great performance from Delhi. No better way to sum it up. This could be one of the best bowling displays in the history of the competition. Three consecutive defeats on the bounce for the hosts. Chasing 156, Warner and Bairstow once again got their side off to a good start, adding 72 between them before the Englishman departed. What followed was unimaginable. From 101/2 in the 16th over, they got bundled out for 116 before the 19th over even ended. Barring the two openers, nobody even got into double figures. A truly astonishing fact. (Match scorecard)
IPL, SRH vs DC from Hyderabad: Delhi beat Hyderabad by 39 runs
23.50 IST: Kagiso Rabada says that they had a game plan and they just stuck to it and hoped it to go their way. On his variations, Rabada replies that it's been a trend so far and you have to vary your pace to succeed in this part of the world. Lauds Keemo Paul and Chris Morris for doing a brilliant job. On the leadership role in the squad, Rabada thinks and says that he has the responsibility on his shoulders and he just wants to do his best and do everything for his team. Talking about his catches, Rabada mentions that you have to do your best and also tells that they are working hard in all the departments.​

23.47 IST: Delhi will be mighty pleased with this performance. They only had a decent score to defend, so execution was key. Bairstow and Warner's start would have put most teams off, but when you have the likes of Rabada, Morris and Paul in the team, anything is possible. These three bowlers shared the 10 wickets between them. Paul kicked things off getting Bairstow and Williamson, then Rabada and Morris cleaned house in the death overs. Paul finished with 3 along with Morris, while Rabada got 4 to his name.

23.43 IST: A great performance from Delhi. No better way to sum it up. This could be one of the best bowling displays in the history of the competition. Three consecutive defeats on the bounce for the hosts. Chasing 156, Warner and Bairstow once again got their side off to a good start, adding 72 between them before the Englishman departed. What followed was unimaginable. From 101/2 in the 16th over, they got bundled out for 116 before the 19th over even ended. Barring the two openers, nobody even got into double figures. A truly astonishing fact.

23.40 IST: Kagiso Rabada to Khaleel Ahmed, OUT! Take a bow, Kagiso Rabada. He's wrapped Hyderabad up before the game even goes into the final over. Fires an accurate yorker on the stumps, Khaleel can't do about it. The furniture behind is rattled and that's the end of this contest. DELHI WIN BY 39 RUNS!

23.37 IST: Kagiso Rabada to Bhuvneshwar Kumar, OUT! Rabada has his third of the night. Will Hyderabad even survive the 20 overs? A short ball, Bhuvneshwar Kumar backs away and tries to slap it. But it goes off the top edge and Rabada runs to the ball at the striker's end and takes it himself, just about avoiding Pant who also comes in to take the catch.

23.33 IST: Chris Morris to Abhishek Sharma, OUT! Third of the over for Chris Morris. Hyderabad have just crumbled here. Unreal collapse. Morris comes from around the wicket and bowls it full on the stumps, slower in pace. Sharma is early into the shot and ends up handing a high, yet relatively simple chance to Paul at cover.

23.30 IST: Chris Morris to Rashid Khan, OUT! Gone first ball! Now it's Morris who's on a hat-trick. Back of a length delivery as the big all-rounder hits the deck hard, Khan takes the pull on and hits it over mid-wickert. Straight down Keemo Paul's throat who takes it safely. From 101/2, Hyderabad are 110/7. Unbelievable.

23.30 IST: Chris Morris to Deepak Hooda, OUT! Bowled 'em! It's Chris Morris this time who's on the money, he'll following up Rabada's good work. Arrows the yorker on leg stump, Deepak Hooda has no idea what to do about it. Too good for him, the leg pole goes for a walk.

23.26 IST: Abhishek Sharma to bat next for Hyderabad. He will face the hat-trick ball.

23.25 IST: Kagiso Rabada to Vijay Shankar, OUT! Two in two for Rabada! Is this the game for Delhi? Exceptional bowling, this. He hits the deck hard this time at great pace, Shankar looks to pull but the bounce gets too big on him. Ends up getting a top edge which balloons behind. Pant moves to his right, gets under the ball and gobbles it up.

23.24 IST: Kagiso Rabada to David Warner, OUT! Kagiso Rabada has got the dangerman. Hyderabad in real trouble here. The set batsman and Hyderabad's best chance has been dismissed here. The Protea takes the pace off this one and bowls it full, Warner clears his front leg and looks to go big downtown. Mistimes it and skies it towards Iyer at long off, who takes a safe catch settling under the ball.

23.24 IST: Kagiso Rabada to David Warner, FIFTY! Fifty up for David Warner, his 40th in the Indian T20 League. It's taken him a while to get here, and now he'll want to kick on and finish things. He lofts this full ball towards long on and takes a couple of runs.

23.18 IST: Strategic time-out! Another wicket down for Hyderabad. Delhi are creeping back into the game, and growing stronger in position, but Warner's presence in the middle will keep them wary and he is undoubtedly the key if the hosts are to win. There are some hitters left to come, so anything could happen. Hyderabad need 55 runs in 28 balls. Also, Vijay Shankar is the new batsman in.

23.16 IST: Keemo Paul to Ricky Bhui, OUT! Ricky Bhui's scrappy stay in the middle comes to an end. Maybe a blessing in disguise for Hyderabad. Slower and fuller outside off, Bhui makes room and throws his bat at it. Gets a thick edge which goes towards short third man. Axar Patel from backward point moves to his left and takes a good diving catch.

23.10 IST: Amit Mishra to David Warner, DROPPED! Mishra puts it down in his followthrough. A flatter delivery, landing short and outside off, Warner flat-bats it right back to the bowler who fails to take the return catch. David smiles after getting a life.

23.07 IST: Chris Morris to David Warner, FOUR! This over has certainly eased all the nerves in the Hyderabad camp. A low full toss outside off, Warner hangs on the back foot and goes boom over covers for a boundary.

23.04 IST: Chris Morris to David Warner, FOUR! This will release all the pressure. Short in length and on middle, Warner rides the bounce and pulls it in front of square leg for a boundary, first in four overs.

22.59 IST: Amit Mishra to Ricky Bhui, DROPPED! Munro is the culprit! Floated full ball landing on off, spinning away a shade, Bhui attempts for an inside-out shot over covers but ends up hitting it in the air towards long off. The Kiwi rushes forward, goes low and then tries to catch it with his fingers pointing skywards but it pops out of his hands. Strangely, the batsmen have not crossed.

22.57 IST: Ricky Bhui is the new man in.

22.56 IST: Keemo Paul to Kane Williamson, OUT! Rabada has taken an outstanding catch! Moments like these just lift the team on the park. Paul strikes again, his second wicket. This one he bowls more like a top spinner. Holding up to the batsman after landing and Williamson mistimes his shot in the air at mid off. Rabada reacts quickly to his right and takes a sharp catch. Delhi are pumped up.  SRH 78/2 in 11.4 overs

22.49 IST: Skipper Kane Williamson is the new batsman. Just the right kind of a batsman to come at this stage for Hyderabad.

22.48 IST: Keemo Paul to Jonny Bairstow, OUT! Against the run of play, Delhi strike! Keemo Paul has the knack to pick wickets and he has broken the 72-run opening stand. Delivers a fullish ball wide outside off, Bairstow attempts for the lofted shot over extra cover but it comes off from the lower half of his bat and goes towards Rabada at long off. He moves across a bit to his left to complete the catch. 84 needed off 61 balls.

22.41 IST: Axar Patel to Jonny Bairstow, FOUR! This is very poor bowling from Patel. Continues to bowl short and flat. This time he serves it to the right-hander and Bairstow gets back to clobber it to the deep mid-wicket fence.

22.39 IST: Axar Patel to David Warner, SIX! Dismissed! Axar goes short with his length and darts it into the southpaw, Warner immediately picks it and dispatches it over mid-wicket for a biggie.

22.33 IST: Axar Patel to Jonny Bairstow, Edged and FOUR! No slip in place. An arm ball from Axar, it's a bit short and around off, skidding back in, Bairstow rocks back to punch it again but finds the outside edge. It speeds across the turf and reaches the third man fence in no time. SRH 48/0 in 7 overs
* Strategic break. Steady going for the home team in this run chase. They have all their wickets in tact and with the required run rate around 8, it's easy going at the moment for them. It will be interesting to find out how these two batsmen bat against the spinners. That's going to be a critical phase. For now, Hyderabad have things under control. Here comes Axar Patel...
22.26 IST: Kagiso Rabada to Jonny Bairstow, Excellent timing on that shot and a brilliant piece of fielding near the fence by Keemo Paul. Rabada angles in a length ball on middle, Bairstow flicks it through backward square leg and it just races through. Two taken. SRH 39/0 in 5.3 overs
22.25 IST: Kagiso Rabada to David Warner, Smart thinking from the bowler. Senses the movement from the batsman and serves it wide outside off on a length. Warner gives himself too much room, ends up reaching for it and missing.
22.21 IST: Ishant Sharma to Jonny Bairstow, Good cricket all around! Ishant angles in a good length ball on off, Bairstow plays a nice pick-up shot over mid-wicket and it races through. Morris in the deep makes a fine sliding stop to save two runs for his side. SRH 35/0 in 4.5 overs
22.18 IST: Ishant Sharma to David Warner, Good length ball on leg, Warner stays back to work it on the leg side but gets an inside edge onto the pads. It deflects to the off side and they cross for a run.
22.15 IST: SIX! Perfect timing and beautiful shot by Bairstow! A good length delivery on off, Bairstow picks the line and length in a trice as he lofts it nonchalantly down the ground for a biggie. SRH 30/0 in 3.4 overs
22.13 IST: Ishant Sharma to David Warner, A length ball on middle and leg, Warner stays leg side of this delivery and pushes it out towards cover for a run. 10 from this over as well, 20 in the last two and Hyderabad are on track in this chase.
22.09 IST: Ishant Sharma to Jonny Bairstow, FOUR! Boom! Bairstow is motoring now. Ishant overpitches on middle and leg, right in the slot for the batsman, Jonny picks it off his pads and whips it over mid-wicket for a boundary again. SRH 22/0 in 2.5 overs
22.08 IST: Ishant Sharma to Jonny Bairstow, FOUR! Up and over cover-point! Just a little bit of room there outside off and Bairstow goes after it. Doesn't bother to keep it down and lofts it over the infield for a boundary.
22.04 IST: FOUR! Jonny is away with a boundary. A gift by Rabada really. Bowls it short and down the leg side, Bairstow turns and glances it past short fine leg for a boundary. SRH 12/0 in 1.4 overs
22.01 IST: FOUR! Rabada to Warner, FOUR! The South African speedster is welcomed with a boundary from the powerful Aussie opener. SRH 7/0 in 1.1 overs
22.00 IST: Ishant Sharma to David Warner, Once again the line from Ishant is straight and this time Warner turns it in the gap at mid-wicket for a couple of runs. Hyderabad are away in this run chase.
21.56 IST: We're back for the chase! 156 on the board and David Warner and Jonny Bairstow are out. Ishant Sharma handed the ball and we're all set for the action! Let's get started..
* 13 runs off the final over for Delhi, but even then this might not be enough. After electing to bowl, Hyderabad have been on top, at least for the major part of the innings. They got a couple of early wickets, and despite there being a couple of solid stands from the middle order, they never let them run away much and leak too many runs. They picked up wickets at regular intervals and restricted the visitors to a decent total. Khaleel starred with the ball on his return to the side, with a 3-wicket haul, while Bhuvneshwar, who was slightly expensive, took 2 for himself.
21.43 IST: Delhi Capitals score 155/7 in 20 overs against Sunrisers Hyderabad in Hyderabad. Shreyas 45, Khaleel 3/30
21.40 IST: Back of a length on leg, cramps the batsman for room. Rabada tries to make room and pulls, but only as far as deep mid-wicket for a single. DELHI FINISH WITH 155/7!
21.38 IST: Bhuvneshwar Kumar to Axar Patel, No ball! Is it for overstepping? No. There were three fielders inside the ring. Oh, dear. Full toss on the stumps, Patel works it towards wide mid on. Two runs are taken. Free Hit coming up now...
* Bhuvneshwar Kumar will bowl the final over.
21.36 IST: Sandeep Sharma to Keemo Paul, Not out! Sandeep bowls a length ball on leg and it keeps angling down, Paul looks to flick but misses and is caught on the pads. Loud shout but it's turned down. Hyderabad take the DRS and it's taken upstairs. Replays show it is missing leg. The review is lost and a leg bye is taken.
21.34 IST: Sandeep Sharma to Axar Patel, FOUR! A freebie from Sandeep and Patel puts it away. Wide full toss outside off, the left-hander throws everything at it and crashes it through the covers for a boundary.
21.31 IST: Rashid Khan to Chris Morris, OUT! The dropped chance doesn't matter, Rashid gets his man eventually. Does it on his own. Bowls the flipper on the stumps, Morris plays across the line and misses the ball altogether. It goes through bat and pad and disturbs the stumps behind.
21.29 IST: Khaleel Ahmed to Chris Morris, This length delivery is going away from around off, Morris looks to punch but gets it off the under edge beside him. That brings an end to Khaleel Ahmed's spell, he finishes with figures of 4-0-30-3.
21.22 IST: OUT! Now the other set batsman is out. Good captaincy from Williamson for bringing Khaleel on and superb stuff from the pacer to deliver. Dipping yorker which Pant takes on the full, gets low and looks to clear long on. Isn't in any control of the shot though and hands a simple catch to Deepak Hooda coming in from the deep. This isn't looking good for Delhi, they need a big finish. Khaleel removes Pant for 23. Delhi Capitals 127/5 in 16.2 overs
21.18 IST: OUT! GONE! This is good piece of bowling by Bhuvneshwar Kumar. It's the change-up once more, Kumar bowls it short and this time Iyer looks to play the ramp shot. Can only manage an edge, however, as it goes behind and Bairstow takes his third catch of the innings. Partnership of 56 is broken. Delhi would have wanted these two to finish the innings. Bhuvneshwar removes Iyer for 45. Delhi Capitals 125/4 in 15.5 overs
* Strategic break. The going has been a bit slow from Delhi after losing Colin Munro but the current pair has the ability to up the scoring ante. Five more overs to go and Delhi will try to push their score close to 180, at least.
21.08 IST: Sandeep Sharma to Shreyas Iyer, Sharma sees the batsman staying leg side and hence tries to follow him down there. Ends up spraying it too wide and Shreyas misses his flick shot. Called a wide!
21.01 IST: FOUR! Another good effort from the Afghan, in vain though this time. Back of a length outside off, Pant slaps the cut through cover-point. Khan out in the deep scampers to his right, tries to stop it with a dive but is unable to this time. DC 108/3 in 12.4 overs
20.56 IST: FOUR! Nice way to end the over. Short and in line of the stumps, Iyer rocks back and pulls it with complete control over mid-wicket. Nobody out there in the deep, so the Delhi skipper will pick up a boundary. DC 102/3 in 12 overs
20.53 IST: FOUR! Streaky runs for Rishabh Pant. Full and wide outside off, his eyes light up. So he throws everything at it, only to get a thick edge. It speeds through the vacant slip cordon and away to the third man boundary behind. DC 96/3 in 11 overs
20.48 IST: FOUR! A bit cheeky, but he's meant it fully. Good shot. Extremely full outside off, Iyer opens the bat face and slices it through short third man. It's placed quite fine, so will run away to the boundary line. DC 86/3 in 9.4 overs
20.46 IST: FOUR! Pant welcomes Rashid with a well-timed boundary. Short, flat and in line of the stumps, Pant stands his ground and muscles the pull through square leg for a boundary. DC 81/3 in 9.1 overs
20.46 IST: Rashid is brought in!
20.44 IST:  Vijay Shankar to Rishabh Pant, Excellent stop from Williamson. Full and wide outside off, Pant drives it crisply towards extra cover. The Hyderabad skipper dives low to his left and makes a fine stop. Saves a sureshot boundary.
20.41 IST: FOUR! The timing on that is so sweet. Shankar overpitches this as he lands it outside off, Iyer drives it right between extra cover and mid off, beating the dives of both fielders. It races away to the fence for a boundary. DC 71/3 in 8.3 overs
20.38 IST: OUT! Gone next ball! No need to chase after this. The adrenaline and the excitement have got to him. Sharma picks up his first of the evening. He fires it full and wide outside off, Munro reaches out to smash it through the off side but gets a nick behind. Bairstow takes a sharp catch and appeals. The umpire's finger follow and the Kiwi will have to make the long walk back. Delhi in some trouble here now, they've already lost three wickets. Abhishek removes Munro for 40. Delhi Capitals 69/3 in 8 overs
20.36 IST: SIX! That has been blasted by Munro! Right off the middle. No spin on this occasion. Fullish in length on the stumps, Munro steps out of his crease, gets close to the pitch and smokes it over long on for a maximum. DC 69/2 in 7.5 overs
20.34 IST: Deepak Hooda to Shreyas Iyer, FOUR! Shot. Too much width on offer and Hooda pays the price. Short and wide outside off, Iyer cuts it through point, beating the man in the deep who can't stop it even with a dive. DC 59/2 in 6.5 overs
20.31 IST: FOUR! Bowls a short of a length delivery, Munro looks to pull but gets a top edge on this one. It goes over the keeper's head for a boundary. DC 51/2 in 6 overs
20.26 IST: SIX! Smashed and Munro goes big once again! Excellent shot from Colin Munro. Bowls a slower delivery on off, Munro comes down the track and lofts it over mid-wicket for a maximum. DC 45/2 in 5.1 overs
20.25 IST: FOUR! Streaky boundary! A delivery outside off, Iyer outside edges his attempted cover drive past the first slip fielder for a boundary. DC 39/2 in 2.5 overs
20.19 IST: SIX! Munro goes big! Amazing shot. Length delivery on middle, Munro flicks it over square leg for a biggie. DC 30/2 in 3.5 overs
20.17 IST: OUT! First breakthrough for Hyderabad. Khaleel gets his second wicket. Bowls a good short ball, Dhawan looks to pull but gets a top edge on this one. It goes towards square leg where Bhuvneshwar Kumar takes a good catch. Delhi Capitals 20/2 in 3.2 overs
20.14 IST: FOUR! Length delivery on off, Munro drives it through covers. Rashid Khan chases it and tries his best to stop it but it was racing away to the boundary. DC 20/1 in 2.5 overs
20.12 IST: Edged and FOUR!  Munro gets lucky as no one is there. There should have been a slip there. On a good length and outside off, Munro looks to cut but gets an outside edge. It goes towards third man for a boundary. DC 16/1 in 2.1 overs
20.10 IST: Khaleel Ahmed to Colin Munro, Cutting back in from a good length, catches Munro high on the thigh pad as he looks to play at it. It lobs over on the off side as the batsmen cross over for a leg bye.
* Colin Munro walks in at no.3.
20.09 IST: Khaleel to Prithvi, Edged and OUT! Khaleel comes into the side and makes an impact almost immediately. There's that extra bounce again which becomes Shaw's undoing. Some width on offer outside off, Prithvi looks to punch this on the up through the off side but the ball rises a bit too much. It takes the edge and Bairstow behind collects it easily. DC 11/1 in 1.5 overs
* Khaleel Ahmed to bowl from the other end.
20.02 IST: Bhuvneshwar Kumar to Shikhar Dhawan, FOUR! Edged and away! Bhuvi instantly looks at Williamson as if to indicate why didn't I have two slips. Good swing away, around off and on a length, Dhawan plays at it loosely and it goes off the edge. It flies past Warner at first slip and away to the boundary line behind. DC 7/0 in 0.3 overs 
20.00 IST: Bhuvneshwar Kumar to Prithvi Shaw, Some good swing into the batsman for Bhuvneshwar. Fuller and coming into the batsman, Shaw flicks it off his pads through square leg. Rashid Khan chases it down and stops it with a slide just inside the rope. The batsmen take three.
* We are ready to get this underway. Prithvi Shaw and Shikhar Dhawan, who returns to his former home, stride into the middle. Bhuvneshwar Kumar will take the ball first up. Here we go...
19.57 IST: Shreyas Iyer says he's pleased with his team's performance as they have two away wins. Adds that they just have to believe in their ability. States that they've talked that whoever is the set batsman, he has to stick in and score big. Let's everyone know there are two changes as Colin Munro and Amit Mishra replace Colin Ingram and Rahul Tewatia.
19.37 IST: 
Sunrisers Hyderabad Playing XI: David Warner, Jonny Bairstow(w), Kane Williamson(c), Vijay Shankar, Ricky Bhui, Deepak Hooda, Rashid Khan, Abhishek Sharma, Bhuvneshwar Kumar, Sandeep Sharma, K Khaleel Ahmed
Delhi Capitals Playing XI: Prithvi Shaw, Shikhar Dhawan, Colin Munro, Shreyas Iyer(c), Rishabh Pant(w), Chris Morris, Axar Patel, Amit Mishra, Keemo Paul, Kagiso Rabada, Ishant Sharma
19.32 IST: Sunrisers Hyderabad have won the toss and have opted to bowl against Delhi!
19.10 IST: We're a few minutes away from the Toss, Sunrisers vs Capitals! Who will win and what would you opt to do first?
Hello and welcome to our live blog as SRH take on Delhi. The TOSS will take place at 7.30 PM IST while play will commence from 8.00 PM IST. 
Brief Report: Shikhar Dhawan will be keen to build on to his newfound form ahead of the World Cup and also help Delhi Capitals continue their winning run in the IPL in their match against Sunrisers Hyderabad here on Sunday. A confident Delhi are coming off two back-to-back victories against Royal Challengers Bangalore and a strong Kolkata Knight Riders outfit. After Friday's win over SRH, Delhi have climbed to the fourth spot with eight points from seven matches and they would not want to slide down the ladder at any cost. (Read Full Report Here)