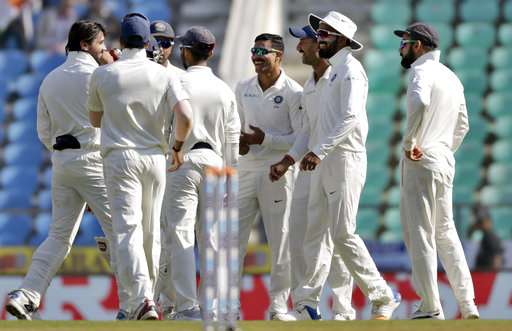 India have dominated Sri Lanka completely to take a 1-0 lead in the series. They were put under the pump in Kolkata but it was completely a different scenario what we got to witness. Kohli lost an important toss but his side did everything right from thereon. You don't expect a team to be bundled out for a paltry 205 on day 1 of a Test match, do you? The Indian bowlers did that without their two strike bowlers (Shami and Kumar). Ishant Sharma on his comeback, took three while the remaining 7 wickets were taken care by the spin twins. If not full, Sri Lanka lost half of the game there and then. The Indian batsmen decided to bat once but bat big. Apart from Rahul and Rahane, rest everyone made the most of a good batting surface. It all started with Murali Vijay (128), then Cheteshwar Pujara (143), went on to Virat Kohli (213) and it ended when Rohit Sharma helped himself to an unbeaten ton. All of them batted with sheer authority and dictated terms to the Lankan bowlers. Finally, the declaration came when Kohli felt a lead of 405 is enough. 
Two full days of play were remaining and the result was surety. Sri Lanka had a monumental task set ahead of them and it was disheartening to see them going down without putting up a fight. None of the batsmen apart from their skipper Chandimal (who tried his best in the first innings too) showed any resistance. Suranga Lakmal threw is bat around and stringed a breezy 58-run stand with skipper but to be honest, it was just about delaying the inevitable. Once again it was Ishant Sharma who set the tone up while Jadeja and Ashwin spun the web viciously to leave the batsmen puzzled. Umesh Yadav too saw his name in the wicket section and overall it was a complete team effort from the hosts. India have now EQUALLED THEIR BIGGEST TEST VICTORY.(SCORECARD)
HIGHLIGHTS, INDIA VS SRI LANKA, 2ND TEST, DAY 4 at NAGPUR
13.32 IST: Right then! That's all we have for you from this game. After a thrilling day 5 finish in Kolkata, this wasn't something we would have liked. Let's hope we don't get to witness another lopsided affair when these two meet next for the third and final Test in Delhi. Will Sri Lanka pull a rabbit out of the hat or will the plot remain the same? Join us at 0930 LOCAL (0400 GMT) to catch all the action. Till then, goodbye and take care. Cheers!
13.28 IST: Indian skipper, VIRAT KOHLI is delighted with the win. Starts by crediting the pitch which was a good one to bat on. Now credits the bowlers for doing the job when there wasn't much purchase on day 1. On previously failing to get daddy tons, he says he wanted to better himself and is happy to get going now. Gives a special mention to fitness with a mix of other factors too. Thinks the ton is counted when you convert it into a big one. On Pujara and Vijay, he states that the former is very consistent while the latter is a technically sound player who takes a lot of pride in playing Test cricket. Praises Rohit too for grabbing the opportunity and justifying his selection and backs him up by saying he will certainly be the one in the fray for the future prospects. On his bowlers, he says first class cricket has helped Ishant. Yadav and Shami haven't played much cricket as much as Kumar has in the recent times. States that all his bowlers are in good rhythm. Reckons they asked for the pitch which had more life in it as they wanted to get some practice before flying to South Africa. Informs the pitch deteriorated on day 2 itself but loved the one that they got in Kolkata. Is really looking forward for the South African tour.
13.25 IST: Sri Lanka captain, DINESH CHANDIMAL says it was a good toss to win but admits they were outplayed completely by the Indians. Reckons India is a tough team to beat and that they were really poor with their shot selections. Adds they had certain plans in minds but rues that every batter just threw it away after getting a start. Informs Angelo Mathews is the senior player in the side and when he falls early, the rest fail to carry on. Hopes that Mathews will come back into the groove sooner for them as his side needs him. Ends by saying they need to address the loss quickly. Emphasizes that they need to improve massively in the batting department as it is letting down since a while now. Lauds the way his bowlers bowled and once again expects a good show with the bat next as he walks back.
13.15 IST: Here's what Ashwin has to say. After the applause dies down, the latter says that it was a tad funny at the start of today as some deliveries spun while the others didn't. Credits Ravindra Jadeja and Ishant Sharma for bowling well and giving the early breakthrough. He opines that angles and heights of release of the ball matter on such tracks and that both the spinners bowled ideal speeds. On being the quickest to get to 300 Test wickets, he says that the present players are blessed more than the others due to the technology on offer and hence it is unfair to compare players from different generations. States that he didn't bowl many carrom balls and has worked on different loading positions and release points for that. Regarding the longish lay off that he had, he reckons that the break was longer than what he had ever got, during which he played County cricket and worked on the holding role. His is still a young career and he aims to add many more and almost double the 300 wickets that he currently has. Ends saying that he is tired as spin bowling isn't just about ambling in and rolling the arm over.
13.08 IST: 
300th Test wicket for @ashwinravi99 and #TeamIndia take a 1-0 lead in the 3-match Test series. India seal the 2nd Test in Nagpur by an innings and 239 runs #INDvSL pic.twitter.com/mq56alEczD

— BCCI (@BCCI) November 27, 2017
13.03 IST: 
300 Test wickets for Ashwin #Ash300 pic.twitter.com/805tJmvoEw

— BCCI (@BCCI) November 27, 2017
12.59 IST: OUT! Gamage is bowled! Another feather in Ashwin's gap - 300th Test wickets for him and he becomes the quickest to do so. He bowls a carrom ball, lands it around off. Gamage goes back to defend but the ball grips and turns away as the bails are seen coming off. No one is sure what has happened and hence Umpire Kettleborough takes it upstairs. Replays show, the ball disturbs the off stick and then settles into the keeper's mitts. INDIA WIN BY AN INNINGS AND 239 RUNS!
12.57 IST: MAIDEN! Shortish and outside off from Umesh, Lakmal once again looks to cut but misses it. SL 166/9 in 49 overs
LAHIRU GAMAGE is the last man in!
12.49 IST: OUT! In the air... gone! It's wicket no. 99 in Tests for the local lad. Chandimal walks back in dismay. Umesh Yadav drops it on a length but the line is on the leg stump. The Lankan skipper flicks it aerially but finds Ashwin stationed at fine leg who accepts a simple catch. India just a wicket away from a win here. SL 165/9 in 2nd innings, trail IND (610/6) by 240 runs
12.44 IST: NOT OUT!  Nothing on the Ultra Edge! India waste a review! Ashwin slides one down leg, Lakmal leans across to clip it away but it goes towards Saha who takes it by stretching both his hands to his left. Ashwin appeals but Saha stays put. The bowler says he has heard something and that prompts Kohli to use the DRS. The front foot is fine. Ultra Edge then shows there's no bat involved. SL 164/8 in 46 overs
12.42 IST: Review time! There is a caught behind appeal against Lakmal is referred upstairs by Kohli. Ashwin says he has heard something and his skipper wastes no time in taking the DRS. Seems like Lakmal is safe. Let's wait and watch...
12.38 IST: Harsh Bhogle on-air has got something to say. While all the talks have been about the men who have made comebacks, Harsha says Ishant Sharma has impressed one and all. He agrees he has done the job for his side in the past but then after being in the top drawer, he doesn't take time to drop back. Now that he has gotten into the groove, he needs to do that on a consistent basis to cement his place in the side...
12.35 IST: SIX! Down and track and Lakmal goes bang! That's a quality shot and looks so good to watch. Brings up the 50-run stand off just 49 balls. Ashwin gives it truck loaded with flight, Lakmal dances down the track and bashes it powerfully over the bowler's head to collect a maximum to his name. SL 159/8 in 44 overs
12.33 IST: FOUR! Inside edge and through. This one comes back in again and stays a touch low too. Chandimal just puts bat on ball and gets an inside edge which evades the leg pole and races down to the fine leg fence for a boundary. SL 152/8 in 43 overs
UMESH YADAV to bowl from the other end!
12.29 IST: Vijay Shankar wants to enjoy himself on the field! Superbly fielding effort from the young man.  A bit short and outside off from Ashwin,  Lakmal slaps it through the left of the backward point fielder. The sub fielder hares after it, slides to flick the ball back in play. Two taken. SL 147/8 in 42 overs
12.25 IST: Welcome back for the session which might in all likelihood can give us the result. India are just 2 wickets away to go 1-0 up in the series. How long can the current pair of CHANDIMAL and LAKMAL delay the defeat? RAVICHANDRAN ASHWIN to being with the ball. He is one short of 300 Test wickets. Let's see if he can get to the landmark. A slip, leg slip and a short leg in place...
... DAY 4, SESSION 2 ...
11.56 IST: At home, India have an impression of grabbing a hand when you offer them a finger. And lo, the visitors did just that! All the bowlers took up the chance to get among the wickets to peg the Lankans back. Ashwin and Jadeja have struck without even looking as menacing as they could be. Umesh Yadav helped himself to his first scalp on his home ground while Ishant was rewarded for bowing in right areas. He could have got another had he managed to hang on the return catch of Lakmal. But the sport isn't about ifs and buts...
11.55 IST: Losing seven wickets in a 135-minute play is a crime when the track is not really harsh on the batsmen. In tough situations, the experienced players need to stand up and bail the team out but today Mathews and Thirimanne were guilty of just throwing their wickets away. That gave India an opportunity to make inroads and they ended up making hay while the sun shone brightly in Nagpur. Only Chandimal has shown resistance with a fighting-yet-not-so-useful half century.
11.51 IST: Sri Lanka on the cusp of getting bowled out but just hang on to enjoy a delicious meal! It is a sorry state for them as they failed to negotiate even a session of play when the talk was about batting out a couple of days. That's what surprises most of the cricketing world. Perennially, Sri Lanka are known to be fighters in international cricket but seeing them go down in a whimper is appalling to save the words.
At Lunch on Day 4 Sri Lanka are (205 & 145/8), India need 2 more wickets to win the Nagpur Test #INDvSL pic.twitter.com/R7Z0clRR7e

— BCCI (@BCCI) November 27, 2017
11.45 IST: FOUR! Dinesh Chandimal gets to his 15th Test fifty! On a length outside off, he guides it past backward point by opening the face of the bat to get to the mark. Twin fifties for him in this game but it's a little too late. SL 145/8 in 41 overs at LUNCH ON DAY 4.
11.43 IST: FOUR! Forget about all the live-by-the-sword sayings for a while. Lakmal's having fun wielding his willow. Ishant angles in to the batsman on a length. Lakmal looks to flick it but gets a leading edge. The ball flies over covers and rolls away to the fence. SL 140/8 in 40.3 overs
11.41 IST: FOUR! Chandimal takes the spinner on and connects. This is a leg break from Ashwin, not sure Chandimal picked it up. Gets down and plays the slog sweep with what he supposes is with the spin. Gets a top edge that lands just short of going the distance. Gets a boundary that takes him to 49! SL 136/8 in 40 overs
11.37 IST: FOUR! Loopy delivery on the stumps, Lakmal comes down the track and hits it over mid on. Ishant Sharma runs backward but has no chance of getting to it and stopping the boundary. SL 131/8 in 39 overs
11.32 IST: Lunch is extended by 15 minutes. If another one falls, it'll be extended by half an hour.
11.30 IST: FOUR! That is one way to play Jadeja. Seeing this floated delivery around off, Lakmal frees his arms and lofts it over mid off for a boundary. SL 117/8 in 37 overs
SURANGA LAKMAL walks in at number 10 for Sri Lanka.
11.26 IST: OUT! Oh dear! Sri Lankans are going on a bit too fast for anybody's liking here. Ashwin lands it around middle and leg, Herath looks to clip it away to the leg side for a run. But the extra bounce on this one means that the ball hits his gloves and lobs to Rahane at slip. He takes it and the Indians begin to celebrate. The veteran starts to walk off. Ashwin now one shy of 300 Test scalps. SL 107/8 in 35.3 overs
RANGANA HERATH is the next man walking in with the bat for the visitors.
11.23 IST: OUT! Yes it is wicket no 500 in international cricket for Ravichandran Ashwin! He bowls it flatter and quicker around off and middle, it just spins in a touch. Perera misses the attempted flick shot. The Indians go up in unison in appealing for LBW, which the umpire upholds after thinking. Perera isn't convinced and has a chat with Chandimal before opting for DRS. Replays show that the ball would go on to clip the leg stump. Hence the on-field call stays. The visitors don't lose the review though. This is Ashwin's 50th wicket in this calendar year. SL 107/7 in 35.1 overs
11.18 IST: FOUR! Even after watching a wicket fall in this over due to attacking, Chandimal doesn't hold back. Uses his feet to get to the pitch of the ball and hits it over mid on. The ball goes to the fence on one bounce. SL 107/6 in 34 overs
DILRUWAN PERERA makes his way out to the middle.
11.15 IST: OUT! This was always coming with the way Dasun Shanaka was playing. You live by the sword and die by it goes the saying and seldom is it proved wrong. Shanaka was hell-bent on attacking the spinner and pays the price for doing so on this occasion. Ashwin tosses it around off, Shanaka comes down to belt it out of Nagpur. But he ends up getting more height than distance on it. KL Rahul has his eyes on the ball as he runs back and manages to hold to that. Not easy are these skiers but he doesn't fluff it. The tourists are crumbling in a hurry here. Ashwin adds one to his wickets column. SL 102/6 in 33.3 overs
11.09 IST: FOUR! Chandimal has used the angle of the ball well. Slanted on the pads, the Sri Lankan skipper flicks it away through backward square leg for a boundary. SL 100/5 in 32.3 overs
11.08 IST: SIX! And another one! Same area, same result. A maximum. Floated around off, Shanaka goes big over deep mid-wicket. This time it comfortably clears the fielder station in that region. 16 runs off this one. SL 92/5 in 32 overs
11.07 IST: SIX! There goes Shanaka again. Gets the desired result too. Ashwin tosses it around off, Dasun gets to the pitch of the ball and hits it all the way over deep mid-wicket. SL 86/5 in 31.4 overs
11.06 IST: FOUR! Well, well! Facing the spinner is tough, ehh? Shanaka doesn't think so. He uses his feet to get down and hits it over mid-wicket. There is a man back-tracking there but he fails to get there. A boundary results. SL 80/5 in 31.2 overs
DASUN SHANAKA makes his way out at the fall of the 5th Lankan wicket. He has had a pretty ordinary series with the bat so far. Rectification time?
11.04 IST: OUT! Kohli fumbles but doesn't let the chance go down. Dickwella, before the start of play today, spoke of playing as per the situation. He did to a certain extent but the pitch and the delivery have got the better of him here. Ishant lands it on a length around off, the ball moves away just a bit after pitching. Dickwella had to play at that and hangs his bat out. The ball takes the edge and goes to Virat at second slip who fumbles but takes it on the second attempt. Sri Lanka are withering away too soon. India 5 away from the win. SL 76/5 in 31 overs
10.59 IST: Turn and bounce! Ashwin tosses this outside off, Chandimal goes back to keep it out. The ball spins in sharply to beat him all ends up on the inner side. Saha behind gets some glove to that which makes the ball go up. Just a single from the over. SL 73/4 in 30 overs
Double change. RAVICHANDRAN ASHWIN is brought in to bowl. Presence of a southpaw has mooted this move? Perhaps.
10.56 IST: Fair point. As Wriddhiman Saha dived full stretch to his left, Sanjay Manjrekar on-air says that this where the diminutive keeper is better than MS Dhoni. Agreed. The latter is known more for his swift hands and clean work than for his diving and throwing-his-body-around abilities.
10.55 IST: MAIDEN! Wow! Look at the purchase that Ishant has got here. The lanky pacer lands it on a length around off and middle, Chandimal looks to flick it away. There is some extra bounce on that which means that the ball hits him high on the back part of the bat and hits him on his right bicep. The ball rolls towards the slip cordon. Would be painful for Dinesh. SL 72/4 in 29 overs
ISHANT SHARMA to run in with the ball now. With Jadeja striking from one end, Kohli wants to create pressure from the other end too.
10.42 IST: Floated outside off, Dickwella goes for the sweep again but misses. Wears it on the pad again to draw India's appeal. Umpire shakes his head in negation. Kohli ponders about the review but decides against it. SL 68/4 in 26 overs
NIROSHAN DICKWELLA is the next man in. The young lad has too much potential to deliver but is found guilty of throwing it away at the same time.
10.40 IST: OUT! Irresponsible shot from a senior player, says Simon Doull on-air! Pretty much sums up the scenario. Mathews and Chandimal are the experienced players in the side and everyone would look up to them to help their side to safety. But here is the former doing something he could have avoided. Jadeja tosses this outside off, invites Angelo to drive. The Lankan batsman falls into the bat and plays it aerially straight to Rohit Sharma at mid-off, who gleefully accepts the offering. SL 68/4 in 25.2 overs
10.35 IST: Drinks are on the field. What an hour it turned out to be for the Indians. They wasted no time in drawing first blood this morning. They were helped by some poor shot selections. Jadeja is getting good amount of purchase, Yadav is getting the ball to reverse and one would feel the batting will only get difficult now. What do we have in store next? Can Sri Lanka survive till lunch?
10.34 IST: FOUR! Umesh Yadav is bowling too straight. I understand he is searching for the reverse swing but at the same time you need to get your line right. It's on the pads, Chandimal shuffles across and flicks it through backward square leg for a boundary to end the over.  SL 68/3 in 25 overs
10.26 IST: FOUR! Edged but safe! Shortish of a length delivery outside off, Chandimal throws his hands at it. Gets it off the outside edge but luckily it flies safely behind square on the off side for a boundary. A streaky one. SL 59/3 in 23 overs
10.20 IST: FOUR! Chandimal is off the mark! Fuller and curling back in on middle, Chandimal flicks it uppishly through square leg. Gets away with that one and picks up a boundary to his name. Umesh wouldn't mind this. Excellent over from the pacer. SL 52/3 in 21 overs
10.18 IST: DINESH CHANDIMAL steps out to bat. He was amongst runs in the first innings before throwing it away.
10.17 IST: OUT! Straight to Jadeja! That's a poor shot to be honest. Umesh Yadav picks up his first wicket of the Test match. He serves a full ball, sprayed wider outside off. Thirimanne could have left that alone but for some reason he tries to go after it. Looks to drive it away from the body but ends up slicing it straight to Jadeja at backward point who accepts a dolly. There's a reason Lahiru Thirimanne has the WORST batting average amongst top 6 Lankan batsmen in Tests, minimum 1000 runs (22.63). Sri Lanka slip further here. SL 48/3, trail IND (610/6) by 357 runs
10.14 IST: SIX! What a way to get off the mark! This should get him going. Tossed up outside off, Mathews gets down and fetches it from outside off. He has got so much power behind the shot that it easily sails over the long on fence for a biggie all way. SL 48/2 in 20 overs
10.11 IST: Good ball! On a length and served away outside off, Mathews comes forward to defend but there is a bit of movement that gets the better of Angelo here which beats him. SL 39/2 in 19 overs
UMESH YADAV is brought into the attack for the first time in the series. He was the only bowler who went wicketless in the first innings for India. Can he redeem himself on his home ground?
10.03 IST: Back of a length outside off from Ishant, Mathews comes forward to defend but the ball holds it line and he gets beaten. Just a single from the over. SL 35/2 in 17 overs
10.00 IST: Manjrekar on air has got something to say for Kohli here. He says he likes his captaincy. He doesn't like to attack too much, enjoys playing the waiting game. This can work at home as it guarantees him a wicket here but he needs to think something when he goes overseas. He is keen to see him how he fares about outside home...
09.56 IST: ANGELO MATHEWS is the new man in!
09.55 IST: OUT! India have struck early this morning! The bowling change has done the trick for Kohli here but credit to Vijay for being alert here. Jadeja lands it around the middle, it spins back in. Karunaratne isn't on the pitch of the ball but still goes on with the clip. Gets it off the inner half and it goes straight to forward short leg who crouches and takes it. In fact, it hits him on the stomach but he manages to cling onto that one. These kind of catches are never easy. Murali Vijay is delighted as he lofts his arms and sprints in joy. A big wicket for India as Karunaratne is the one is in form of late. Sri Lanka trail by 371 runs! SL 34/2 in 15.1 overs
RAVINDRA JADEJA is brought to roll his arm over. He bowled only one over yesterday and is called early into the attack today. A slip, leg slip and bat-pad for him.
09.53 IST: Lovely delivery from Ishant and nearly gets a wicket! Length delivery on off, it holds its line as well. Thirimanne comes forward to defend but is beaten all ends up. Saha fails to collect it cleanly. SL 34/1 in 15 overs
09.46 IST: MAIDEN! Edged but falls just short! This is really good bowling from Ishant! He slants it across Karunaratne, who without any foot movement tries to fiddle with it. Gets a nick but luckily for him it lands just short of Pujara at first slip. SL 31/1 in 13 overs
09.43 IST: The commentators on air analyze about Ashwin here. They have shown clips of the wickets that he has picked in the first innings. All the 4 batters, tried to play for the turn but ended up gifting their wickets on the straighter ones. Shows they played Ashwin in their minds rather than in reality.
09.40 IST: FOUR! Ahh... shot! Thirimanne doesn't care how many times Ashwin has dismissed him. He sees the flight this time and decides to cash in on it. Shimmies down a touch, gets to the pitch of the ball and lofts it over mid off. Nearly goes the distance. Well played! SL 31/1 in 12 overs
09.37 IST: Touch fuller and slanted outside off from Ishant, Karunaratne defends it off the front foot towards mid off. 6 runs from the over. SL 27/1 in 11 overs
09.33 IST: FOUR! Not an ideal way to start the day! But Karunaratne won't mind it all all! Sharma comes from over the wicket and drops it on a length on the pads. Dimuth moves inside the line and clips it fine down the leg side for a boundary. SL 25/1 in 10.1 overs
Pace from the other end. ISHANT SHARMA to steam in. Two slips and a gully place...
09.32 IST: Maiden! Loopy ball outside off from Ashwin, driven towards Kohli at short cover. The Indian skipper is casual in his attempt and lets the ball through. Still they don't risk taking a single. SL 21/1 in 10 overs 
09.28 IST: The umpires make their way out to the middle, followed by the Indians. The overnight batsmen DIMUTH KARUNARATNE and LAHIRU THIRIMANNE walk out to resume the battle. The hosts begin with RAVICHANDRAN ASWHIN first up this morning. Two slips and a silly point in place...
09.20 IST: Russel Arnoold interviews Niroshan Dickwella. The Lankan wicketkeeper says that they are ready for today. Reckons that although they've been in the field for a couple of days, they are prepared mentally to bat for two days. States that his side is planning to take it session by session. Insists there are plans for the team as well as for individuals. Goes on to say that the batsmen can't play their normal game as they have to bat out time. About his style of play, he feels that sometimes he can go in the middle and play his natural game but mostly he adjusts according to the situations. With experienced guys like Dinesh Chandimal and Angelo Mathews in the side and also with Dimuth Karunaratne, their in-form batsman at the crease, his job is more to support them he feels. Ends opining that although there was a bit of spin towards the end of yesterday, it is still a good track for batting.
09.10 IST: PITCH REPORT - Sunil Gavasakar starts by saying Sri Lanka need to play for the survival. Agrees that they will be low on confidence but they have to come out with a positive mindset. Opines the visitors should go for runs but at the same time need to be patient. Simon Doull adds they need not play rash shots unlike they did in the first innings. Reckons this pitch has flatten out completely and the way the Indians batted is the proof of that. All the Lankans need to do is to put up a fight as the pitch doesn't have too much of demons on it.
08.56 IST: 
Hello and welcome to Day 4 of the Nagpur Test #INDvSL pic.twitter.com/IkobLIqcJL

— BCCI (@BCCI) November 27, 2017
DAY 4, SESSION 1 ...
08.45 IST: 
That brings us to the close of Day 3. Sri Lanka in their second innings 21/1 in reply to India's 610/6d. Sri Lanka trail by 384 runs #INDvSL pic.twitter.com/UndPnXCHyD

— BCCI (@BCCI) November 26, 2017
08.35 IST: 
Good comeback by the hitman, Congrats on your 100 @imRo45
Onto the bowlers to finish the job now. Fantastic Sunday!🏏 #IndvsSL pic.twitter.com/P0l6l34N7Q

— Suresh Raina🇮🇳 (@ImRaina) November 26, 2017
Brief Preview: Skipper Virat Kohli battered a lackadaisical Sri Lanka attack into submission with his fifth double hundred as India piled up a gigantic 610/6 before declaring their first innings on the third day, to literally outbat the Islanders in the second Test.  At stumps, Sri Lanka were down in the dumps at 21 for one with another 384 runs required to avoid an innings defeat.
The Indian captain scored a majestic 213 - his 19th hundred, en route which he broke a plethora of records in the company of Rohit Sharma (102 not out), who got a Test ton after four long years. Kohli's brute power combined with Rohit's lazy elegance made it a heady cocktail of entertainment for the Sunday crowd, who were thrilled to bits whenever the Indian skipper reached a milestone. (Read Full Day 3 Report)