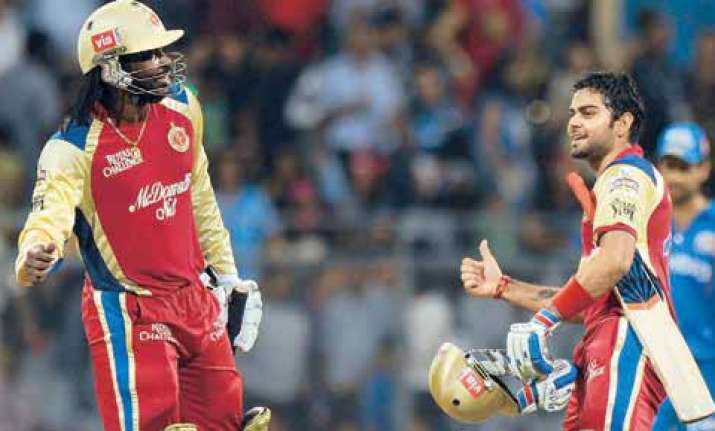 Mumbai: The next few hours will clarify as to who among India and the West Indies will face off against England in the T20 World Championship final on March 3.
Both sides are ready for the much-awaited second semi-final at the Wankhede Stadium in Mumbai which has so far been favourable for the batmen.
 
All eyes will be on the two batting giants, Virat Kohli and Chris Gayle. In fact, the match is being seen more as a clash between the swashbuckling run machines. 
Kohli has been in sublime form throughout the tournament and a 'true saviour' for the hosts in the ongoing World T20. 
In the high-voltage clash against Pakistan, when India were at one point struggling at 22/3, Kohli (55 not out from 37 balls) came to the team's rescue. He made two crucial partnerships – first with Yuraj and then with Dhoni – finally leading the team to victory.
India then faced Australia in a knock-out berth clash on March 27. Kohli smashed 82 not out from 51 balls and single-handedly led the team into the semi-finals of the World T20. 
On the other hand, Chris Gayle, one of the most aggressive batsmen in the world, cracked a fiery century from just 48 balls against England on March 16. 
He, however, did not bat against Sri Lanka on March 20 and could make only 4 runs in West Indies' last group stage match against South Africa. 
While Kohli is known for his classy shots, cover drives and pulls, Gayle is feared among bowlers for his brutal high-rise sixes. In fact, Gayle holds the record for hitting maximum number of sixes (637) in T20 cricket.
Talking about the T20I stats, Virat has played 42 matches in which he has scored 1552 runs with an average 55.42 and a strike rate of 132.99, including 15 half centuries.
On the other hand, Chris Gayle has scored 1510 runs in 48 matches with an average of 36.82 and a whopping strike rate of 145.75. His T20I career includes two centuries and 13 half-centuries.
 
Tonight, the run-battle between the two cricketing giants will surely be fun to watch!