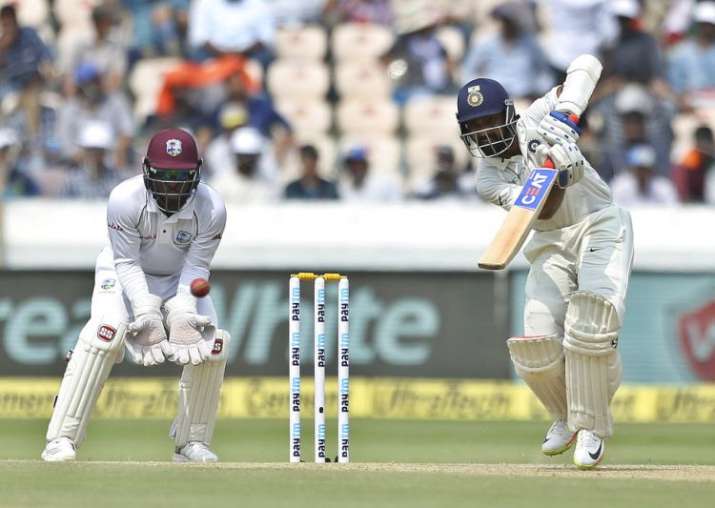 Highlights, India vs West Indies, 2nd Test, Day 2, Live Match: Rishabh Pant's audacious stroke-play complemented Ajinkya Rahane's patient approach as India reached 308 for four against West Indies on the second day of the second Test on Saturday. India are now only three runs short of West Indies' first innings total of 311. The Caribbeans could add only 16 runs in the morning session after Umesh Yadav polished off the tail with career-best figures of 6/88 in 26.4 overs. While young Pant celebrated his ODI call-up with a second Test half-century, an attractive unbeaten 85 off 120 balls, vice-captain Rahane slogged hard to remain undefeated on 75 off 174 balls. Together, the duo added 146 runs for the unbroken fifth wicket after India lost in-form skipper Virat Kohli (45) to be reduced to 163 for 4. (SCORECARD)
HIGHLIGHTS, India vs West Indies, 2nd Test, Day 2 from Hyderabad: 
16.60 IST: India 308/4 at Stumps on Day 2 in Hyderabad. Pant 85* and Rahane 75* 
16.54 IST: Gabriel comes to bowl the final over of the day. IND 307/4 in 80 Overs
" Last two over of the Day plays Brathwaite will bowl the second last over
"A bit of an issue with Rahane now. He seems to be cramping up. Not much time left for the close. The physio is having a look at him.
16.32 IST: Four! Short and outside off, Rahane goes back and cuts it through the covers for a boundary. IND 297/4 in 75.4 Overs
16.28 IST: FOUR! Not a bad result for India, but perhaps Pant fans will not like that. A tad short, Rahane goes back and works it through mid-wicket. Square leg and mid-wicket look at each other as to who should go and retrieve and in the end, both go for it. Neither get to it. The stand moves to 130 while the deficit is now 19.  IND 292/4 in 74.4 Overs
16.21 IST: SIX! TONK! This is a much better hit. Boy, he is going for that century tonight. Warrican has enough courage to toss the ball up and once again, Pant puts his dancing shoes on. This time he gets to the pitch of the ball and swings it over mid-wicket. The deficit is now 26 while the stand is worth 123. IND 285/4 in 72.3 Overs
16.20 IST: MISTIMED, BUT SIX! Full and around off, Pant gets down and looks to mow. He is not able to get to the pitch of the ball and miscues it. It is high in the air, seems to have got more elevation than distance but just about clears long on. IND 279/4 in 72.2 Overs
16.10 IST: FOUR! BANG! That's hammered. Tossed up, a lot of flight and Pant is enticed. He gives it the full swing of the bat and beats mid-off easily to the fence. IND 268/4 in 69.2 Overs
15.52 IST: FIFTY! And now Pant follows. Gets to this 2nd fifty in Test cricket comfortably. He goes back to the ball spinning into him and turns it through to deep backward square leg for a double. A fine knock from the youngster as well.  IND 248/4 in 63.4 overs
15.50 IST: FIFTY! 15th Test fifty for Ajinkya Rahane! It's been a patient knock from the Indian vice-captain. Well-deserved. He opens the face and dabs it behind square on the off side to complete his half-century. Wonderful knock so far. IND 246/4 in 63.3 overs
" Final official Drinks break of the day.
15.40 IST: FOUR! Beautiful placement from Rishabh Pant. Tossed right up there on middle, Pant gets low, rolls his wrists over the ball and sweeps it wide of short fine leg. It races away to the fence for a boundary. IND 240/4 in 60.3 Overs
15.32 IST: UPPISH, SHORT AND FOUR! Easy runs. On the pads and all Ajinkya Rahane to do was get something on it. He did and the ball raced away to the fine leg boundary.
15.30 IST: FOUR! Cheeky! Landed outside off, Pant waits for the ball to come to him and dabs it past backward point!
15.29 IST: Another issue with the ball. Holder is not happy with the shape, nor is Bishoo. Umpire Ian Gould has a look at it, but then cuts of a thread and then the game resumes.
15.28 IST: Devendra Bishoo is back on. 11-4-28-0 so far.
15.25 IST: MISFIELD, FOUR! Though this time, the fielder is not at fault. Full and outside off, Rahane punches it down the ground, just past the stumps at the other end. Roston Chase slides from mid on to his left but at the last moment, just when the slide comes, the ball bounces over his hands!
15.20 IST: MISFIELD, FOUR! Short and outside off, Pant cuts it straight to point who simply does not get behind the line of the ball. It goes through and it is a boundary. 50-RUN STAND IS UP. The deficit is now down to double figures.
15.15 IST: Shannon Gabriel to Rishabh Pant, no run. Full and outside off, pushed towards cover.
15.05 IST: EDGED, DROPPED, FOUR! Poor keeping from the substitute and the Indian wicket-keeper batsman gets a life. Short and wide outside off, Pant throws his bat at it but the feet do not move much. As a result, he gets a thick outside edge. Jahmar Hamilton, the stand-in keeper for Shane Dowrich makes half an attempt to his left but the ball bursts through his gloves to the third man fence. Poor Gabriel.
02.54 IST: FOUR! Fine shot. Down the leg side, Pant flicks this uppishly behind square leg and gets a boundary! The stand is worth 32 while the deficit is down to 117. IND 194/4 in 52.3 Overs
02.48: OVERTHROW! FIVE RUNS IN TOTAL! The crowd goes wild. In a period where runs have come in a trickle, this is a welcome bonus. Full and outside off, Pant pushes it wide of mid off and goes for a quick single. Roston Chase hurries to his right and has a wild throw at the bowler's end. The backup is at mid-wicket and by the time he can get across, the ball is past him in a flash to the boundary behind. IND 189/4 in 51 Overs
02.43 IST: FOUR! THWACK! That is the way he plays. Full and wide outside off, Pant reaches out and crashes it wide of long off for a boundary! The deficit is now 128. Pant moves to 13 from 20 balls with his third boundary while the stand is worth 21. IND 183/4 in 49.4 Overs
02.40 IST: FOUR! Flashed and flashed hard! No stopping this one. Short and wide outside off, Rahane throws his bat at that and gets it over gully to the third man fence! IND 179/4 in 49 Overs
"The Windies get into a huddle. They look to be pumped up but then lazily spread out. Out come Rahane and Pant. Roston Chase to open the attack for the session. He did that post Lunch too. Pant on strike. Here we go!
02.15 IST:
#TeamIndia lose three wickets in the 2nd session on Day 2.

At Tea, India 173/4 (Shaw 70, Virat 45), trail Windies 311 by 138 runs.

Updates - https://t.co/U21NN9DHPa #INDvWI pic.twitter.com/MJgAwIFeDG

— BCCI (@BCCI) October 13, 2018
" Well, the session figures read 93 runs in 31 overs for three wickets but we can split that into two halves. 53 runs came in 14 overs till the Drinks break but after that, it has been a real struggle to score runs. The Windies have been disciplined and economical and as a result, eked out a few wickets.
02.10 IST: A wide ball outside off to end the session, left alone. TEA ON DAY 2, IND- 169/4 TRAIL BY 138!
02.07 IST: SAFE! The foot was in the air but it came down before the bails could be dislodged. IND 173/4 in 46 Overs
"Is that a stumping? Pant looks to be home... referred upstairs...
02.05 IST: FOUR! Nicely done! Slightly short outside off, Pant waits for the ball to come to him and then deftly guides it past gully to the third man fence! The stand is worth 11 and the deficit is down to 138.  IND 173/4 in 45.5 Overs
01.57 IST: FOUR! Played that with soft hands, which was the key. Length delivery outside off from around the wicket, Pant leans ahead and with a slightly opened face places it between the slip cordon and gully for a boundary. IND 166/4 in 44.1 Overs
01.56 IST: MAIDEN! Bishoo bowls a tight over to Ajinkya Rahane. IND 162/4 in 44 Overs
01.50 IST: OUT! It's umpire's call and the on-field decision stays. Jason Holder gets the big fish after bringing himself back into the attack. This length delivery cuts back in and catches Kohli on the front pad. Loud shout and the finger goes up. Virat, after speaking with his partner, takes the review. It goes upstairs and replays show the ball to be clipping the leg stump. So, he's gone. Timely strike for the tourists. IND 162/4 in 42.5 overs
01.40 IST: 2 runs! Elegant drive from skipper Kohli and he inching towards his half-century. IND 156/3 in 40.2 Overs 
01.33 IST: MISFIELD! FOUR! The 50-run stand is up with this. A misfield helps with that. Virat Kohli goes on the back foot and whips it to mid on. Keemo Paul (sub) moves to his right to stop it but it goes through him. A boundary results. IND 153/3 in 37.5 Overs
01.24 IST: FOUR! Shot. A shade on the shorter side from Bishoo with a little bit of room as well, Kohli plays this really late as he goes back and cuts it past short third man for a boundary. IND 145/3 in 35.1 Overs
01.14 IST: MAIDEN! Warrican bowls a tight over to Rahane. IND 133/3 in 31 Overs
01.10 IST: Drinks are on the field. Best spell of bowling from the Windies. They've managed to pick up a few wickets and are piling the pressure on the Indian batsmen with some tight lines. They'll need to continue in the same vein for longer and hope it brings them a wicket or two more before the end of the session. IND 133/3 in 30 Overs
12.58 IST: 2 runs! Rahane pushes the ball from backfoot and run hard to complete double. IND 128/3 in 25.3 Overs 
12.41 IST: FOUR! GLORIOUS! Full toss outside off, Rahane leans and drives it through the covers for a boundary! Immediately a man is placed at sweeper cover. IND 116/3 in 21.5 Overs
12.38 IST: Four! GORGEOUS! So good to the eye. Half volley outside off, a touch wide, Kohli leans and drives it through the covers for a boundary! His second in 4 balls. Moves to 12 from 10 balls. IND 111/3 in 21.2 Overs
12.35 IST: MISFIELD, FOUR! Full on middle, Kohli drives it towards mid-on who should have well, stopped it but he puts in a lazy dive. IND 106/4 in 20.2 Overs
12.33 IST: OUT! Caught behind! There you go - one wicket brings another! Big blow by Gabriel. He lands it on a length outside off, but it is wide enough to be left alone. Pujara though, wants to have a poke and gets a thin edge behind, because the footwork is not the greatest. He was reaching for the ball. Substitute keeper Hamilton collects and straightaway appeals. Gabriel does not even bother appealing but someone has, hence the umpire raises his finger! India trail by 209. Have the Windies got an opening? IND 102/3 in 20 Overs 
12.23 IST: Out! He has thrown it away! Shaw will be gutted with himself. A loose shot in a nearly flawless innings. Full and outside off, a bit tossed up, a bit wide, Shaw cannot resist and goes hard on the drive. Cannot keep it down and finds Shimron Hetmyer at extra cover. You can look at this shot in two ways - a. Oh Shaw! What have you done? Or b. Well played, Shaw. You have again given India a motoring start. The dressing room stands up and applauds the youngster. How will the Windies be feeling? Relieved to see his back? Or the sense of more pain on seeing who is coming in next? The Indian skipper, that is.. IND 98/2 in 18.4 overs 
12.22 IST: Four! FLAMBOYANT! Full and outside off, Shaw leans and drives it wide of mid off for a boundary!. IND 98/1 in 18.3 Overs
12.18 IST: Four! FANTASTIC! Full and wide outside off, Shaw leans and drives it through the covers. Not a soul moves! The young lad has moved to 63 now, in just 48 balls! 10 fours, 1 six. IND 91/1 in 17.5 Overs
12.15 IST: Four! Smart batting. Very full outside off, almost a yorker, Shaw just squeezes it past second slip towards third man! The deficit is now 226. IND 85/1 in 17.1 Overs 
12.14 IST: Only one run from the over after the Lunch break. IND 81/1 in 17 Overs
" We are back after the Luncheon interval. Will we see any better effort in the field from the Windies? The players are slowly making their way out. Roston Chase will start off things after Lunch. Shaw to face. Here we go!
* With such an attacking beginning, India now trail by 231. The pitch is starting to play tricks and hence, this sort of cricket could be the best option on this track. Because you never know, a wicket here could trigger a couple more.
FIFTY!@PrithviShaw brings up his half-century off 39 deliveries in the 2nd Test at Hyderabad.

Updates - https://t.co/U21NN9DHPa @Paytm #INDvWI pic.twitter.com/r8Ykomtocd

— BCCI (@BCCI) October 13, 2018
* Prithvi Shaw is the man for the future for India. The young genes in him have made his team take the bull by the horns. On a pitch where Rahul was tentative, Pujara has not yet looked free-flowing, this lad is in his zone. Has an array of shots and is displaying those for everyone to see.
* What a session for India. Started by Umesh. Finished by Shaw. The Windies might have scored 311 but they look totally downcast at the moment.
11.30 IST: India 80/1 at Lunch against West Indies (311) in Hyderabad. Shaw 52*, Holder 1/20. INDIA TRAIL BY 231 RUNS!
11.29 IST: FOUR! Shot! Well played by Pujara. Superb from Pujara. Great timing. Fractionally short outside off, the right-hander goes back and punches it between cover and point. Devendra Bishoo gives it a good chase from cover but comes second best. IND 80/1 in 15.3 overs
11.28 IST: On a length outside off, cuts back in, Pujara looks to defend but is taken aback by the movement. Looks to fend it away but gets an inside edge which drops down to the leg side.
11.23 IST:  FIFTY! Prithvi Shaw hits his maiden half-century. And this has been another innings of dominance. Full on middle, pushed down to long on for a single. The dressing room is applauding with plenty of smiles. It has been that sort of a knock. India 74/1 in 13.2 overs
11.20 IST: Full and outside off, Shaw drives it wide of mid off. Shannon Gabriel puts in a tired effort to his left with a tumble but manages to stop the ball. A single taken.
11.16 IST: FOUR! Good use of the feet from Cheteshwar Pujara. Good shot. Dances down to get close to the pitch and drives it past mid on to send it across the boundary line.
11.13 IST: Dropped! Could have been a game changer!! Difficult chance as it comes quite fast at him but in such games you've got to be taking those. Spinning away, short in length, Shaw backs away to cut but the ball bounces a bit more and takes the outside edge. Hope at first slip moves to his left, gets his fingertips to it but can't hold on. A brace results.
* Cheteshwar Pujara walks in at No.3.
11.03 IST: OUT! Rahul's troubles finally come to an end. He wasn't looking as assured as his partner, pays the price for it. Short of a length just outside off, Rahul is in two minds about what to do. He initially wants to play but then decides to leave it late. The ball takes the inside edge and disturbs the bails. First wicket down for India, against the run of play.
11.00 IST: FOUR! Make that number 3. Though, this is a result of some poor fielding from the Windies skipper. Shaw drives it to the left of mid off. Holder moves quickly but can't get low to stop the ball. Lets it through to the fence behind.
10.57 IST: FOUR! Back-to-back boundaries! Goes the other side this time. Shaw opens his body up to this flighted delivery and drives it through the covers for another boundary.
10.56 IST: FOUR! The slog-sweep shot by Shaw is just amazing to watch. Takes the aerial route and gets the desired result. Tossed up delivery on off, Shaw decides to take this on. Gets low and slog sweeps it over mid-wicket for a one-bounce boundary. IND 53/0 in 7.2 overs
10.53 IST: No ball! Seems Gabriel's bad habit is catching on to his skipper. Good length ball shaping away around off, Rahul defends it on the off side. Jason overstepped, so no ball signalled.
10.51 IST: FOUR! What a flick! Oozes class all the way and Shaw knows what to do. Brilliant stuff from this youngster. Too full, too straight. Shaw moves inside the line and flicks it ever so well through the gap in the mid-wicket area. Beautifully played, no stopping that. IND 47/0 in 6.4 overs
10.46 IST: FOUR! Inconsistent with the line again and he's paid the price. On the pads, Shaw comfortably flicks it away through backward square leg, beating fine leg who tries to cut it off.
10.41 IST: FOUR BYES! Unlucky. Hamilton tried his best. More extras. All most of the runs going to come via extra today? Seems like it from the looks of things. Gabriel angles it too far down leg and the keeper has no chance to reach it this time. Across the fine leg fence and that's a boundary. IND 38/0 in 4.3 overs
10.37 IST: Good effort from Devendra Bishoo. Another good shot from Shaw. He leans ahead and drives the full ball through mid off. Bishoo chases it down well from mid on and pulls it back inside the rope. The batsmen only take two.
10.35 IST: FOUR! Well played by Shaw. As good as they come. Full and swinging away from around off, Shaw opens his body up a bit, along with the bat face, and drives it neatly through cover-point to fine the fence. IND 28/0 in 3.1 overs
 * Dowrich is receiving some medical attention after copping a blow on the previous delivery. Slight halt in play as a result. Bad news for the touring side - their keeper is being taken off the field. Jason Holder and his men will want him to come back soon. Meanwhile, Jahmar Hamilton will take the gloves.
10.28 IST: FOUR BYES! That did not rise at all. And it must have stung Shane Dowrich as well. Yikes! Gabriel serves it on a back of a length outside off, Rahul lets it be and the ball keeps really low. Dowrich behind the stumps tries to stop it with his legs but gets struck on the left knee. The ball deflects towards the third man fence for a boundary, but the Windies keeper is down the ground.
10.25 IST: Heavy movement for Gabriel. Comes wide of the crease and angles it in from outside off. Rahul leaves but he doesn't expect so much movement. Luckily for the batsman, still well wide of the off stick.
10.20 IST: No ball and FOUR! Full and swinging away from outside off, Shaw reaches out to it and plays it off the outer half between the slip cordon and gully. Away to the fence she goes. No ball also signalled as Holder overstepped on that occasion.  IND 20/0 in 1.3 overs
10.16 IST: NO BALL, SIX! Extra effort from Gabriel and he oversteps. Then bowls a long hop, wide outside off. Shaw latches onto it and flays hard. IND 14/0 in 0.4 overs
10.14 IST: FOUR! Excellent shot to get off the mark! On a length outside off, Shaw leaps with the bounce and guides it behind gully to third man!
10.11 IST: Off the mark straightaway! Full and outside off, Rahul drives it through the covers. It is in the gap and Kieran Powell gets to it from mid off. Just about stops it near the ropes. Three runs taken. The deficit is now 308.
10.10 IST: And we're back with India's innings. Prithvi Shaw and KL Rahul are out to bat and Shannon Gabriel is given the new ball. Let's gets started. 
Congrats @y_umesh for your second five-wicket haul. Terrific fast bowling on a lifeless pitch 👍 #INDvWI pic.twitter.com/K62PoVMQk3

— MANOJ TIWARY (@tiwarymanoj) October 13, 2018
* Around 81 overs left in the day. How much can India score? How many wickets can the Windies take? Will it be another run fest for the hosts? The questions will be answered in a short while. Stay tuned...
* India will not be perturbed with the score but they will be slightly disappointed with their bowling. Ravichandran Ashwin was the only bowler who was consistently nagging while Kuldeep and Jadeja were way off the mark. The former did get 3 wickets but that was because of some silly shot-making. Coming to Umesh Yadav, he was much better this morning but only good in parts yesterday. The nice thing for India was that those 'good in parts' bit resulted in wickets.
10.05 IST:
Innings Break!

A fairly quick finish to proceedings there on Day 2. Windies all out for 311

Updates - https://t.co/U21NN9m6XC #INDvWI pic.twitter.com/qSuXT2uTVH

— BCCI (@BCCI) October 13, 2018
*  Just 40 balls needed for India then, to wrap the Windies' innings up on Day 2. One might argue that they 'allowed' Chase to get to his century, not putting enough pressure on him but considering that they conceded just 16 runs this morning, it can be excused.
10.00 IST: OUT! Caught behind and Umesh now has his best Test figures. A 6-fer. Bizarre dismissal though.  Full and wide outside off, Gabriel initially thinks about letting it go. But then as an afterthought, he feels to have a poke at it. Gets a thick outside edge straight to Rishabh Pant. WINDIES BOWLED OUT FOR 311!
09.57 IST: OUT! Umesh removes Chase for 106. Right through the gate! UMESH HAS HIS SECOND TEST 5-FER. First at home. Beautiful bowling to get that wicket. Umesh lands this on a good length outside off and gets conventional swing with appreciable movement. Chase is a tad lazy in trying to defend and the ball goes right through bat and pad. Timber. Well played, Mr. Chase. You have given your team something to bowl at. West Indies 311/9 in 101.3 overs
09.49 IST: Easy single. Poor effort from the substitute Mohammed Siraj. Full and outside off, Warrican pushes it straight to Siraj at mid off but he does not attack the ball at all. Good game awareness from the Windies batsman as he calls Chase for the quick single, catching MS on his heels.
09.45 IST: BOTTOM EDGE, FOUR! Another sign of the ball staying low. A touch short, outside off, Chase throws his bat at it but gets beaten by the lack of bounce. The ball takes the bottom edge and goes onto the ground behind. Rishabh Pant dives to his right, but the ball just brushes his outstretched glove and races to the third man fence. The stand is now worth 11 from 9 balls.
09.42 IST: SIX! THUNDEROUS! Just one block and the next one is whacked. These men from the Caribbean... Tossed up outside off, the googly, Warrican gets down and slogs it over long on!
09.37 IST: TEST CENTURY NUMBER 4 FOR CHASE! He has richly deserved this. Battled hard as usual, with his team in strife in 9 out of 10 occasions. Gets to the landmark with a tuck to mid-wicket for an easy single. Pretty surprised that he has been allowed to get to the landmark without much effort. Normally, when a batsman is in the 90s, you tend to see opposition captains keep the field tight for him. However, not today. Chase will take it though. Well played, sir.
09.35 IST: OUT! Umesh removes Bishoo for 2. West Indies 296/8 in 96 overs
09.34 IST: LEADING EDGE, SAFE! Chase is smiling but boy, his heart would have been in his mouth for a moment. Perhaps an aggressive field would have got India a wicket on the very first ball. On a length, around off, coming in, Roston looks to work it to the leg side but is a tad early into the shot. The ball takes the leading edge and goes to where point would have been but... the human being is stationed in the deep. An easy single and RC moves to 99...
09.29 IST: The Indians walk out and get into a huddle. Now, the overnight batsmen stride out - Roston Chase and Devendra Bishoo. The man who is on 98, will be on strike.
* Umesh Yadav is caught on the sidelines before the start of play for a little chat. He says he knew the track was flat so was focusing more on the line. Adds he bowled a couple of full balls which were going slow, so he tried back of a length which worked for him. States he didn't mind bowling the extra overs since he's quite fit but feels sorry for Shardul Thakur as it's his Test debut. Ends by saying that he wants to start the day full of energy and make an impact.
PITCH REPORT - Ian Bishop is doing the pitch report. He has a look at the track and reckons that it still looks very, very good. Sunil Gavaskar now joins him. Both see a couple of cracks on the surface but the master reckons that those are near the short of good length area. They are opening up, he agrees and opines that those will open up even more on Days 3 and 4. For today, even he feels that it is a good pitch to bat on. Does not feel too positive about any ball spinning much today but could see more as Sunday approaches.
WEATHER REPORT - The conditions look perfect for playing cricket and even more so, for batting. The hosts will be looking to dismantle the final three wickets and then put their feet up, with their batsmen aiming to score once and score big, again.
09.15 IST: It was a rare occurrence on Friday. An opposition team fighting hard against India in India. That too, Windies. Yes, the return of Jason Holder certainly spurred the visitors as they managed to play out an entire day's play after winning the toss.
* They just have 3 wickets left though and the first thing on their minds will be Roston Chase's century. How long can they keep India on the field? Hello and a warm welcome to the second day's play of the second Test between India and Windies in Hyderabad.
08.50 IST: The 4th ODI between India and West Indies has been shifted. 
NEWS: Fourth Paytm ODI against Windies shifted to CCI, Mumbai.

More details here - https://t.co/ZPuyF6nLia #INDvWI pic.twitter.com/bB5zdJBrun

— BCCI (@BCCI) October 12, 2018
Hello and welcome to our live coverage of today's match as India play West Indies on Day 2 of the 2nd Test live from Hyderabad. Play will resume at 9.30 AM IST. 
Brief Preview: Indian spinners went off the boil in the final session as all-rounder Roston Chase hit a gutsy unbeaten 98 to take the West Indies to a respectable 295 for seven on the opening day of the second Test on Friday. Chase, who scored 137 to deny India a victory in a Test match in Jamaica back in 2016, showed the much-needed application with requisite technique as Indian bowlers struggled after polishing off the top half for only 113 runs. Chase, along with skipper Jason Holder (52), did enough to ensure that the West Indies will have a good first innings total to fight against a heavyweight Indian batting line-up. (READ FULL PREVIEW HERE)