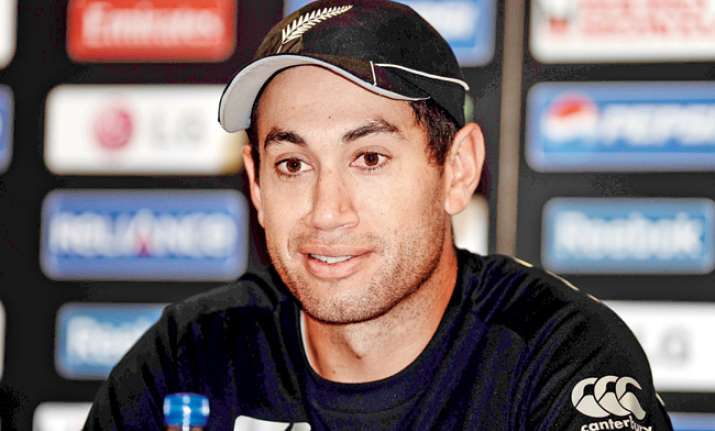 Kolkata: New Zealand batsman Ross Taylor on Saturday said the India versus Australia Group 2 World Twenty 20 match is going to be "probably the game of the tournament".
"It's going to be a great game, probably the game of the tournament. Theoretically, it's the quarterfinal. We are not leaving Kolkata tomorrow (Sunday). I will be in my room watching it. Hopefully the best team can win," Taylor told reporters here.
In their last group game on Saturday, New Zealand overwhelmed Bangladesh by 75 runs. However, Bangladesh left-arm pacer Mustafizur Rahman picked up a five-for giving away just 22 runs.
"This was the first time I played him (Rehman). He bowled outstandingly. I think he's only 20 years old. He's a very good selection for Sussex captain Luke Wright. I'm heading off to Sussex after this. He will also play IPL as well as Sussex in county. He's going to be a very good signing," Taylor said.
"What makes him tough is that he's got a unique action as well. He's quite hard to pick up early on in your innings. He's very smart and the way he bowls, some of the best players will have to struggle against him," he added.
New Zealand go into the semi-finals unbeaten and when asked what they did right on Saturday, the burly right-hander said: "We judged the conditions well. Wining all three games too played its part. Wanted to pick team on conditions. Today don't think it turned as much as in Nagpur or Dharamshala.It was low and slow but we adjusted very well."
Taylor also said legendary Martin Crowe who died recently has had huge impact on his career.
"He has had a big impact on my career. After the tournament I am sure we will think about more (about a tribute). I am sure wherever he is, he will be looking down enjoying the way we have played so far," he said.
Taylor also spoke of Brendon McCullum, New Zealand's talismanic opener who quit international cricket last month.
"His (McCullum's) influence is still in... charismatic leader. Kane (Williamson) has come a long way. In next few years, he will develop his own style. He's a little bit of what Brendon did but also doing his own thing. I'm sure in a few years time we will be talking about Kane as a very good captain like we talk about McCullum," he said.