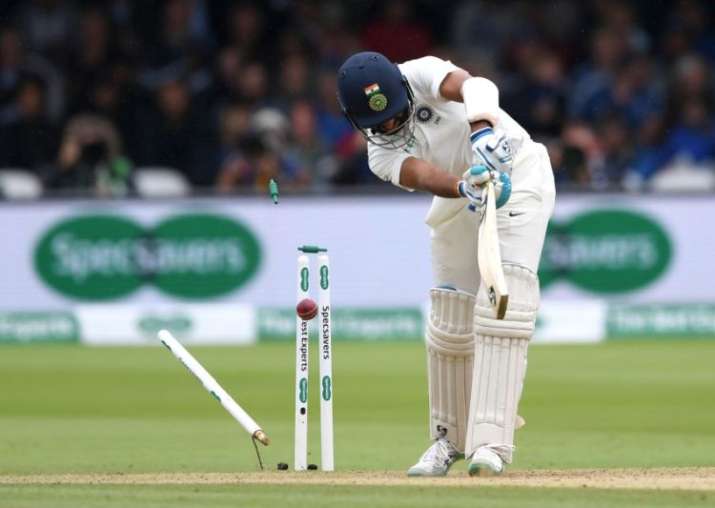 With criticism coming in for No.1-ranked Indian Test team from England legends like Geoffrey Boycott and Nasser Hussain, former India opener and IndiaTV cricket expert Virender Sehwag has blamed batsmen's poor shot selection for team's defeats in the first two matches of the five-Test series. Under the captaincy of Virat Kohli, India lost to England by 31 runs in the first Test at Edgbaston, followed by an innings and 159 runs loss in the second Test at Lord's.
While Hussain said the England vs India Test series is looking like a "men vs boys" contest, Boycott didn't hesitate to term visitors' batting performance "naive, irresponsible and bordering on stupidity".
"It's right to say that they (Indian batsmen) played like immature cricketers. I feel, they must have prepared well for the tour but failed in the implementation. Indian batsmen's poor shot selection led to defeats at Edgbaston and Lord's. Despite being the most experienced batsmen in the Indian team, they have failed to perform," Sehwag told IndiaTV during the show Cricket Ki Baat.
In the second Test, India batsmen failed miserably as the team was bundled out for paltry 107 and 130 runs in successive innings at Lord's, London. England, on the other hand, rode on Chris Woakes' unbeaten 137-run knock to thrash India by heavy margin inside four days, including the opening day that was completely washed out.
Even after having suffered a comprehensive defeat in London, shockingly, the Indian team was spotted traveling separately ahead of the third Test, starting Saturday in Nottingham. Commenting on this, Sehwag said the team members should travel together and spend some time together before the third Test.
"It is shocking for me to see Indian players traveling separately. I hope, the BCCI knows about it. When we used to play, we used to travel all together on the team bus. Maybe, the trend has changed with time. But it's not good to follow this trend after a defeat as it is important for the team members to spend time together after losing a match. You need to discuss about the mistakes you did in the match and strategise for the next game," he said.
Following a 2-1 win in three-match T20I series and 1-2 loss in the three-match ODI rubber, India batsmen have disappointed the most in the Test series. The former opener, who has played 104 Tests for India, was of the opinion that the current team needs guidance from former batting greats such as Rahul Dravid, VVS Laxman and Sourav Ganguly.
"The team management should have called up players like Rahul Dravid, VVS Laxman and Sourav Ganguly on England tour as batting consultants as they have scored many runs there. Their experience would have benefitted the Indian batsmen.
"Batsmen like Murali Vijay, Cheteshwar Pujara and Ajinkya Rahane would have learnt a lot from Dravid as they have a similar temperament. I could have helped KL Rahul and Shikhar Dhawan as their playing style is similar to mine," Sehwag explained.