Follow us on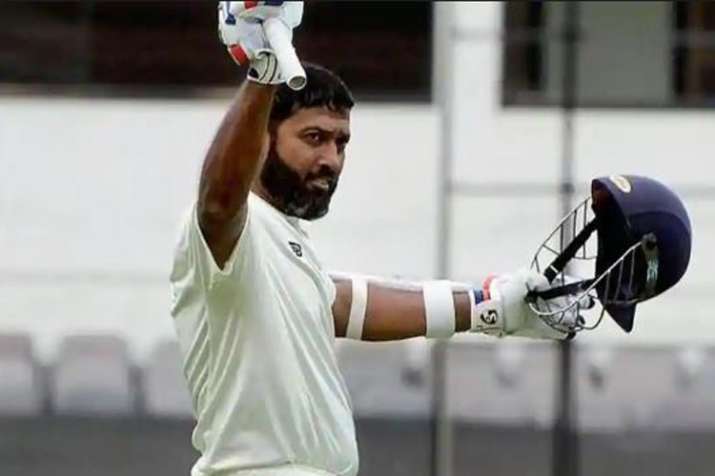 Vidarbha created history recently by becoming only the sixth team in Ranji Trophy history to defend the title when they beat Saurashtra by 78 runs in the final at their home ground Nagpur. While it was an all-around team effort that paved the way for the team's tournament win, their opener Wasim Jaffer also made history by winning the trophy for the tenth time.
After the win, indiatvnews.com caught up with the veteran cricketer over a telephone where he discussed the win, what has changed in Indian cricket over the years and the current Indian team. Here is the full interview:
Congratulations on winning your tenth Ranji Trophy title!
Thank you so much!
How does it feel to win two titles in as many years?
Feeling really great. First of all, Vidarbha winning two titles is not an ordinary thing. It has happened for the first time in the team's history which makes it an extraordinary achievement.
Vidarbha have been unbeaten for 22 First-Class(FC) games now. Can you give us a glimpse of this journey?
Absolutely, without a doubt, a change in mindset has been responsible for the results in the past couple of years. The core of the players is almost the same now as compared to 3-4 years ago, so it's not like there are some new players who have produced the results. The culture that was prevalent before was that losing didn't affect the team, association or the people a whole lot. 
Has there been a change in the mindset of the team, especially since the arrival of coach Chandrakant Pandit at the helm?
Yes, the arrival of Pandit has instilled a winning mindset amongst the players. Now, they play to win with a ruthless mentality and hence the confidence levels have increased as well which in my opinion, is absolutely necessary in order to compete and play well. If you are only playing for the sake of it, or you don't feel bad even after losing, then you need to look at yourself and think long and hard about the way you play the game. Earlier, Vidarbha used to play well at home but they were expected to, and mostly did, lose away from home. That mindset has changed now.
You have played for a number of years for Mumbai and won titles with them as well. But you moved to Vidarbha in 2015-16. Could you tell me what exactly triggered that move?
See, I realised that I am at a stage in my career where I am not going to play for India again. On a personal level, I wanted to challenge myself too. Also, there were murmurs about dropping me from the one-day team, even though I was the highest run-getter for Mumbai in one-dayers during that season. So, I had a feeling that they might look beyond me, sooner or later. Thus, I thought that it would be better if I move out, as you know the Mumbai side is a ladder to getting selected in the Indian team. I didn't want to come in the way of a youngster eyeing a national berth. I also didn't want to wait for them to drop me after having served them for 18-19 years. I wanted to play for a team where I could make a difference, a side which wants to win so that I can help them to win more matches. Vidarbha had made an offer to me and I saw that they are improving as a team and they boasted of players of the calibre of Subramaniam Badrinath, Ganesh Satish et al. And it turned out to be a good decision.
After having a 23 years long stellar career and achieved everything that was on offer in the domestic game, could you choose your proudest moment in all these years?
I think, first of all, playing Ranji Trophy for Mumbai during the time I did was my first biggest achievement as breaking into their star-studded side was a big deal back then. Thereafter, maintaining my position in the team for so long, while going on to play for India was definitely the biggest honour of my career. My family, parents were all proud of me when I made my debut. Only a select few get to play for the country from amongst thousands of players, so definitely that has to be my proudest moment.
There were a total of 37 teams playing in the Ranji Trophy this year. A couple of years ago, the BCCI also tried the experiment of neutral venues for the tournament. But what has been evident is the dwindling number of fans at the grounds wherever the Ranji matches are being played. A lot of reasons are responsible for this, but can you think of a step or two that needs to be taken to bring back the crowds?
Obviously playing a home-and-away format is quite necessary as it gives teams the chance to compete. But on neutral venues, if the home team is not playing, not many people would turn up to watch the game. Secondly, I think that playing at smaller and lesser-known venues is equally important because we need to take the game to the small towns and villages. We have seen at a number of times that more people turn up to watch a match at such venues...
..for example in Lahili, Haryana?
Yes exactly. Because once cricket reaches such places, and people get to watch professional players play, it is bound to trickle down to the boys and girls taking up cricket as a career seriously. It will inspire them to play, unlike the more famous and bigger venues where there is not that much fascination about the Ranji Trophy.
Should DRS be used in the Ranji Trophy, especially in the knock-out games?
Definitely! If possible, BCCI should definitely implement it more so in the knock-out stage because a number of umpiring decisions can turn the match on its head, as I have seen in the past. Though it is very difficult to use it in the league matches, as they are too many of them in number. But the knockout stage and the matches which are broadcasted live should be using the system.
Cheteshwar Pujara, your opponent during this year's final, and you are often bracketed into a separate class of batsmen, at least to the people watching from the outside, that you guys have a solid defensive game and hence rely a lot on it. But in today's world, increasingly we see batsmen falling to testing bowling and conditions while scarcely we see one dropping anchor for 400-500 deliveries in an innings. What according to you separates you guys from the rest?
I think the generation that we both come from, that is the kind of cricket we learned while growing up - trusting your defence...(cut short)
...by 'your generation' you mean the non-IPL generation?
Exactly. During our time there was no such thing as IPL or T20. So we were always taught to focus on ground shots, minimizing risks and batting through the day. This is very difficult for today's cricketers. Also, in my opinion, it is also quite irrelevant in today's world. The kind of cricket that is being played these days, if you keep playing it according to the old school, how much cricket do you think you can play? No one will consider you for T20s, neither will they select you for one-day games. So, times have changed now. One has to keep adapting oneself to the changing times.
But during recent India's tour of Australia, Pujara made more than 500 runs and was the difference between the two sides...
Yes, I agree that one has to have a good defence but I don't think it can be your basic game today. The challenge for today's cricketer is that (s)he should know how to play well in all three formats. If you take the case of Pujara, he is only able to play one format. Although he is now an established player in the Indian team, a player today can't think of copying him otherwise they won't be able to play much during a year.
Speaking of small towns, do you think that the game has undergone democratization over the years as we see players and teams from different parts of the country coming up through the ranks, as opposed to the times of, let's say, Sunil Gavaskar and Sachin Tendulkar?
I think that the game has undergone a lot of improvements in most of the States. The way Andhra has picked up its game, Vidarbha has now won the trophy twice and Kerala is a really good team now. I remember when I used to play U-19, Gujarat was a weak team but they have now won both the Ranji Trophy and Vijay Hazare tournaments. So the gap between the good and bad teams has decreased a lot now due to developments in the infrastructures across the country. The Elite plate now consists of five teams from the West Zone. Weaker teams like Goa and Assam are not bad either as the latter has also featured in a Ranji semi-final. A team like Jharkhand, which was not even considered a good team earlier is now among the top tier and it has given us a legend like MS Dhoni. This is really great news for Indian cricket and that is why I believe that winning the Ranji Trophy is not that easy nowadays.
India international Umesh Yadav is a teammate of yours for Vidarbha. Since the time he made his debut for India, we have seen huge improvement in his bowling, especially in the last two years. What are your thoughts on his evolution?
I definitely think that his availability for Vidarbha during the knock-outs this year made a huge difference for us. Obviously, having an international bowler bowling 140+kph in your team is always going to help, there is no doubt about that. He has that X-factor about him, as you normally don't get to play such speeds at the FC level. Especially his man-of-the-match performances against Uttarakhand and Kerala were amazing. It was a great year for him too as he has won the Trophy for the first time as he missed out on the final last year being on national duty. As you know a lot of Indian legends have not been able to win the Ranji Trophy. He enjoys the game a lot and he has grown up here in Vidarbha along with his other teammates, so he is in a good place in his career.
A successful opener yourself, what do you think is the best opening combination in Tests for India at the moment across conditions?
Prithvi Shaw and Mayank Agarwal would be my first-choice openers without a doubt. The way Shaw has played since he made his debut has been great to watch, though his injury right before the Australia series was unfortunate. Agarwal too has capitalised well on the few chances he has got in the team. So these two should make the cut for the next Test that the country plays.
Okay, a short and final question. Which current Indian cricketer would you pay to watch?
Definitely Virat Kohli! He is one of the best players in world cricket right now. The way he keeps raising the bar for himself and the example he sets with his fitness, batting or fielding makes him a role-model for any young upcoming cricketer. The way he keeps creating new records and leading the team with a winning mentality, he has walked the talk by winning away from home and the way the team is playing for the past couple of years, I think he is the best player in the world at the moment.
(As told to indiatvnews.com Senior Sub Editor Ajay Tiwari over telephone)