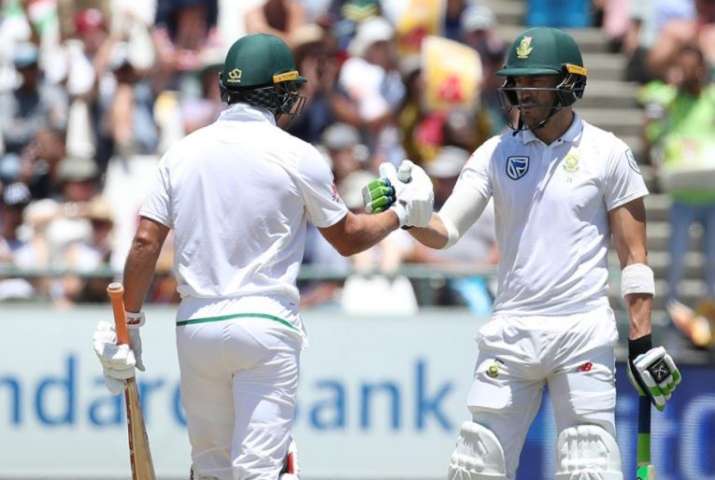 South African batting coach Dale Benkenstein was quite perplexed after the hosts lost three early wickets by the hands of Indian seamer Bhuvneshwar Kumar till the momentum was finally shifted by AB de Villiers and captain Faf du Plessis with their respective half-centuries helping the batting order project a decent score on the before the hosts could collapse on day one of the first Test at Newlands, Cape Town. (LIVE CRICKET SCORE ONLINE)
Benkenstien expressed his view on how he felt about the early dismissals as he didn't quite exactly know that how would the batting line-up score runs if the wickets kept falling at a rapid pace. (IND vs SA 1st Test scorecard)
"At 12/3, it was not the best feeling as a batting coach. I was thinking of taking an Uber and leaving for the hotel because I didn't know how we were going to score runs on this wicket," said the South African batting coach Benkenstein after day one at the press conference. 
The SA batting coach lauded the Indian bowling attack but felt that it was de Villiers and the skipper who shifted the course after they stepped foot onto the field. The duo had a 107 run partnership before de Villiers became Jasprit Bumrah's first Test wicket at 65.
"They (India) are a quality bowling attack. The class and genius of AB and the tenacity of our captain (Faf du Plessis) changed the momentum of the game, or rather that innings (from AB)," said Benkenstein. 
Benkenstien was all praise for de Villiers when he scored 17 runs off Bhuvneshwar's over and acclaimed the fact the swashbuckler who made his return to Test cricket nearly after a year, doesn't need to be coached on batting.
"That one over (when de Villiers scored 17 runs off Bhuvneshwar) was a game-changer. It was definitely the genius of AB. You cannot tell him how to bat as a coach. It made the bowlers worry about their lengths and that partnership of 100 runs got us back in the game. It brought belief back in the change room," he said. 
The SA batting coach was also unsure about making the decision on opting to bat first as the conditions suited the batsman more but the management put their best six batsmen and four bowlers forward.
"It was a tough decision to bat first. Conditions were such that we would have liked to play an extra batsman. With AB and Faf back, we had our top six batsmen, so we wanted to go with our best bowling attack. As a group we felt this was the best team," said the former middle-order batsman. 
"I am always encouraging our bowlers to bat well. I tell them that three of them are our all-rounders. Most of them can actually bat. And it was really vital that the runs they scored helped us. It is encouraging to have a game plan for such situations. Those runs will give us a cushion later in the game," he added. 
South Africa projected a score of 286 all-out in their first innings on day one, but it wasn't a coincidence when the visitors lost three early wickets as well. Shikhar Dhawan, Murali Vijay and skipper Virat Kohli were sent back to the pavilion by spearheads Philander, Morkel and Steyn in order. Surprisingly Kohli went for five runs and was sent packing back after a gorgeous swing by Steyn slicked past the bat where keeper de Kock successfully saw the Indian skipper off.
On comeback man Dale Steyn, Benkenstein said: "Steyn bowled beautifully. He has done a lot of hard work to get fit and come back. That one wicket will do wonders for him. His pace was up to what he normally bowls with the new ball and he will probably crank it up with the older ball. 
"Hopefully, he will stay fit and his body will hold through this series. From a mental point of view, that was a massive four overs he bowled and it is a huge benefit for us," Benkenstein concluded.
India trail by 258 runs with Rohit Sharma and Cheteshwar Pujara at the crease. 
(With PTI Inputs)