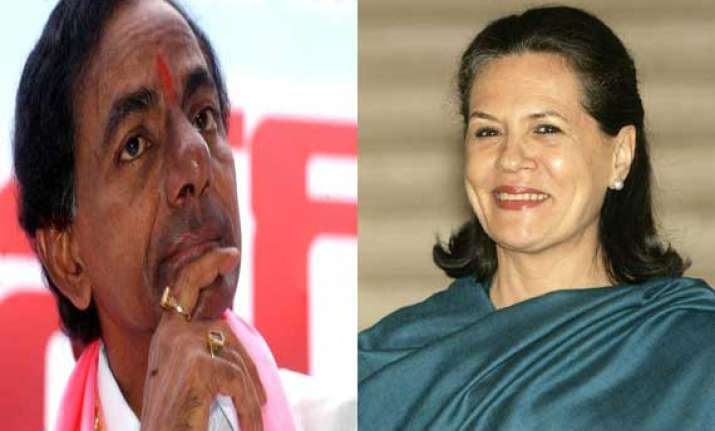 New Delhi:  Telangana Rashtra Samithi chief K. Chandrasekhara Rao today met Congress president Sonia Gandhi  amidst talks of TRS merger in Congress.
He also gave her a letter seeking more Telangana officers from outside to be sent on deputation for at least five years.
The letter reads: "Respected Madam, Implementation of the following would energise the longterm development of Telangana state. Central government may, therefore, be requested to take them up on priority basis.
"1. There are only 27 IAS, 10 IPS and 15 IFS officers belonging to Telangana in the present Andhra Pradesh cadre. This is against the requirement of about 50 IAS, 35 IPS and 35 IFS in cdre strength of 150 for IAS, 100 IPS and 100 IFS. A large number of All India Services officers of Telangana are working in other states. They may be allowed to work on deputation in Telangana for a period of five years.
"2.National project status for Pranahita-Chevella irrigation project.
"3. Inclusion of Telangana among Special Category states.
"4. Additional power allocation of 500 MW from NTPC for a period of at least 3 years out of central pool.
"5. AIIMS branch in Telangana state.
"6. IIM in Telangana state.
"7. Adequate gas allocation to Shankarpally and Nedunur power projects. S/- K. Chandrasekhar Rao"