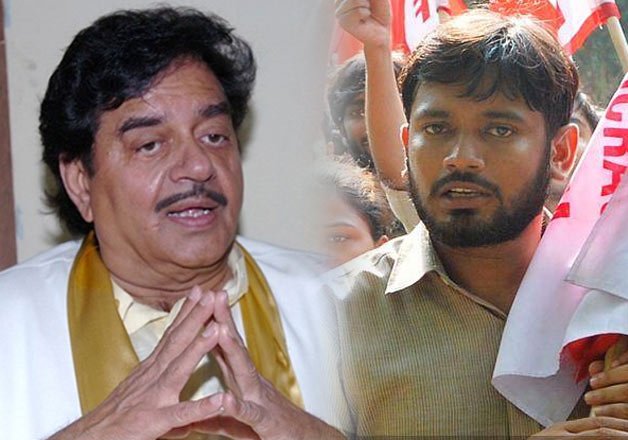 New Delhi: Bharatiya Janata Party (BJP) MP Shatrughan Sinha, who has been at variance with the party leadership over a host of issues, today came out in support of JNUSU president Kanhaiya Kumar, who was arrested on charges of sedition for raising anti-India slogans last week.
The actor-turned-politician also called for the release Kanhaiya Kumar saying the 'Bihar boy has said nothing anti-national', a move contradicting his own party's stand on the issue.
"Have heard transcript of speech of Kanhaiya, our Bihar boy president of JNUSU. He has said nothing anti-national or against Constitution," the Patna Sahib MP tweeted.
"Hope wish and pray that he's release soon, sooner the better," another tweet by Sinha reads.
Stating that JNU was an institution of 'international repute, enviable record and history' Sinha said, "JNU is going through a crisis for reasons best known to politicians. It is an institution of international repute, enviable record &history."
"It is a seat of learning for some of India's brightest young minds & also some very respectable teachers. Save it from further embarrassment," he added.
Sinha also countered BJP leader Subramanian Swamy's remark describing JNU a hub of 'jihadis, terrorists and Naxalites'. "We need to be very cautious while making sweeping statements maligning an institution. They are our own children and our own students," he said.
"If students, teachers or politicians make accusations, they need to be prepared to substantiate them with hard facts that they can stand by," his another tweet reads.
The JNU has been on the boil over the arrest of Kanhaiya Kumar on Friday. The controversy began when some JNU students organised a meet on February 9 at the campus to mark the anniversary of Parliament attack convict Afzal Guru's hanging. Anti-India slogans were also raised at the event.
Kanhaiya Kumar, a second year PhD scholar at JNU, was arrested and was slapped with sedition charges. Kanhaiya, whose police custody ends today, will be produced before the Delhi High Court today.