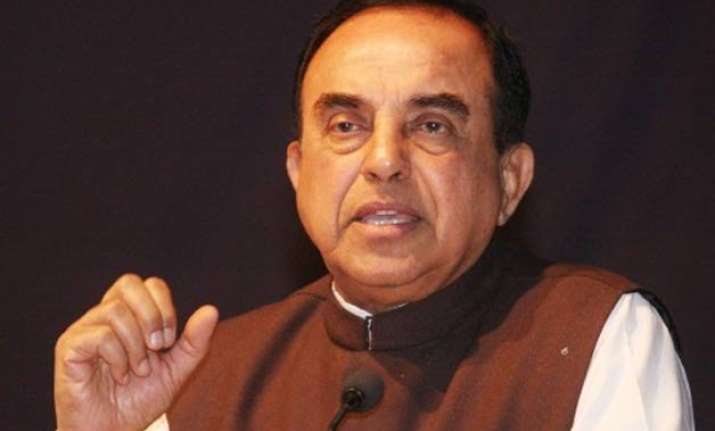 New Delhi: Senior BJP leader Subramanian Swamy has claimed that work on the construction of Ram Temple in Ayodhya would start in this year and an action plan for that would be unveiled at a conference on January 9.
He, however, made it clear that the temple would not come up through a movement but only after the court verdict, which he hoped would come by August-September and with the mutual consent of Muslim and Hindu communities.
"We expect the construction work on the Ram temple at Ayodhya to start within the next two-three months and certainly before the end of this year. We will wait for a court verdict and the temple would not come up through any 'andolan' (movement)," he said here on Wednesday.
He also said that building Ram Temple in Ayodhya was government's commitment which needs to be fulfilled.
He further stated that it was promised by the government in 1994 but things couldn't work out in favour; "Now the government has clear majority, construction should start as soon as possible."
Stating that Lord Ram should not be linked with Uttar Pradesh Assembly polls, the BJP leader said, "Rama is a matter of faith for Hindus and construction of the temple at Ayodhya is a commitment of every Hindu."
He said if the issue comes up later, it will then be linked to the next Lok Sabha polls.
Swamy claimed that efforts are being made at resolving the issue amicably between Hindus and Muslims so that the temple and the Masjid come up on both sides of the Saryu river in Ayodhya.
The issue will be discussed at the two-day national conference in Delhi University on "Shree Ram Janambhoomi temple -The emerging scenario" which would see the coming together of 300 scholars, academics and archaeologists who would discuss legal and other aspects of the Ram Temple.
Last month, Vishwa Hindu Parishad (VHP) had said that the first lot of stones for the construction of Ram Temple in Ayodhya arrived here and also 'Shila Pujan' (praying of the stones) was performed by Mahant Nritya Gopal Das, the president of Ram Janam Bhumi Nyas.
With PTI Inputs