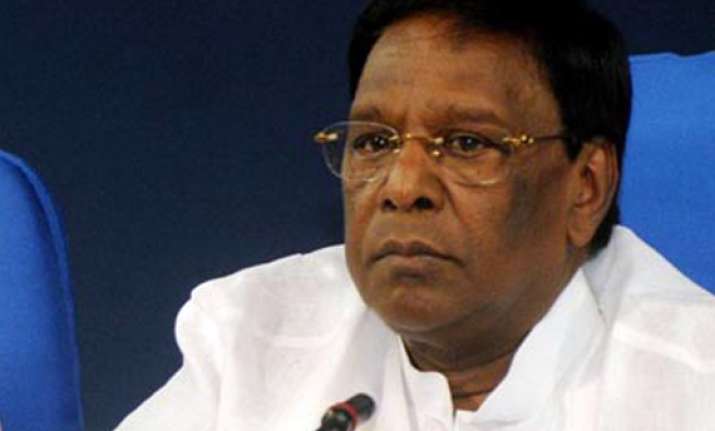 New Delhi, Dec 19: After the Lok Sabha saw a scuffle among SP and Congress members Wednesday over the promotion quota bill, Minister of State in the Prime Minister's Office V. Narayanasamy said the bill would be taken up again Thursday.
Soon after he was obstructed in introducing The Constitution (One Hundred Seventeenth Amendment) Bill, 2012, Narayanasamy reiterated the government's commitment to getting the bill passed and defended Congress President
Sonia Gandhi
saying she prevented the scuffle from getting worse.
Samajwadi Party (SP) member Yashvir Singh snatched a copy of the bill from Narayanasamy in the Lok Sabha, after which Sonia Gandhi stood up and snatched it back.
"Congress president prevented our people from getting into a scuffle," Narayanasamy said.
"It was wrong for the SP member to snatch away the papers. It is a matter of privilege. Madam's (Sonia Gandhi) reaction shows how dedicated she is for this bill," he said.
Giving an account of the incident, the minister said he was taken aback as Yashvir Singh walked over from the Congress benches behind him.
"Before tabling the bill, I was reading the provisions. The SP member came from the Congress's side. I was taken aback and shocked. He had no business to snatch away the bill," Narayanasamy said.
The minister said the bill had been tabled and was now property of the lower house of parliament and would be taken up for debate Thursday -- the last day of the winter session.
"It is unfortunate and unparliamentarily. If they (SP) have an objection, they can debate and vote against it," the minister said.
Asked if he would seek punishment for the unruly member, Narayanasamy said he left that decision on Lok Sabha Speaker Meira Kumar and Parliamentary Affairs Minister
Kamal Nath
.