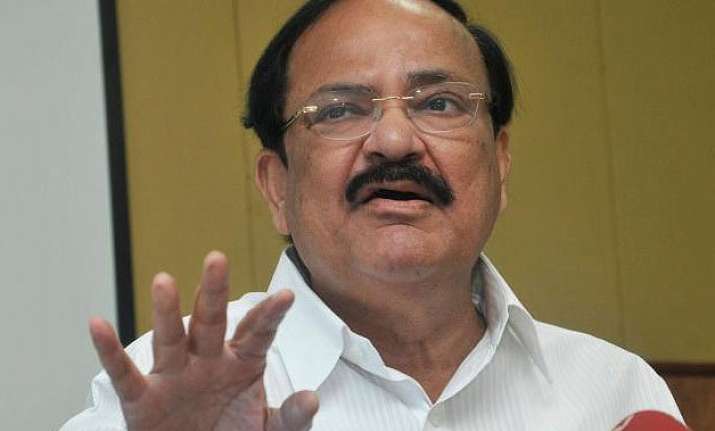 New Delhi:  Union Minister M Venkaiah Naidu today hit out at those returning their awards citing intolerance in the country, saying they are "misleading" people as part of a "systematic, orchestrated and malicious campaign" by BJP's political opponents.
He also attacked the "so-called intellectuals" withLeft-leanings, who benefitted from past Congress rules and are well-entrenched in various reputed institutions, for "orchestrating" such negative campaigns against the government, and accused them of causing harm and tarnishing the country's image and economy.
"A systematic, orchestrated, malicious campaign is on across the country by our political opponents. Some people are misled and some people are misleading," he told PTI.  
Naidu lamented that some people are "unable to digest that and they don't want Narendra Modi to succeed and that is why they are trying to create political issues".
He added that none of the issues which they are raking up are related to this government or the Prime Minister.  He rued that whenever something happens, they try and link it to the current BJP-led government and said cow slaughter was banned by Congress-ruled states earlier and not now.
"Let us not be misled by this campaign of these political opportunists," he said, terming those protesting as ones having a "political mind" and dared them to come out in the open and play politics.
"They have a political mind. If you have to do politics, come out straight and openly do politics. Why do so under the garb of being a writer, poet or something else," he asked.  Naidu added, "Some writers may have felt something, but people was asking the question why is there a selective protest."
Attacking them further, he said, "They say terror has no religion. If somebody is involved in murder of Kalburghi, then they describe him as right-wing Hindu terrorists, but when somebody is involved in Mumbai and somebody takes it up, then you say why are you trying to communalise it. Neither are communal and these are incidents need to be condemned."
He said it is unfortunate that these people are trying to tarnish the image of India as well as "tar the image of Hindu".
"That also seems to be on their agenda. They have a different mindset, which have been encouraged over the years," the minister claimed.
Attacking the Left, he said, "Some of them (protesters) are leftists intellectuals. The Left (communists) are eased out by the country and they are losing popularity everywhere, but they are well-entrenched into various institutions and also into sections of the media. They are trying to join the bandwagon of the negative campaign."

Naidu said simple people do not approve of things which are done by fringe elements and have every right and freedom to condemn that. He said even on the beef controversy, the orders were issued earlier and not after this government came to power, and all legislations are previously enacted, be it in Haryana, Maharashtra or elsewhere.  "Some people are conspiring to defame this government due to political reasons", he claimed.
Hitting out at historians like Romila Thapar, he said there are some people who do not like Modi and the fact that he became the Prime Minister, which some people are unable to digest.
"You would have seen, Romilla Thapar started criticising him six months later and Nayantara Sehgal also termed him as a 'fascist'. The incidents concerning Kalburgi, Dhabolkar, Pansare, Dadri are condemnable, but they criticised him even before these incidents," he said.
In a veiled attack on former Union Minister Arun Shourie for criticising the Modi government, he said, "Some people are remembering Manmohan Singh. It's OK, we wish them good luck."
He said the entire nation and world knows that it was a corrupt regime. "It was one of the worst, most corrupt regime in the country's history and also one of the most ineffective regime in the country's history, still some people are remembering it, I leave it to their wisdom. I do not wish to join issue with them."
Hitting out at the Left-leaning writers, he said in the name of revolution Naxalites killed thousands of people but they never opened their mouth then.
"Some of these great champions and intellectuals, they defend the naxalites, they come to their rescue, they have no sympathy for the helpless victims and the poor people who have been massacred," he claimed.
"Our main opposition party...want to obstruct legislations in Parliament because they have some strength in Rajya Sabha.  They are thinking they are stopping Narendra Modi, but they are stopping the growth of country," he said.  
He said when Emergency took place, writers and the Sahitya Akademi were silent and so when murders of writers like Dhabolkar and Karbhurgi took place. Besides, when Sikhs were being killed in Delhi in 1984 riots after Indira Gandhi's assassination.
"Why they did not react and condemn the incidents.
Why did they take so much time to react," he asked.

The Minister said "Whatever revenue deficit, trade deficit, current account deficit, fiscal deficit and trust deficit, we inherited from the previous government, still some people are criticising us."
On the Kerala House incident, he said "if we interfere, them an orchestrated campaign is launched immediately as if the federal structure is affected.
"On one hand, you are saying Centre is keeping silent. On the other hand, if some inquiry even is made then you are trying to find fault with the inquiry. So this shows the political agenda of our political opponents.
"I am sure the people of India are intelligent, they have elected a stable government after 30 years and an able leader has come, they will not be swayed away by such a campaign. I want to suggest the people of the country, ask them why these people were silent so far," he said.