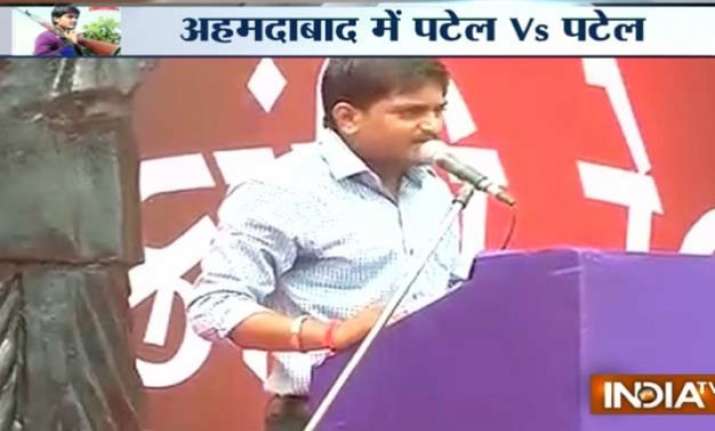 Ahmedabad: The Patel Community in Gujarat is today organising a 'Maha Kranti' rally in Ahmedabad to press for its demand to include the community in Other Backward Caste (OBC) quota.
Addressing the mass gathering at GDMC rally ground here, Patidar Anamat Andolan Samiti leader and firebrand youth leader, Hardik Patel, attacked Gujarat government for turning down their demand and warned that protests would turn violent if their demands are not met.
He also slammed the political parties who cited the Supreme Court guidelines to express their inability to include Patel community in the OBC list.
"If Supreme Court can work at 3.30am for a terrorist why can't it look into issues affecting Patidars," he said.
Taking a dig at the BJP government in Gujarat, Patel said that they will not let lotus blossom if their demands are met with.
"If the government doesn't fulfil our demand, we will not let the lotus blossom in 2017," he said.
While highlighting the plights of farmers in the state, Patel said, "In the last 10 years, six thousand farmers have committed suicide in Gujarat."
The rally witnessed a gathering of around 8 lakh agitators with sea of humans wearing Gandhi caps moving towards the GMDC grounds.
The GMDC rally ground spread over 18 lakh feet reached its capacity of 3.5 lakh by 8: 30 am and the remaining agitators occupied the BRTS corridor from Ranip to IIM crossroads.
The community leaders also called for a city bandh today in view of their rally.
The Patels, who for decades, have been a dominant community in Gujarat - both in terms of trade and politics - are demanding reservation following the slump in micro, small and medium enterprises (MSMEs). Their idea is now to focus on technical and medical education to ensure jobs for their children.
Chief Minister Anandiben Patel, who is from the Patel community, has rejected their demand for caste reservation. But on Monday, she had invited the community leaders to hold talks with the state government.