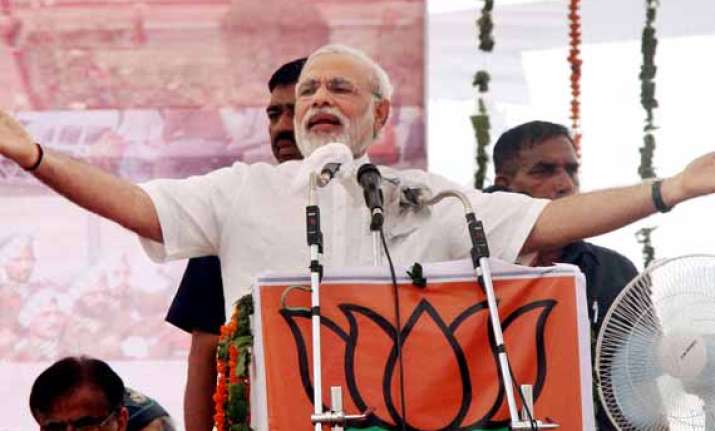 Kolkata: In a speech loaded with political overtones at his rally in Kolkata's Brigade Parade ground today, BJP prime ministerial aspirant Narendra Modi refrained from criticizing Trinamool Congress supremo Mamata Banerjee and swiped at the Congress for refusing to make Pranab Mukherjee as Prime Minister in 2004.
Modi said, in 1984, soon after Indira Gandhi's assassination, Pranab Mukherjee should have been made prime minister, as he was the seniormost minister in the cabinet, but Rajiv Gandhi was quickly sworn in.
Modi said, similarly in 2004, when Sonia Gandhi declined to become PM, Pranab Mukherjee was overlooked to make way for Dr Manmohan Singh.
"I have a three-point formula for you. You keep Mamata in power here, you elect me as PM in Delhi, and Pranab da will be above both of us", said Modi amidst applause.
Modi appealed to the people of Bengal to do another "Poriborton" (change) this time, by electing BJP to all Lok Sabha seats from Bengal. "At least, this would make me come to Bengal often and make this state prosperous", he told his supporters.
Modi cautioned the people not to support the Left, who, he said, had destroyed Bengal in the last 35 years.
Here is the live reporting of Modi's rally in Kolkata today: