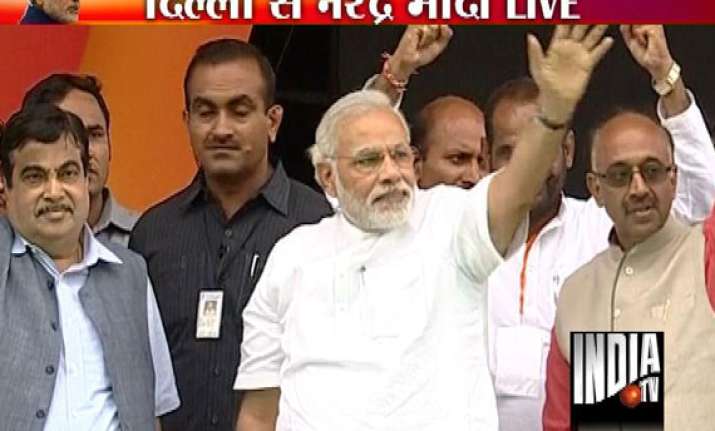 New Delhi: Narendra Modi is addressing the BJP rally in Delhi today.
Here we are giving you minute by minute updates of the rally:
13:46:
Modi concludes his speech with chants of
'Vande matram'13:43:
There is only one holy book for a government - Constitution.
13: 42:
There is only one vision for a government - Nation First.
13:41:
Modi- I was never a ruler, am not a ruler and will never be a ruler. I'm your 'sevak' and will always be a 'sevak'.
13:40:
Modi- I used to sell tea in Railway compartments for a living and you have giving me, a person from a poor background, this position.
13: 34:
Modi- Delhi presently has a 'Dirty' team but what we need in 2014 is a 'Dream' team.
13:31:
Modi asks UPA leaders to clarify whether they'll follow constitution or whims of the 'Prince'(Rahul Gandhi) as PM has already said that he is willing to work under Rahul Gandhi.