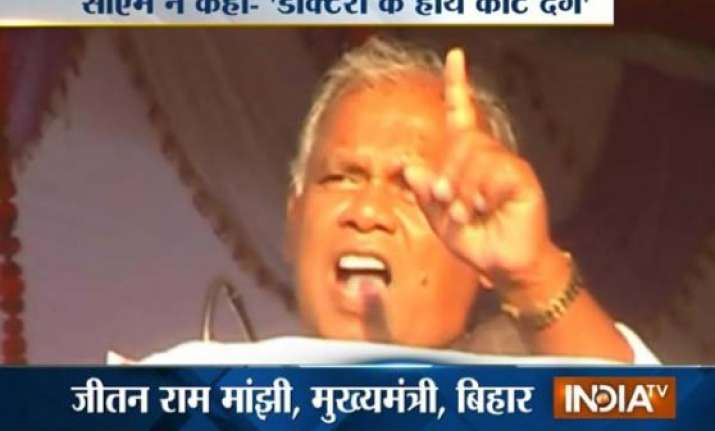 Motihari: Bihar Chief Minister Jitan Ram Manjhi gave a warning to doctors that stern action would be taken against those found 'playing with the (lives of the) poor'.
Manjhi was addressing a public meeting after inaugurating a 70-bed sub-divisional hospital at Pakri Dayal in Bihar's East Champaran district.
He asked people to avoid going to fake doctors and approach the nearest government hospital.
"If the doctor is not available, medicine is not available or there is no arrangement of test, than make a complaint to the District Magistrate," Manjhi said.
"If the complaint to the DM is not redressed, feel free to inform me about this on a post card... action will definitely be taken," Manjhi added.
"Those found playing with the (lives of) poor will not be spared... Jitan Ram Manjhi will chop off their hands," Manjhi further said.
The Chief Minister said he was ready to face any consequence for working for the welfare of the poor.
Manjhi's comments of 'chopping off hands' of doctors has drawn sharp reaction from opposition leaders.
BJP Lok Sabha member Giriraj Singh described the comments as 'outrageous' and against the Constitution.
"A person sitting on a high constitutional position of Chief Minister is talking of taking law in his hands... how can he protect laws with such mentality?" Singh, an MP from Nawada said.
Manjhi added that the state government has taken several developmental steps in Pakridayal sub-division and that a polytechnic or an Industrial Training Institute would be set up there.