Follow us on New Delhi: The booking of Freedom 251, touted as world's cheapest smartphone, has been closed today with the website promising of the resumption of services  within 24 hours.
The company's website also claimed that it has received 6 lakh booking orders
However, BJP MP, Kirit Somaiya has raised doubts over the claims of the website saying that there is something fishy about it and added the company Ringing Bells (which has launched the cell phone) is registered only three months back.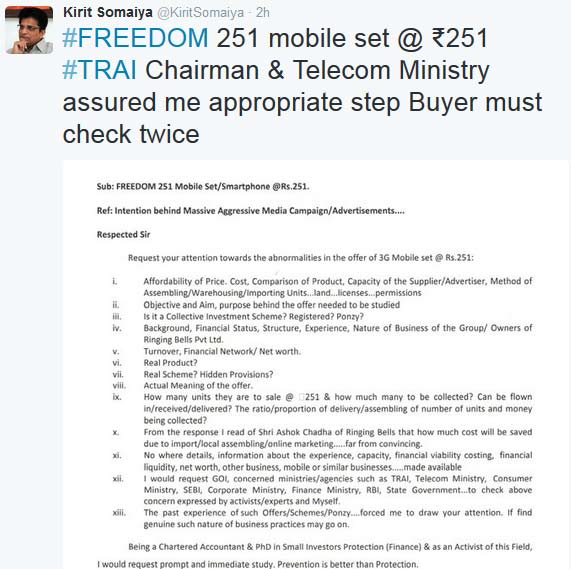 "Huge scam in Freedom 251 mobile phone", said BJP lawmaker Kirit Somaiya.
The Noida based start up took the world by surprise after it launched a Rs.251 (less than $4) "Made in India" smartphone that – if works well – will be a game changer.
The smartphone was slated to be available for online purchase from 6 AM today but the website crashed soon and it is yet to be ascertained that anyone has successfully placed the order.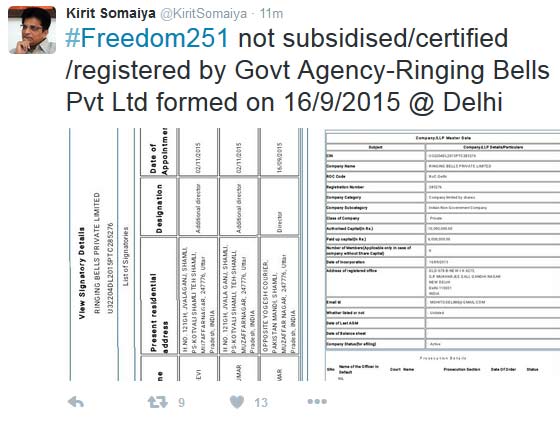 According to the company, "Freedom 251" smartphone has been developed "with immense support" from the government.
"'Freedom 251' heralds a new era in the mobile handset and telecom industry from the end consumer perspective in India. Farmers would have access to real time weather forecast and soil conditions which will help them enhance their productivity and income," Ringing Bells president Ashok Chadha said in a statement.