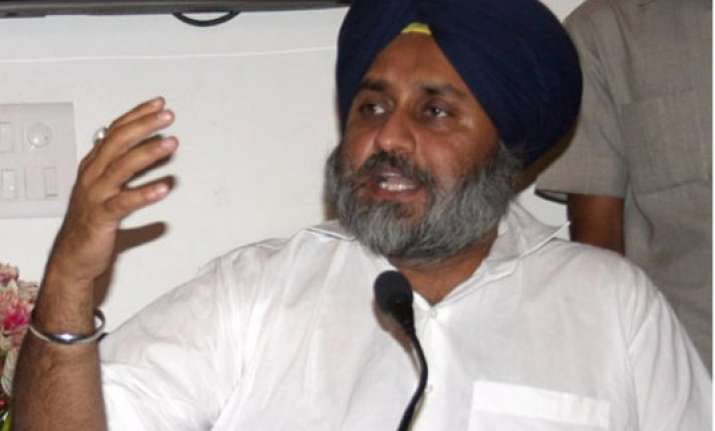 Ratia (Haryana): Shiromani Akali Dal (SAD) chief Sukhbir Singh Badal today said people of Haryana were united under former Chief Minister Om Parkash Chautala's leadership and would ensure overwhelming majority to the Indian National Lok Dal-SAD combine in the October 15 Assembly elections.
Addressing a rally here in favour of INLD candidate Ravinder Singh Baliyal, Badal said Congress had committed its biggest political mistake by "sending Chautala to jail".
"This vindictive act has resulted in uniting all Haryanvis as one and now they are committed to teach an unforgettable lesson to the party as well as its leader Bhupinder Singh Hooda. The last fort of the Congress will crumble on October 15," he said.
Badal said he had toured various parts of Haryana and could feel the wave in favour of INLD.
"Never ever have I seen such enthusiasm among people to oust an incumbent government. I welcome the decision of the people of Haryana to end Sonia Gandhi and Robert Vadra 'raj' and the ushering in of 'janta raj' (peoples rule)," he said.
The SAD president said a vote for INLD-SAD combine would be a vote for development and social welfare.
He said all the major development projects as well as introduction of social welfare schemes, including old age pension scheme, had been initiated during the chief ministership of Devi Lal and his son Om Prakash Chautala.
He said that in direct contrast Hooda had presided over a "corrupt government which was only interested in making money by acquiring land and transferring the same to a chosen few."
Addressing a rally at Tohana in favour of INLD candidate Nishan Singh Kamboj, the SAD president said INLD-SAD alliance would sweep the Haryana polls.