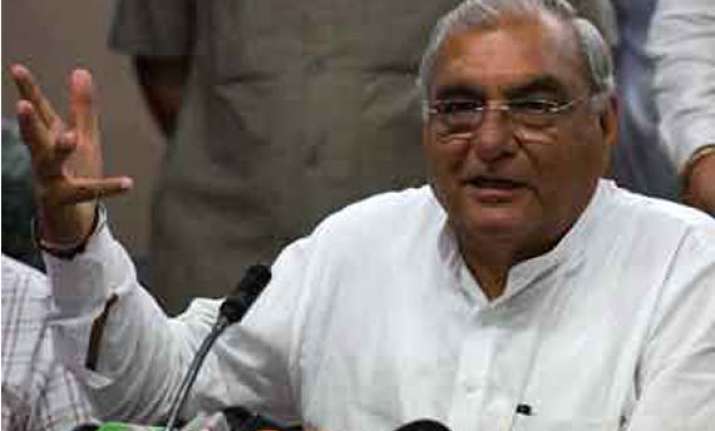 Chandigarh: BJP, which contested assembly polls on its own in Haryana for the first time, is set to form government, winning 24 seats and leading in 26 others in the 90-member assembly.
As per the Election Commission, BJP has won 24 and was leading comfortably 26 others, Congress bagged 9 and was leading in 5, Indian National Lok Dal (INLD) won 12 and was leading in 6 while its ally Shiromani Akali Dal (SAD) had won one. HCJ was leading in two, HLP in one seat and Independents have won three and are leading in 1.
Prime Minister Narendra Modi, who addressed 11 rallies in the state in the run up to the October 15 polls, has clearly helped BJP romp home comfortably, a senior party leader said.
Conceding defeat, outgoing chief minister Bhupinder Singh Hooda hoped that the new dispensation will continue the growth momentum that has been in the state during its 10-year rule.
"A new government is going to come. I hope they will keep the growth momentum of Haryana," Hooda, who defeated INLD's Satish Kumar Nandal by 47,185 votes from Garhi Sampla-Kiloi constituency in Rohtak district, said.
INLD, which is out of power in the state for about a decade, is likely to end up as the second largest outfit in terms of number of seats won.
Outfits like Kuldeep Bishnoi's Haryana Janhit Congress (HJC BL) and its ally former union minister Venod Sharma's Jan Chetna Party (JCP), BSP, Left, Haryana Lokhit Party (HLP) of Gopal Kanda, facing trial in air hostess suicide case, are set to bite the dust and their emergence on the political map of Haryana seems to be ebbing.
Prominent winners include Anil Vij (Ambala Cant), INLD leader Abhay Singh Chautala, Naina Singh Chautala, wife of party's senior leader Ajay Singh Chautala and Haryana minister and Congress party spokesman Randeep Singh Surjewala.
Haryana minister Savitri Jindal, mother of noted industrialist and former MP Naveen Jindal, lost to Dr Kamal Gupta of BJP.
Swaraj's sister Vandana Sharma, a political greenhorn, has defeated her Congress rival in Safidon seat.
Prominent BJP faces who won include chief ministerial aspirant and staunch RSS man Manohar Lal Khattar from Karnal seat.
Latika Sharma of BJP, considered close to union minister Sushma Swaraj, won from Kalka seat defeating INLD heavyweight Pardeep Choudhary.
The bigwigs from Congress who had to bite the dust include minister Mahender Partap Singh from Badkhal, late chief minister Bansi Lal's son and Haryana Cricket Association president Ranbir Singh Mahendra from Badhra, Hooda's Man Friday Bharat Bushan Batra from Rohtak seat.
INLD's state president Ashok Arora lost badly to BJP's Subhash Sudha from his traditional bastion Thanesar.
HJC also suffered a setback as party supremo Kuldeep Bishnoi's elder brother and former deputy chief minister Chander Mohan lost from Nalwa.
Jai Tirath of Congress won by a slender margin of three votes from his nearest rival Inderjeet of INLD.
SAD managed to retain Kalanwakli (R) seat from where party candidate Balkaur Singh romped home victorious defeating Shishpal Kherwala of Congress.
In Punahana seat, Independent Rahish Khan drubbed INLD's heavyweight Mohammade Ilyas.
During the 2009 assembly elections, Congress had won 40 seats, INLD 31, BJP four, HJC-BL six, SAD and BSP one each and Independents seven.