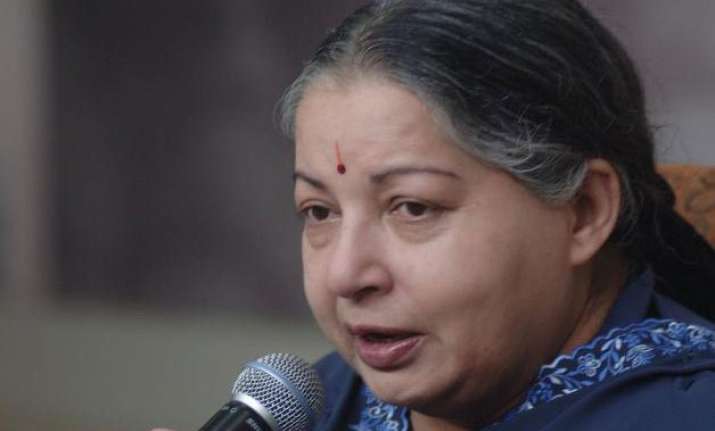 Chennai: Encomiums, applause and eulogies expressing unflinching loyalty to party supremo Jayalalithaa marked the meet held today to elect the 67-year-old leader as legislature party chief.
Outgoing Chief Minister O Panneerselvam, his Cabinet colleagues and all other party MLAs exhibited a jubilant mood on the occasion as Jayalalithaa was showered with praises.  Even as Panneerselvam began his brief address by referring to Jayalalithaa as "manbumigu makkalin muthalvar," (honourable people's chief minister, a term used by AIADMK workers after she was disqualified following her conviction), a thunderous applause broke out.
Outgoing ministers, senior functionaries, including party Presidium Chairman E Madusudanan and all other party MLAs kept clapping at the event.
"Accepting the orders of Idhaya Theivam (a term signifying reverence equating her to God), Puratchi Thalaivi (Revolutionary leader) I resign as party legislature party leader and chief minister," Panneerselvam told the MLAs.  
Clad in spotless white dhoti and shirt, and his trademark sacred ash and kumkum, Pannerselvam expressed happiness while announcing that he was quitting and Jayalalithaa would return to power.
His speech was interspersed with reference to Jayalalithaa in chaste and reverential terms in Tamil which included "revolutionary leader."
Pannerselvam's loyalty has been unquestioned as on an earlier occasion too he was a stop gap Chief Minister when Jayalalithaa had to step down in 2001 following an adverse ruling in TANSI land case.
Panneerselvam had to pause every now and then as MLAs and party functionaries kept applauding loudly whenever her name was mentioned.
Lauding the MLAs for their boundless love and loyalty towards "Amma," he said, Jayalalithaa had "torn apart the net of conspiracy spun by evil minded," an apparent reference to the assets case pursued by DMK.
Hailing her poetically as the "eldest daughter of dharma" and a "Tamil woman of valour," Pannerselvam said Jayalalithaa had won justice by taking recourse of honesty.  Praising her as the future of Tamil Nadu, he said, Tamil people had "unflinching faith" in her.
"She was the gold refined in fire, she broke into pieces all the false cases fabricated by evil forces," he said amid thunderous applause.
Later, he proposed Jayalalithaa to be elected as Legislature Party leader. It was seconded by Electricity Minister Natham Viswanathan following which she was elected unanimously.
In all, 148 MLAs were present during the meeting.  As on May 17, AIADMK has a total of 150 MLAs in the 235 member Assembly (including one nominated member) after RK Nagar ruling party MLA, P Vetrivel resigned, amidst speculation that Jayalalithaa may contest the seat which is in the city.