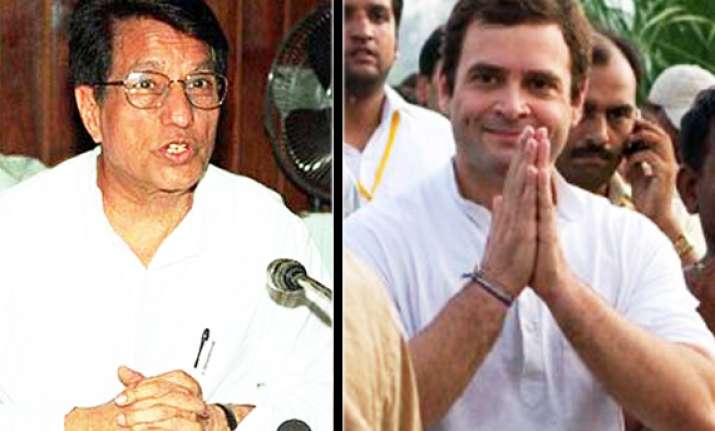 New Delhi, Oct 27: A formal announcement of Congress-RLD alliance in poll-bound Uttar Pradesh is likely this week with the two parties almost finalising seat sharing. 

Congress, which has already declared candidates for 135 seatsin the first two lists, is expected to release the third list by the first week of November after a meeting of the Congress Election Committee on October 31. 

Rahul Gandhi will be addressing election rallies in Uttar Pradesh after the third list is out. He kicks off his election campaign from his great grandfather Jawaharlal Nehru's constituency Phulpur on November 14, Nehru's 122nd birth anniversary.

The Congress Screening meeting to finalise candidates is scheduled on Saturday (October 29).

Congress had released its first list of 73 candidates in August itself while the names of 62 candidates were announced in first week of October.

A crucial meeting on the alliance issue took place on Wednesday in which AICC general secretary Digvijay Singh and party's screening committee in-charge for the state Mohan Prakash had detailed deliberations with the RLD chief Ajit Singh.

The meeting took place a day after Rahul had deliberations with UP Congress leaders over the issue of sharing of seats with RLD which wields considerable influence in Western UP.

When contacted, Mohan Prakash said talks happened in a "cordial" manner. After the meeting Digvijay Singh had told PTI last night "most of the issues have been resolved in today's meet".  RLD, which was demanding close to 70 seats earlier, may settle for 40 to 50 seats.

Polls in the state for the 403-member assembly are due in April next year. The Assembly has to be constituted by May 13.

Once the alliance is formally in place, Ajit Singh is expected to find his way into the union council of ministers but the issue of portfolio is yet to finalized.

There are talks that Singh could be given the Industry portfolio, sources said.

A senior Congress leader, however, refused to go into speculation about the ministryship issue saying their mandate is to negotiate seats and the ministryship issue could be tackled at a higher level.

Asked about reports that Ajit Singh wanted the Congress either to withdraw candidates from some of the seats announced for be prepared for friendly contests on them, a senior Congress leader said,"there will no friendly fights".

After the alliance is stitched up, both parties would go for joint campaigns not only in Western UP but across the state, he said.