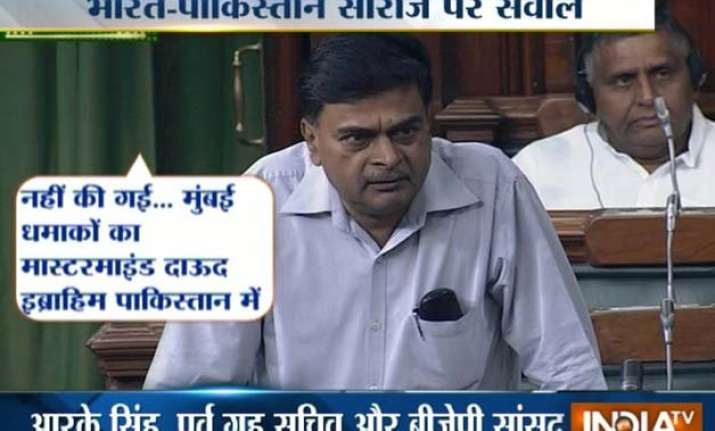 New Delhi: Bharatiya Janata Party (BJP) MPs today strongly opposed resumption of Indo-Pak bilateral cricket ties.
BJP MP from Ara, RK Singh, asked the government to 'seriously' reconsider  the decision to play cricket matches with neighboring Pakistan.
"Pakistan has allowed Mumbai terror attack mastermind Hafiz Saeed to roam freely. It has now released Lakhvi. They have said that theyhave appealed against the bail (granted to Lakhvi) but that appeal is not going anywhere. The mastermind of 1993 Mumbai blasts, Dawood Ibrahim, is in Pakistan as just stated by Home Minister. A country who is giving shelter to terrorists who have attacked you, who have carried out bomb blasts against you... what is the point of playing cricket with that country? I just don't understand. You don't have a normal friendly relation with this country which sends terrorists along Line of Control everyday. I would request the government to reconsider this very seriously," he said in the Lok Sabha.
Even Kirti Azad, BJP MP from Darbhanga, also echoed the same views and demanded annulment of the proposed series.
He said that New Delhi should not have any relations with Islamabad till the perpetrators of the 26/11 Mumbai terror attacks are brought to book.
"What has changed after 26/11 attacks? Have they arrested Mumbai attacks mastermind Hafiz Saeed? They (Pakistan) granted bail to Lakhvi. What is the need of playing cricket series under such scenario?" he said.
When asked about Pakistan's proposal to play matches outside India and Pakistan, he said, "Why to play at third venue? There is no meaning of playing in Bangladesh and Dubai... otherwise it is fully commercial. When two teams play against each other, they also visit each other."
However, another BJP MP Manoj Tiwari said that  the two nations should start playing cricket matches.
"The two sides should play the matches. I support this," the North East Delhi MP said.
An MoU has been signed between the two cricketing nations to play five series in the next eight years. The series will start in December this year with five ODIs, three tests and two T20 internationals in UAE.
The PCB chief Shahryar Khan, who is in India, met BCCI President Jagmohan Dalmiya at his residence in Kolkata in a bid to restore the bilateral cricket ties between the two nations.
The last time the two nations played was in 2012-13 when Pakistan visited India for a three-match One Day International (ODI) and two-match Twenty20 series.