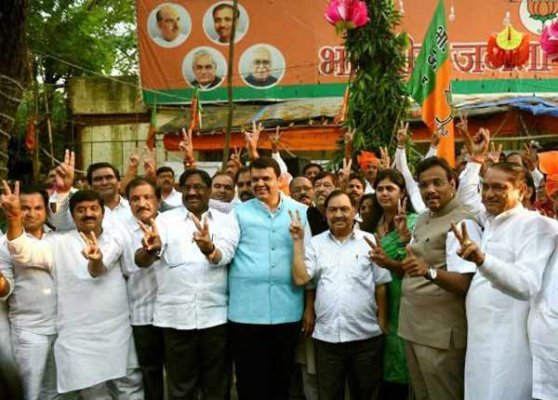 New Delhi: The newly elected Bharatiya Janata Party (BJP) MLAs in Maharashtra will meet today evening in Mumbai to elect the Legislature Party leader and also who will be sworn-in as the new Chief Minister of the state.
Senior BJP leader Rajnath Singh and party general secretary and new in-charge of party affairs in the state JP Nadda will chair the meet.
The meeting will take place at 4 pm.
As per the reports, Nagpur (SW) MLA Devendra Fadnavis is likely to be elected as the leader of the Legislature Party to lead the new government in the state.
Mumbai pradesh BJP chief Ashish Shelar had on Monday said that the first-ever government-led by the BJP in Maharashtra will be sworn-in on Friday.
Prime Minister Narendra Modi and Chief Ministers of BJP-ruled states are among those who are expected to attend the oath taking ceremony, which will be held at the Wankhede stadium in the state capital.
The BJP emerged as the single largest party by winning 122 seats in the 288-member House.
Meanwhile, the Shiv Sena in its mouthpiece 'Samna' made it clear that it will back any leader chosen by its estranged ally as the next Chief Minister of the state.
Party spokesperson and MP Sanjay Raut said that talks are on with the BJP over government formation and good news will come soon in this regard. The Shiv Sena has 63 MLAs.
On the other hand, Nationalist Congress Party (NCP) has announced that its legislators will remain abstain from the Assembly in case BJP's minority government comes in power and asked to prove majority.
Earlier, the party had extended 'unconditional outside support' to the BJP to form a 'stable' government in Maharashtra.
The Congress and NCP slipped to third and fourth position with 42 and 41 seats, respectively, in the recently concluded assembly polls.