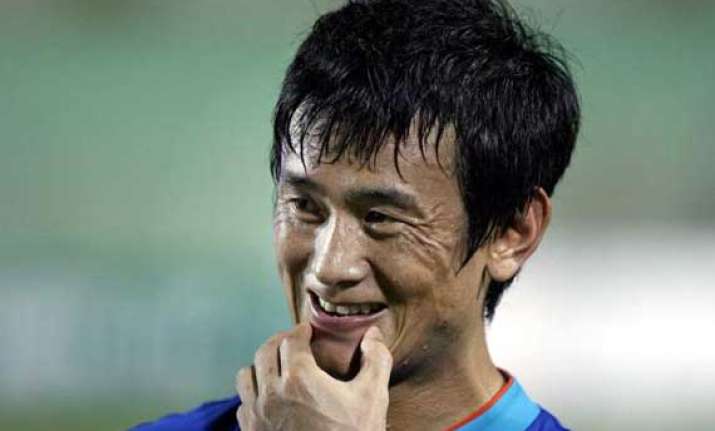 Ranchi, June 8: Football icon Baichung Bhutia campaigned in support of the AJSU nominee Navin Jaiswal for the June 12 Hatia bye-poll giving a shot in the arm for the party which had been lying low following the CBI raids in the premises of four of its MLAs.
Stating that he was campaigning for the first time, the former Indian football team captain appealed  to the Hatia electorate to vote for the AJSU contestant in the presence of party President and Jharkhand Deputy Chief Minister Sudesh Mahto.
Team India Captain Mahendra Singh Dhoni's brother, Narendra Singh Dhoni was also present during the campaigning.
"We are thankful to Baichung Bhutia for sparing his valuable time for us. We are thrilled. We also thank Narendra Singh Dhoni for campaigning for our party, though he has not joined any party after quitting BJP," AJSU Vice-President Praveen Prabhakar said.
The bye-poll was necessitated following the death of Congress MLA Gopal Sharan Nath Shahdeo in 2010.  
The CBI had on May 18 conducted raids on the premises of 15 MLAs, and four of them belong to AJSU, including Jharkhand Labour Minister Chandraprakash Choudhary.  
The central investigating agency carried out the raids in connection with horse trading allegations that forced scrapping of the March 30 Rajya Sabha seats for two seats.  
The seats were filled up after fresh elections on May 3.