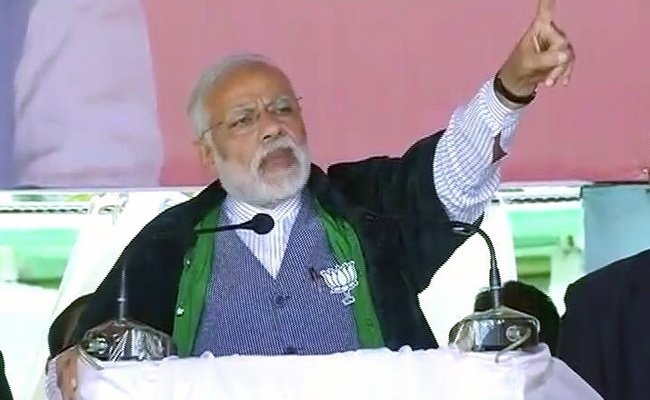 Lashing out at the Congress for not doing enough for development of Manipur during its 15-month long tenure, Prime Minister Narendra Modi today said that the BJP will compensate it in just 15 months.
"What the Congress did not do in last 15 years, I assure we will do it in 15 months," Modi said while addressing an election rally in Imphal.
"We will expose the corruption that took place in Manipur in the last 15 years," he added.  
He also assured that if the BJP comes to power in Manipur, there will never be an economic blockade in the state. 
Drawing a comparison with Sikkim, Modi said that even a small state like Sikkim is developing fast but the Congress-ruled Manipur is not showing any signs of development.  
Alleging that corruption was rampant in Manipur under Congress government, Modi said that the BJP will strive to  focus 100% on development, if it comes to power in the state.
"On one hand, there are people who take a 10 per cent commission, and on the other, there are those who bat for 100 per cent development. It's  you people who have to now take a call," Modi said.
The Prime Minister asserted that the country's progress will never be complete, until northeast does not progress. 
"I was the first Prime Minister who came to the northeast to take part in the North-East Council Meeting (NEC) meeting. It was after Morarji Desai, and after 40 years, that any Prime Minister attended  it," PM Modi  said. 
He also said that unlike previous prime ministers of the country, he is always available to meet the chief ministers from northeastern states. 
"Earlier, chief ministers from northeastern states used to make a beeline in Delhi but never got time from Prime Minister. But I made it a point to meet them as soon as possible, regardless of which party they belonged to," he added.