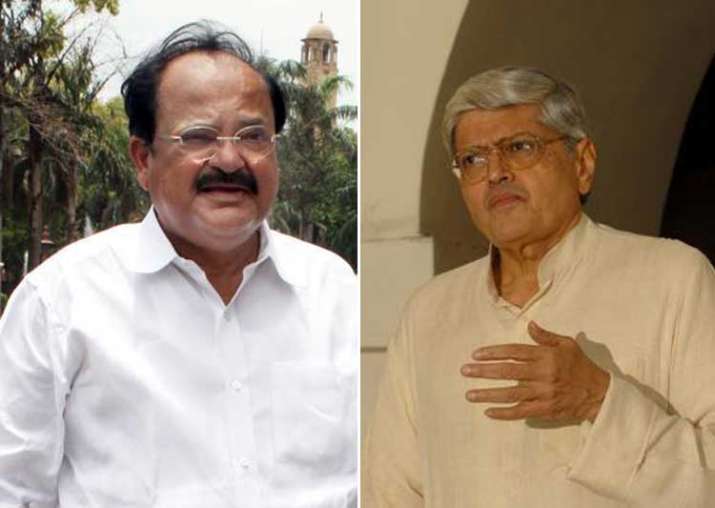 BJP's vice-presidential candidate M Venkaiah Naidu and Opposition candidate for Vice-President Gopalkrishna Gandhi will file their nomination papers today.
BJP candidate M Venkaiah Naidu, who resigned from the Union cabinet last night, will file his nomination papers at 11am in the presence of Prime Minister Narendra Modi and BJP President Amit Shah.
According to India TV sources, two sets of nomination papers will be filed on behalf of Venkaiah Naidu. The first set will have Prime Minister Narendra Modi as the proposer and Union Home Minister Rajnath Singh will second it. The second set will have Union Finance Minister Arun Jaitley as the proposer and it will be seconded by External Affairs Minister Sushma Swaraj.
On Monday, BJP President Amit Shah announced that M Venkaiah Naidu will be the vice presidential candidate of the National Democratic Alliance (NDA).
Political observers believe that the BJP  has picked M Venkaiah Naidu for Vice President post as part of the party's strategy to strengthen its base in southern parts of India. 
Since the Vice President is elected by members of the two Houses of the Parliament, M Venkaiah Naidu is expected to easily win the contest in view of the NDA commanding brute majority in the Lok Sabha.
The electoral college for vice presidential election consists of 790 members of Lok Sabha and Rajya Sabha.
With the support of 406 members, NDA candidate Venkaiah Naidu is all set to take over as the next Vice President of India.
The Congress-led opposition had already announced the candidature of Gopalkrishna Gandhi for the vice-presidential election.
However, the arithmetic in the Parliament does not favour Gopalkrishna Gandhi.
Meanwhile, Shiv Sena has raised questions over the candidature of Gopalkrishna Gandhi by pointing out that he had opposed the death sentence of 1993 Mumbai serial blasts convict Yakub Memon. 
Objecting to Gopalkrishna Gandhi's candidature, Shiv Sena spokesperson Sanjay Raut said that since Gandhi had opposed the execution of Yakub Memon and wrote a letter to the President in this regard, it will not be proper to make him the Vice President of the country.
Rejecting Shiv Sena's objections, Congress spokesperson Anand Sharma, however, pointed out  that anybody following Gandhian philosophy would oppose every kind of violence and therefore it will not be correct to raise questions over Gandhi's candidature just because he opposed Memon's execution.