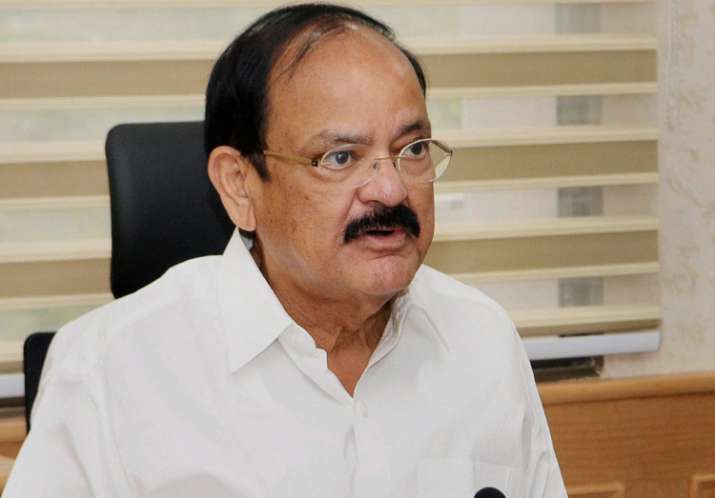 The Bhartiya Janata Party (BJP) on Monday declared Union Minister Venkaiah Naidu as the ruling NDA's nominee for the vice-presidential polls. Naidu, who holds the portfolios of Information and Broadcasting and Housing and Urban Affairs, have been pitted against Opposition nominee Gopalkrishna Gandhi. Hailing the announcement, Prime Minister Narendra Modi said Naidu is a fitting candidate for the office of Vice President.
Modi described 68-year-old Naidu as a farmer's son who "brings years of experience in public life and is admired across the political spectrum". 
Let's have a look on the political journey of Muppavarapu Venkaiah Naidu: 
* Naidu entered the RSS by accident - his links began in childhood when he chanced upon a 'shakha' while playing. 
* Born on July 1, 1949 in Nellore district of Andhra Pradesh, Naidu was President of the Students Union, V.R. College, Nellore. In 1973-74, he was president of the Students Union of Andhra University Colleges.
* Naidu pursued law and was involved in the movement launched by Jayaprakash Narayan. 
* He cut his political teeth during the "Emergency" of 1975-77 when he went underground against the government of Indira Gandhi and eventually got jailed. 
* He remained underground until his arrest, distributing anti-government literature in educational institutions in Andhra Pradesh and Tamil Nadu, travelling on a scooter along with a woman activist on pillion in a bid not to arouse suspicion. He was accused of disturbing a meeting of Sanjay Gandhi and handcuffed during transit from one jail to the other.
* He was President of the youth wing of the Janata Party in Andhra Pradesh from 1977 to 1980. After Emergency, he was elected to the Andhra Pradesh assembly in 1978 and was a legislator till 1985.
* After the BJP was formed in 1980, he became Vice president of its youth wing.
* He was leader of the BJP Legislature Party in Andhra Pradesh, state general secretary and state unit chief.
* Naidu hit the national scene when he was one of the prominent opposition spokespersons along with S. Jaipal Reddy, who was then in Janata Party, during the campaign by N.T. Rama Rao after his dismissal as the Andhra Pradesh Chief Minister by Indira Gandhi in the 1980s.
* Even though the Bharatiya Janata Party was on a weak wicket in southern India, Naidu embraced it tightly. For years, he was the BJP's best known leader from southern India.
* A quick-witted and effective communicator steeped in RSS/BJP ideology, Naidu rose from the ranks to become the party President and a Union Minister. If all goes well, he will be India's next Vice President. 
* He has handled key organisational assignments in the BJP and became its President in 2002. Naidu was the BJP General Secretary in 1993-2000 and its spokesperson in between. He has been a part of apex committees of the party, including its parliamentary board and Central Election Committee.
* Naidu has been a trouble-shooter for the government as also one of its best communicators with his alliterative and catchy one-liners. He has friends across political parties. It will help him as Chairman of the Rajya Sabha where the BJP still does not have a majority. Naidu is quick to respond to criticism from the opposition. 
* Naidu had three continuous terms in the Rajya Sabha from Karnataka from 1998 to 2016, when he shifted to Rajasthan to get a fourth term. 
* He was Rural Development Minister during the first NDA government led by Atal Bihari Vajpayee, his inspiration along with senior party leader L.K. Advani. 
* Naidu is currently the Minister for Information and Broadcasting, Urban Development and Housing and Urban Poverty Alleviation. He was the Parliamentary Affairs Minister for the first two years in the Modi government. 
* His term as Urban Development Minister has seen several initiatives including Smart Cities.  
(With IANS inputs)