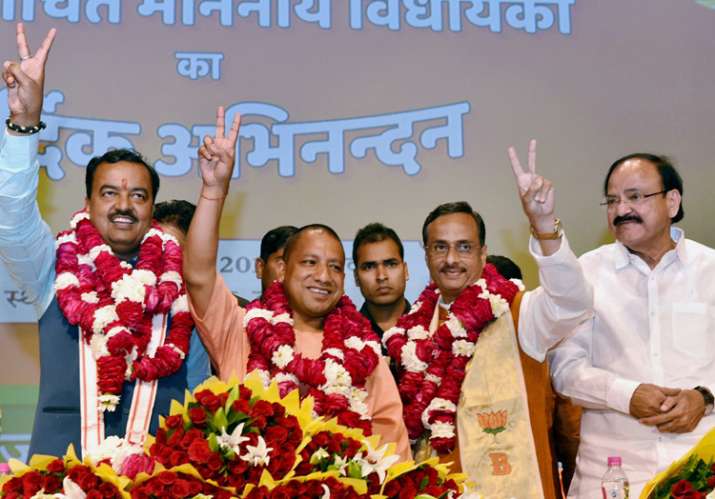 In a move that surprised many, the BJP on Saturday declared controversial Hindutva hardliner Yogi Adityanath as its Chief Minister nominee in Uttar Pradesh where it won a hicsoric mandate, winning over three fourth of total seats. 
The 44-year-old five-term MP from Gorakhpur, considered the mascot of hardline Hindutva, was elected the BJP legislature party leader at a meeting of the newly elected MLAs.
Yogi will have two deputies on his side -- UP BJP chief Kehsav Prasad Maurya and Lucknow Mayor Dinesh Sharma. 
Before the meeting of newly-elected 312 Bhartiya Janata Party (BJP) MLAs, Maurya was considered among the frontrunners for the top post, besides Union Ministers Manoj Sinha and Rajnath Singh. 
Also Read: 10 facts to know about Yogi Adityanath, the next CM of Uttar Pradesh
Here is what transpired at the meeting of BJP MLAs, where Adityanath was chosen as the next UP CM, in the words of Union Minister M Venkaiah Naidu, who along with BJP general secretary Bhupendra Yadav was present at the meeting as central observer for the election:
* Suresh Kumar Khanna, an 8-term MLA from Shahjahanpur, proposed Adityanath's name for the CM post.
* 10 other MLAs seconded Khanna's proposal. 
* Naidu asked 312 MLAs if they wanted to propose anybody else for the post. 
* MLAs did not propose any other name and backed Adityanath unanimously.
* Adityanath was then chosen as BJP legislature party leader.
* Yogi said he needed two deputy CMs to assist him in the gigantic task of governing Uttar Pradesh.
Also Read: Dinesh Sharma: What we know about UP's deputy CM-designate
* It was decided in the meeting that Maurya and Sharma would hold the posts. 
* Midway through the meeting, Sharma was asked to attend the deliberations.
* Before the meeting began, an element of surprise gripped the venue when Adityanath reached Lok Bhawan opposite the imposing Assembly complex. 
* None of the three is a legislator in Uttar Pradesh. While Yogi and Maurya are MPs, Sharma is currently the Mayor of Lucknow. 
* Three will be sworn in today at a ceremony at Kanshiram Smriti Upvan at 2.15 PM where Prime Minister Narendra Modi and BJP chief Amit Shah will be present.