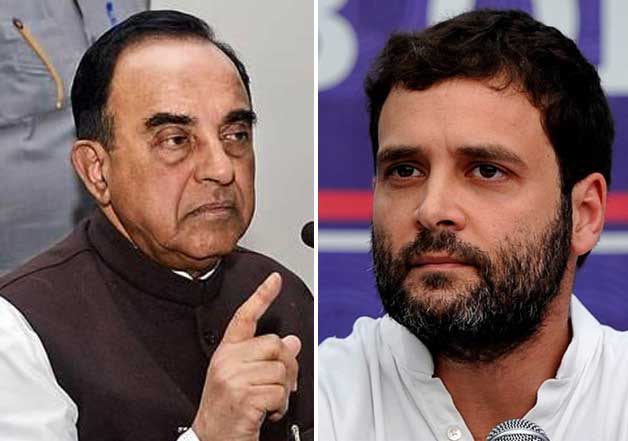 Senior Bharatiya Janata Party leader Subramanian Swamy today took a pot-shot at Rahul Gandhi's 2,500 km-long 'Kisan Yatra' and said that the Congress vice-president knows more about the night clubs in Europe compared to the condition of farmers in India.
Swamy, the Rajya Sabha MP,  also said that the media should not bother about Rahul Gandhi because he is not a serious politician.
"Rahul Gandhi does not know what the farmers' problems are. He only knows where the night clubs in Europe are, particularly in France and London. He goes there most of the time and then on some occasions,  he takes a plane and comes here and does a padyatra and then again goes away. He is not a serious politician…you should not bother about him," he added.
Earlier in the day, Rahul Gandhi launched his party's election campaign in Uttar Pradesh by kick-starting his 'kisan yatra' from Deoria to Delhi.
Launching the Yatra, Rahul accused both central and UP  governments of forgetting the interests of farmers and labourers.
"Modiji's government is doing a lot for big industrialists. We are not saying don't do anything for them. We are only saying do something for farmers as well," Rahul said while addressing a 'khat sabha' meeting with farmers in Deoria.
He also held both central and UP governments responsible for closure of 17 sugar mills in Deoria district.