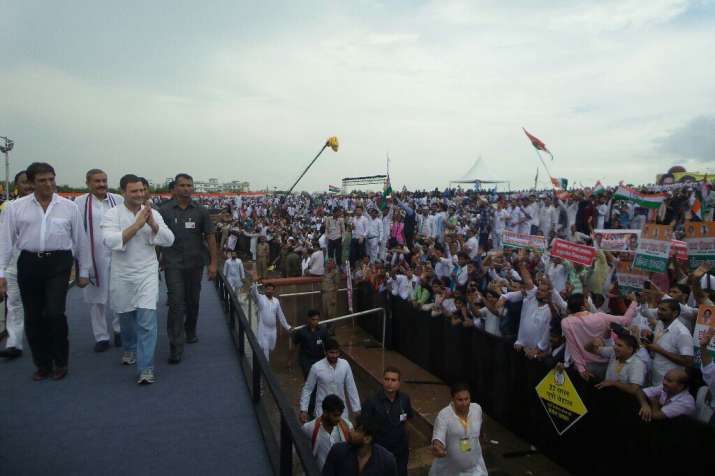 Congress vice president Rahul Gandhi continued his offensive against Prime Minister Narendra Modi for the second consecutive day questioning the viability of Bullet trains. He was addressing party workers in Lucknow.
Criticising the Prime Minister for promising Bullet Trains, the Congress vice president said that "tickets in such train will be not less than Rs 15,000". "Only Modi ji and his suit-boot friends will travel in it,"
Gandhi once again targeted the PM over the sky rocketing price of pulses, "When farmer sells his pulses, Modi ji gives him Rs 50 but when the same farmer buys his pulses from the market he has to pay Rs 200," said Rahul.
The 46-year-old leader threw his weight behind Congress CM candidate Sheela Dixit saying, "Sheila ji has changed Delhi and brought all around development, today Delhites remember her good work."
"We made Sheila Dikshit ji the CM candidate of UP because we want her to fight for women," he added.
Speaking in Lok Sabha on Thursday, Gandhi attacked the Prime Minister over price rise, saying after coming to power Narendra Modi has not said anything on the issue and demanded that he give a date by when the prices of pulses will come down.
Taking a swipe at BJP election slogan in 2014, Rahul said people are saying 'Arhar Modi' instead of 'Har Har Modi'.
He also accused the government of deliberately not increasing the supply of pulses to match the demand to "help a selected few".
He also said Finance minister Arun Jaitley failed to respond to a "critical question" on the discrepancy in the price a farmer gets for his produce and at which it is sold in the market.