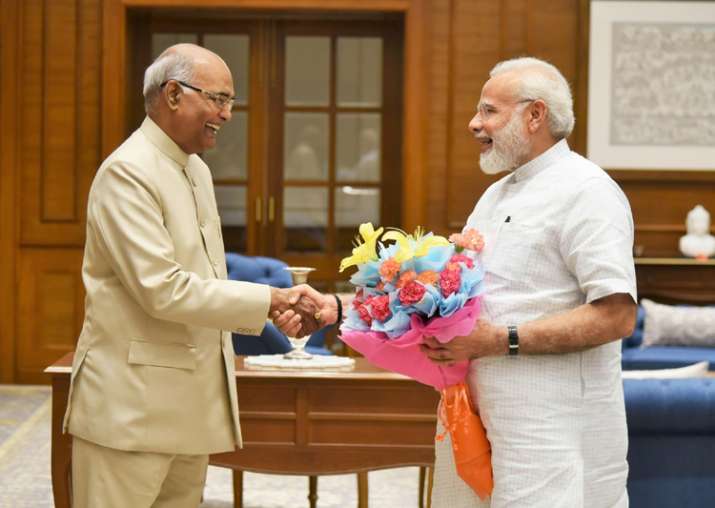 The Election Commission of India today declared NDA candidate Ram Nath Kovind as the 14th President of India. The NDA candidate crossed the majority mark to register a landslide win over his rival opposition candidate Meira Kumar to emerge victorious in the race for the President of India. Kovind beat Kumar by over 3 lakh votes. In electoral college, Kovind bagged 7,02,044 votes whereas Kumar managed to secure only 3,67,314 votes. In terms of percentage, while Kovind got 65.65 per cent of the total votes, 34.35 per cent of the lawmakers voted in favour of Kumar. 
"NDA nominee Ram Nath Kovind wins the presidential polls," Returning Officer Anoop Mishra told reporters here.
The EC stated the 522 MPs (3,69,576 vote value) voted for Kovind whereas 225 MPs (1,59,300 vote value) exercised their franchise in favour of Kumar. The EC also said that it rejected votes of 21 MPs on technical grounds.
20 years ago and the present…always been a privilege to know you, President Elect. pic.twitter.com/IkhnOtYf8N

— Narendra Modi (@narendramodi) July 20, 2017
Cross voting in non-NDA states was witnessed. In Delhi, where Aam Aadmi Party (AAP) has 66 MLAs in 70-member House, 55 MLAs voted for Kumar. At least six AAP MLAs voted for Kovind. In Goa, Congress has 17 MLAs but 11 voted for Kumar. 25 MLAs voted in favour of Kovind. Vote of two MLAs rejected on technical grounds. 
Mr Ballot Box
The ballot boxes from all state capitals are transported to Delhi for counting via air. Interestingly, these boxes travel as passengers when they are airlifted from state capitals to New Delhi. Business class tickets are booked in the name of 'Mr Ballot Box'. Election Commission officials carry these boxes up to the flight and place them on the seats that are booked in their name. As per the protocol, these boxes can't be transported from state Assemblies to Parliament via cargo planes.
Highlights:
* His victory marks an important milestone in political history of India. It reflects empowerment of weaker sections of society. I hope the tenure of Mr. Kovind would prove to be inspiring, encouraging and egalitarian: Mehbooba Mufti
All over India people are celebrating. We all are very happy.It is a proud moment for us: Swati, Daughter of President Elect Ram Nath Kovind pic.twitter.com/z4V1UZX0ng

— ANI (@ANI) July 20, 2017
* When Kovind Ji takes over as President, crores of oppressed and poor Indians will see their representative on highest constitutional post. I firmly believe that his term will take the post to greater heights & add more dignity to it: Amit Shah
* Congratulate the 14th President of India Ram Nath Kovind. Congratulations to Meira Kumar for the courage she has shown: Lalu Prasad Yadav
#WATCH Prime Minister Narendra Modi, BJP President Amit Shah and Union Min Ananth Kumar felicitate President Elect #RamNathKovind in Delhi pic.twitter.com/YonlhKPtuW

— ANI (@ANI) July 20, 2017
* Congratulations, hope he will be a successful President and will work for marginalised and poor people: MM Joshi
* Bihar Chief Minister Nitish Kumar congratulates Ram Nath Kovind over phone
* I congratulate Ram Nath Kovind ji for his victory. It is a victory of the democracy: Union Minister Nitin Gadkari
* Want to thank members of collegium who have voted for me, all those who unanimously made me candidate in this election. Want to make it very clear that today on 20th July 2017 my battle for ideology doesn't end, it will continue: Meira Kumar
It is a very emotional moment for me personally. It is raining a lot in Delhi today and it reminds me of days when I would stay in my paternal village. It was a 'kachcha' home of mud walls. The straw roof would not be able to stop water during rains. We all brothers and sisters would huddle around a wall, waiting for the rains to stop. There would be so many Ram Nath Kovinds in the country today, getting drenched in rains, doing farm work, labour and sweating it out so that they can get their evening meals. I want to tell them that this Ram Nath Kovind of Paraunkh village is going to Rashtrapati Bhavan as their representative: Ram Nath Kovind
* Gladdened by the extensive support for Shri Ram Nath Kovind Ji among MPs & across various states. I thank members of the electoral college. I also congratulate Meira Kumar Ji for her campaign, which was in spirit of the democratic ethos & values we all are proud of: PM Modi
Congratulations to Shri Ram Nath Kovind Ji on being elected the President of India! Best wishes for a fruitful & inspiring tenure.

— Narendra Modi (@narendramodi) July 20, 2017
* Election Commission declares NDA's Ram Nath Kovind as next President of India
Congratulations to Ram Nath Kovind Ji, who will be our next President

— Mamata Banerjee (@MamataOfficial) July 20, 2017
I am not upset, why should I be upset? I am a fighter, I fought for the belief and faith of majority of my countrymen and women: Meira Kumar pic.twitter.com/52AbfSffQE

— ANI (@ANI) July 20, 2017
* Gujarat: 132 MLAs voted in favour of Kovind. Kumar got 49 MLAs backing.
* Goa: Congress has 17 MLAs but 11 voted for Kumar. 25 MLAs voted in favour of Kovind. Vote of two MLAs rejected on technical grounds. 
* Jammu and Kashmir: 56 MLAs voted for Kovind while 30 for Kumar
* Assam: Kovind (10,556) and Kumar (460) | Andhra Pradesh: Kovind (27,189) and Kumar (0) | Arunachal Pradesh: Kovind (448) and Kumar (24) | Bihar: Kovind (22,490) and Kumar (8,867) | Chhattisgarh: Kovind (6708) and Kumar (4515) | Goa: Kovind (500) and Kumar (220) | Gujarat: Kovind (19,404) and Kumar (7,203) | Haryana: Kovind (8,176) and Kumar (1,792) | Himachal Pradesh: Kovind (1530) and Kumar (1887) | J&K: Kovind (4,032) and Kumar (2,160) | Jharkhand: Kovind (8,976) and Kumar (4,576) | 
Parliament: Total votes polled in favor of #RamNathKovind is 522 in value of 3,69,576; 225 for #MeiraKumar in value of 1,59,300; invalid 21

— ANI (@ANI) July 20, 2017
* 522 MPs voted in favour of Kovind. 222 MPs voted in favour of Meira Kumar. Vote of 21 MPs rejected on technical grounds 
* First round of counting over, Ram Nath Kovind leads by 60,683 votes, Meira Kumar at 22,941
#PresidentialPoll2017: Counting of votes underway in Parliament. pic.twitter.com/zEbWd51cWN

— ANI (@ANI) July 20, 2017
*  Early trends show Ram Nath Kovind ahead of UPA's Meira Kumar 
* I have fought this elections with faith, belief and confidence in the ideology. I also believe in inner voice of conscience: Meira Kumar
#Visuals Counting of votes for #PresidentialPoll2017 begins in Parliament pic.twitter.com/ffzK0u34CB

— ANI (@ANI) July 20, 2017
11am: Counting of votes for presidential poll begins